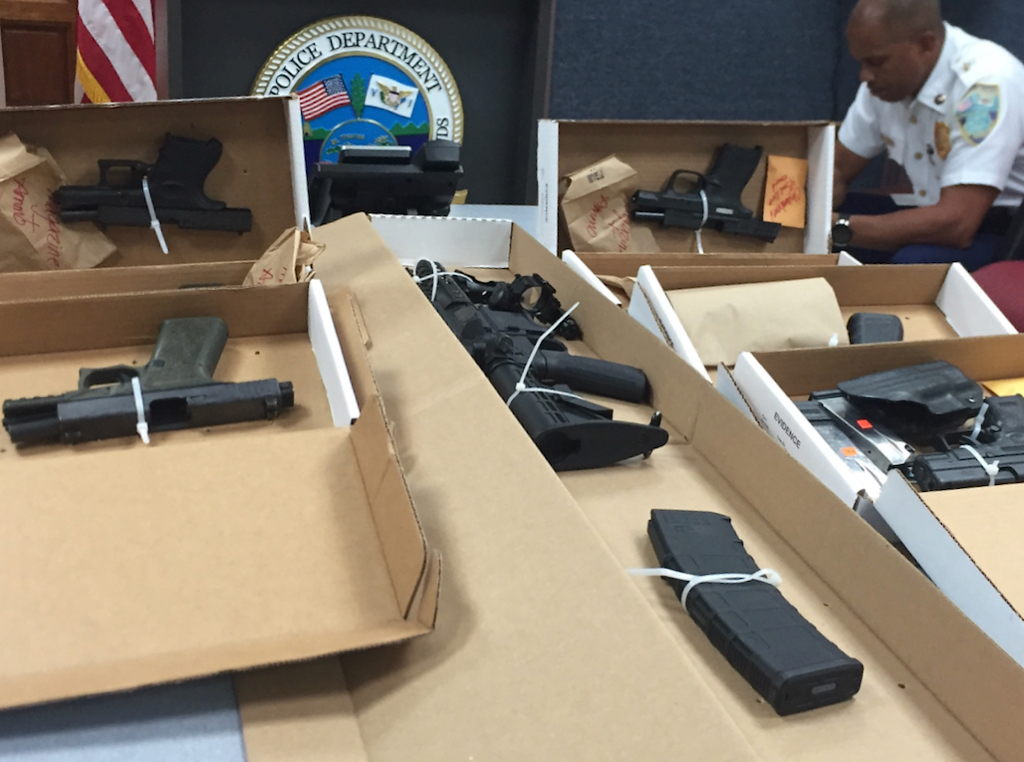 Nine unregistered guns have been confiscated since Oct. 3 on St. Croix, including five firearms, ammunition and a ballistic vest found with suspects arrested for the July 19 shooting at the Cool Out Bar.
Nine people were arrested in relation to the Cool Out Bar shooting and the investigation that followed, but not before shots were fired at the arresting officers, with a bullet grazing one of the policemen.
Two people were injured in a July 19 melee at the Peter's Rest bar, during which more than 70 shots were fired. One of the victims was found with a handgun on his person and a 9mm weapon was found at the scene.
On Saturday, three of four suspects in the shootings were arrested and Renaldo Alfredo Philbert Jr. turned himself in Monday night. Five other individuals were arrested at a later date.
When officers announced their presence Saturday at the Mario Magras residence to make arrests, they were fired on by someone inside the building. VIPD did not fire back. An officer was grazed by a bullet, taken to the Gov. Juan F. Luis Hospital, treated and released. The children inside the dwelling were placed with relatives, Detective Naomi Joseph said.
VIPD then arrested Ana Magras, 26, Melanie Adams, 27, Fravel Magras, 20, Jamarie Grigg, 28, and Mario Magras turned himself in. Around the same time, Eric Acosta and Kaleem Fleming were arrested at their homes. Arrested at another location were Kurt Huggins, 23, and Sonieliz Melendez Rodriguez, 23. A fully loaded, unauthorized AR-15 was seized during the arrest.
Acosta, Fleming, Mario Magras and Philbert were charged with more than 30 felonies including attempted murder, assault and first-degree reckless endangerment, unauthorized use of a weapon, possession of ammunition and other counts. The four were held on $200,000 bail each with a variety of conditions. Joseph Poteen, of the Attorney General's Office, said he didn't know if bail had been posted.
The AR-15, with 30 rounds of ammunition, found with Huggins and Rodriguez can't be traced, according to the police. The gun was assembled piece by piece with gun parts that don't bear serial numbers. A Glock, with an illegal switch that makes it an automatic weapon, was also confiscated.
"Operation Cool Out" is the name Trevor Velinor, VIPD commissioner designee, gave for the initiative between the police department and the V.I. Attorney General's Office. The first two nights of the initiative, Oct. 3 and 4, yielded a firearm each night during routing traffic stops.
"I take it personally when a member of the community is shooting at officers," Velinor said.
Attorney General Denise George spoke during the news conference and said her office will support VIPD with search and arrest warrants. She said the attorney general's goal is "vigorous prosecution of violent crimes." Crime fighting is a partnership with the community because witnesses need to come forward and testify, she stressed.
After Velinor and George spoke, St. Croix Police Chief William Harvey updated the media on some of the statistics for the year. So far this year, 75 guns have been confiscated as opposed to 45 in 2018. There were 557 burglaries in 2011 and 154 in so far 2019.
"We're being more deliberate in our actions," Harvey said as one reason for the decline in crime.