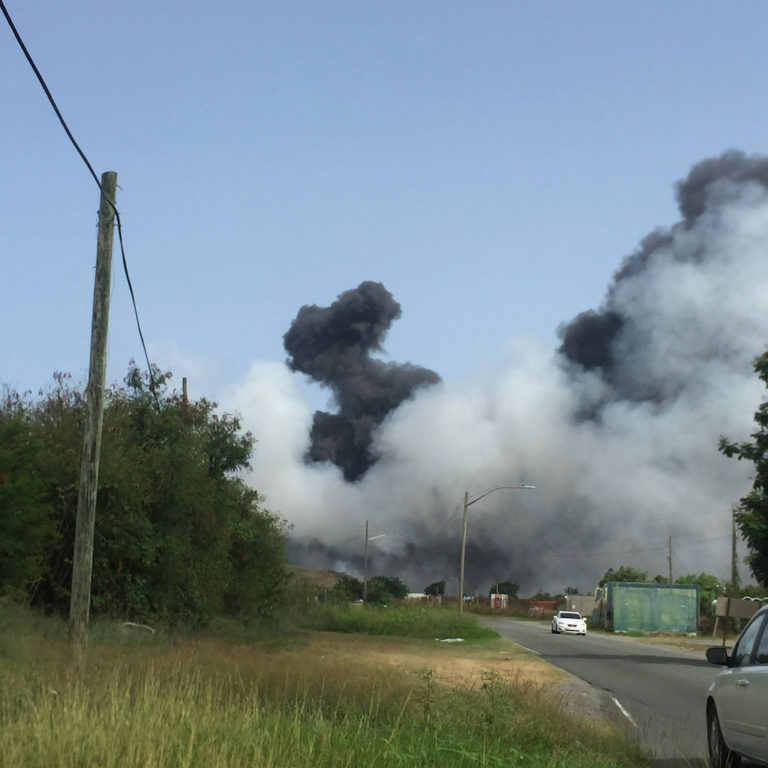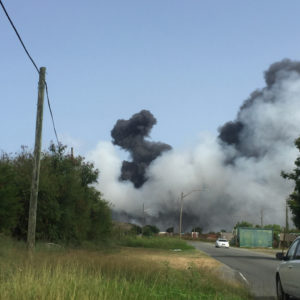 Firefighters continued to battle a blaze at the Anguilla Landfill on St. Croix Tuesday night, according to a news release issued at 11:30 p.m. Tuesday.
The Virgin Islands Waste Management Authority, which operates the landfill, said to the public and all solid waste haulers that the Anguilla Landfill is currently closed to minimize disruption to fire suppression activities.
VIWMA asked residents and commercial haulers are asked to refrain from accessing the Landfill until normal operating hours resume. The authority will continue to provide updates that may affect public health, the environment and haulers utilizing the Anguilla Landfill.
The fire was first reported at about 9:55 a.m. Virgin Islands Fire Service firefighters were on the scene at about 10:15 a.m.
The fire is on the east side of the landfill in the area where household and commercial waste is deposited. Firefighters and VIWMA personnel are working to bring the blaze under control. VIWMA advised the public and all haulers that landfill operations have been temporarily suspended. Haulers were asked to hold waste until normal operating hours resume.
VIWMA also warned residents with respiratory disorders/conditions to take precautions to minimize their exposure to smoke as wind directions change. The authority will continue to provide updates regarding changes that may affect public health, the environment and haulers utilizing the landfill.
This is the fourth fire at the St. Croix landfill this year. A fire on July 7 burned for several days.
On July 2 VIWMA reported that a fire that began burning June 30 in the scrap metal area had been contained and was smoldering, but under control.
VIWMA announced on June 25, that a fire that had been burning since June 17 had finally been controlled. That nine-week fire caused extensive damage.
There have been a number of fires at the landfill over the years. It caught fire three times in 2018.
There was a fire at Anguilla in 2012. And a fire burned for many years at the dump until extinguished in 2009 at a cost of more than $3.9 million.
In 2008, Waste Management officials said that fire had been burning underground since around 1966 or 1967.
Under the terms of a nine-year-old settlement agreement, Anguilla was supposed to close on Sept. 30, 2018. VIWMA plans to open a new landfill in nearby Estate Pearl.
Editor's note: This story has been updated since first being posted online.