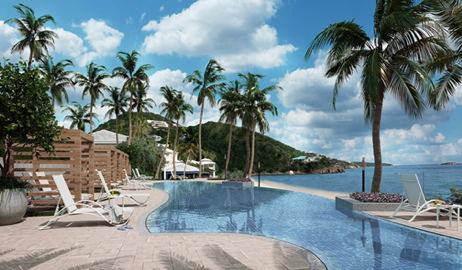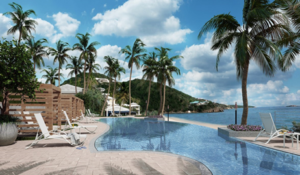 Frenchman's Reef resort, the territory's largest hotel, should reopen as a Marriott in 2020, along with a new, adjacent resort under Marriott's Autograph Collection banner, according to parent company DiamondRock Hospitality. The resort was badly damaged in the storms of 2017.
Frenchman's Reef's reopening will mean 384 more guest rooms returning to service, bumping up St. Thomas' capacity to serve its tourist visitors. The new sister resort: Noni Beach, will add and additional 94 rooms.
DiamondRock is spending upwards of $200 million on the work, and the million-dollar project is well underway and the reenvisioned resorts are both expected to open in 2020.  A release from DiamondRock outlined some of the changes and improvements planned for the resort but did not give a more specific projection beyond sometime that year. V.I. tourism is seasonal, with visits accelerating in November after the end of hurricane season.
"DiamondRock is creating two truly unique resorts in the Virgin Islands. The irreplaceable location and superlative quality of DiamondRock's resort property in concert with Marriott's world-class brands will create an unparalleled and authentic island guest experience. Moreover, we take pride in bringing well over 400 new jobs back to the St. Thomas community," Mark Brugger, President and CEO of DiamondRock Hospitality Company said in a statement.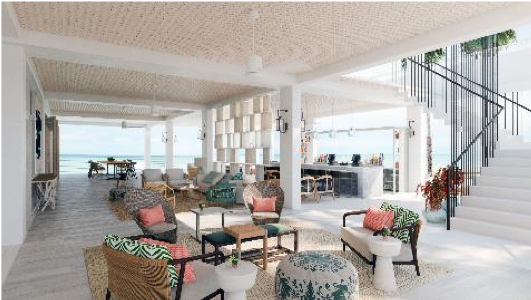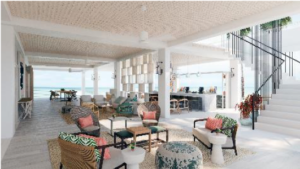 The resort complex is designed by architects Kollin Altomare and designers Whitespace Interiors. According to DiamondRock, the resorts will provide several distinctive dining experiences including new restaurant concepts by critically acclaimed Chef and Global Restaurateur, Richard Sandoval.
Frenchman's Reef, situated atop a harbor side cliff with panoramic ocean views, will boast 28 spacious suites, among its 384 rooms; three resort pools including an infinity edge pool with swim-up pool bar, a state-of-the-art luxury wellness spa and 85,000 square feet of extraordinary indoor and outdoor event space.
Noni Beach Resort, the first Autograph Collection hotel in the U.S. Virgin Islands, is comprised of a series of intimate beach house style villas containing 94 guestrooms, including two honeymoon suites, all directly on the beach. Noni Beach will have a private, beachfront infinity-edge pool with swim-up bar, a 3,000 square feet beachfront ballroom with memorable views and multiple dining experiences including the Caribbean-casual Coco's Beach Club as well as an indulgent restaurant with elevated, 180-degree panorama views of the Caribbean Sea.
"This signing underscores our commitment to St. Thomas and to bringing back tourism, meetings and events," said Laurent de Kousemaeker, Chief Development Officer for Marriott International in the Caribbean and Latin America. "We believe that DiamondRock Hospitality has a winning vision for this iconic property – with both Marriott hotels and the introduction of the Autograph Collection brand."
The company and the V.I. government are developing a public-private partnership to build a new, sustainable hurricane shelter into the resort that is capable of hosting more than 700 people during a severe weather event. The shelter would be built with public funds and both the Bryan administration and that of predecessor Kenneth Mapp have pledged to seek federal disaster preparedness funding to devote to the shelter.
The resort has always been an important economic engine for the local economy as it has historically generated more than $100 million a year of economic activity for the USVI.
DiamondRock said it is committed to hiring more than 400 employees at the resorts upon reopening.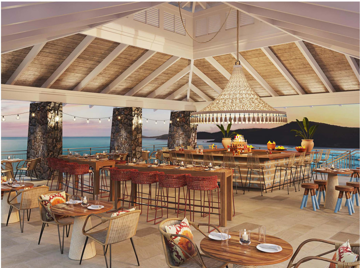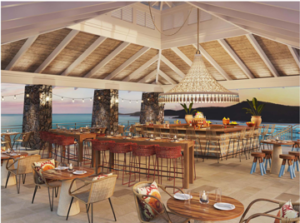 DiamondRock Hospitality Company is a self-advised real estate investment trust that owns 31 hotels with over 10,000 rooms. Further information on the Company and its portfolio, can be found online at the DiamondRock Hospitality Company's website.
Frenchman's Reef is a beneficiary of 90 percent tax breaks through the territory's Economic Development Authority. Neighboring Marriott Frenchman's Cove resort, primarily a timeshare operation, is seeking a temporary reduction in the number of employees required for its EDA tax breaks. The two resorts have different owners.