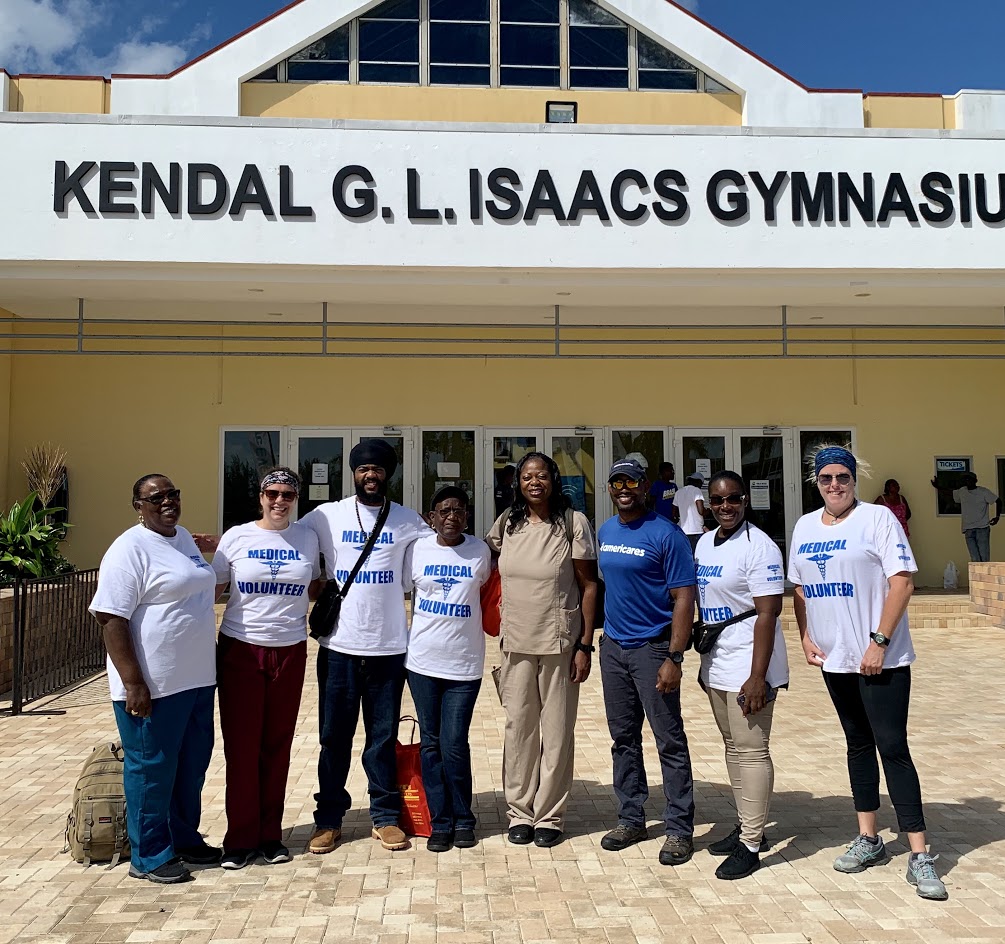 In the face of staggering destruction, a group of Virgin Islanders took one week of their lives to bring relief to the people of the Bahamas three weeks after Hurricane Dorian. The volunteers came from St. Croix; they arrived in the Bahamas on Sept. 22, returning home the following Sunday.
Organizers working with Med Team Bahamas Dorian said they're grateful to the seven Virgin Islanders who brought assistance and medical supplies to an effort which began Sept. 9.
One week earlier, Dorian hammered Abaco Islands and Grand Bahama with 185 mph winds and rising flood waters over the course of two days. In the days since the storm passed, officials in the Bahamas have counted 56 dead, 600 missing, 4,000 relocated to Florida and 10,000 students displaced from damaged schools.
One of the St. Croix volunteers said they learned a lot in a week about the people who took the brunt of Dorian's blows. Tricia Harris is a physician's assistant working at the Juan F. Luis Hospital. She and six others — Kaon Beharry, Rita Brin, Donnise Nicholas, Marjoire Pedro, Katrina Seeber and Kari Tjossem — visited relief shelters set up on the island of Nassau where thousands of hurricane victims took refuge.
Although their backgrounds varied, Harris said, each volunteer was prepared to aid disaster victims. There were two nurses, healthcare administrators, a Red Cross trained specialist in mental health case management and an emergency medical assessment specialist.
The Luis medic described herself as a disaster relief veteran, one whose first contribution to disaster victims came in Texas after the passage of Hurricane Katrina in 2005.
"Bahamas is one of our neighboring islands and I went through Irma and Maria, and so many people came from around the world to help and to donate to us. I know what they're going through," Harris said.
The St. Croix team flew in, equipped with supplies to handle wound care, an asthma medication nebulizer, blood pressure machines and materials to manage chronic ailments. On the ground in Nassau, she saw hundreds of people — many of them migrants from Haiti. Communication became the first big challenge, she said, because of the immigration status of the storm survivors.
"So, they're scared. They're a little hesitant, even though some of them have been here for 20 years," she said.
Med Team Bahamas Communications Specialist Terrence Bethel helped coordinate the offers of help coming from abroad with the Virgin Islanders and close to 300 other volunteers responding to the call for help. Bethel said the St. Croix team came in at a time when the first wave of assistance was wrapping up two weeks of hard work and were heading home.
"On Sept. 3, Dr. Lynnwood Brown made the call for Bahamians in the medical community to join the relief effort. We also experienced support from medical teams in the U.S. And then Tricia Harris called. We are grateful for that," Bethel said.
The daily tasks include meeting with volunteer teams and dispatching them to one of 13 relief shelters spread out around Nassau, an island that volunteer Seeber described as "like St. Croix, but with 300,000 people on it."
At the height of post-Dorian evacuations 3,000 residents of Abaco and Grand Bahama were relocated into shelters, Bethel said. Many lost everything, he said, including medications used to manage their health.
But Harris said during her week on the ground she sensed the mood among the displaced was calmer than before, something she credited to the work of Med Team Bahamas.
"I think the dust has settled. A lot of teams came here from all over. But now they have things sorted out. They know what the shelters are doing, they know what the needs are," she said.