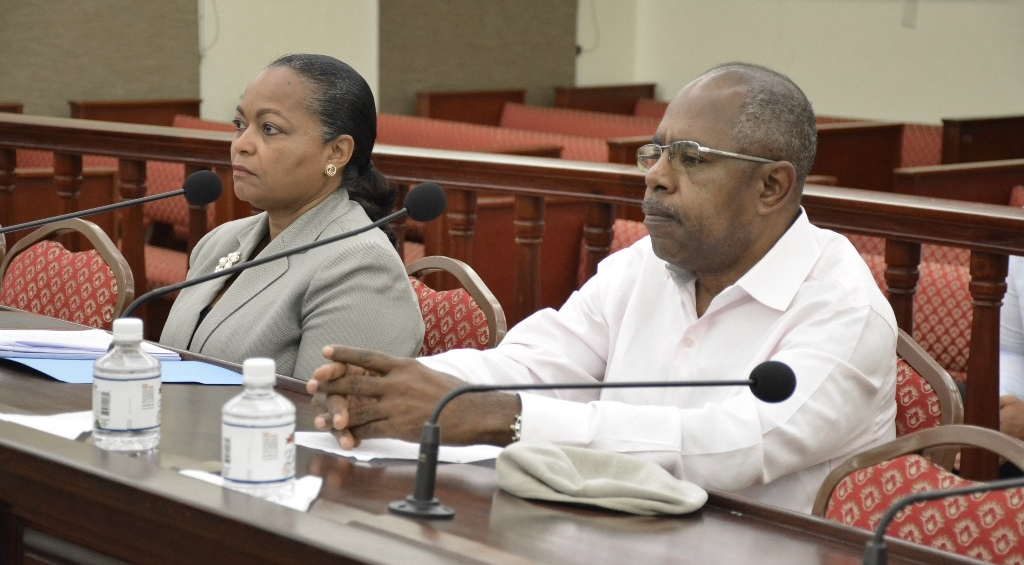 The Senate Committee on Transportation voted Friday to allow the Department of Public Works to display advertising on Vitran buses, even though the buses already carry such ads.
The unanimous vote was part of a discussion on overhauling system operations and creating revenue.
Sen. Myron Jackson admitted advertising already appears on buses, but he said it has been done so on the authority of whoever holds the commissioner of Public Works position. Without the legislation, the ads – and the revenue they bring in – could disappear at the whim of a future commissioner, Jackson said.
During Friday's hearing, Department of Public Works Deputy Commissioner of Transportation Karole Ovesen-McGregor said Vitran bus riders will soon see many changes. Public Works is obtaining 10 new Vitran buses, expanding bus routes, offering advertising services with the option to wrap the outside of buses and creating a phone application for riders to track routes.
In written testimony, Office of Management and Budget Director Jennifer O'Neal opposed the bill, saying the commissioner of Public Works already has authority to sell advertisement space within and outside the Vitran buses. O'Neal also worried that, "While the bill seeks to have funds derived from the advertising deposited into the Public Transportation Fund, it does not speak to what sums are charged or how much could potentially be collected."
Ovesen-McGregor could not provide the senators with rates charged for advertisements placed within and outside of Vitran buses but said that, in the past, wrapping a full bus in an ad cost around $8,000. She added that all advertising funds accrued are deposited into the Public Transportation Fund on a daily basis. The fund annually receives around $32,000 and currently holds an account balance of $1 million, Ovesen-McGregor said.
Bruce Flamon, who testified as a resident, said he supported the bill and asked the senators if they could provide an amendment offering reduced rates for small businesses and veterans looking to advertise on Vitran buses.
Sen. Dwayne DeGraff, who sponsored the bill, agreed that amendments could be added in the future and said, "Vitran provides a vital function to the territory."
Ovesen-McGregor said Public Works aimed to improve Vitran functions through a "comprehensive transit plan," which included expanding the current system using GPS to create an application for riders to track bus routes. She called the system "route match intelligence." While Ovesen-McGregor said this application was in the works, she did not say when it is likely to be completed or made available to the public.
Public Works has ordered 10 new Vitran buses, which Ovesen-McGregor said will be in the territory by the middle of September. The new buses will be stored in the same location as the current bus fleet, property Ovesen-McGregor said was reorganized to accommodate the new buses, but Public Works also has its eye on additional nearby property.
Sen. Athneil Thomas said he was pleased to hear there was progress on a phone application for Vitran. He added the bill sought to "enhance the service without increasing rates for riders."
Voting in favor of Bill 33-0107 were Sens. Jackson, Alicia Barnes, Stedmann Hodge, Javan James and Marvin Blyden. Absent for the vote were Sens. Allison DeGazon and Donna Frett-Gregory.
The bill has now moved to the Rules and Judiciary Committee for further discussion.