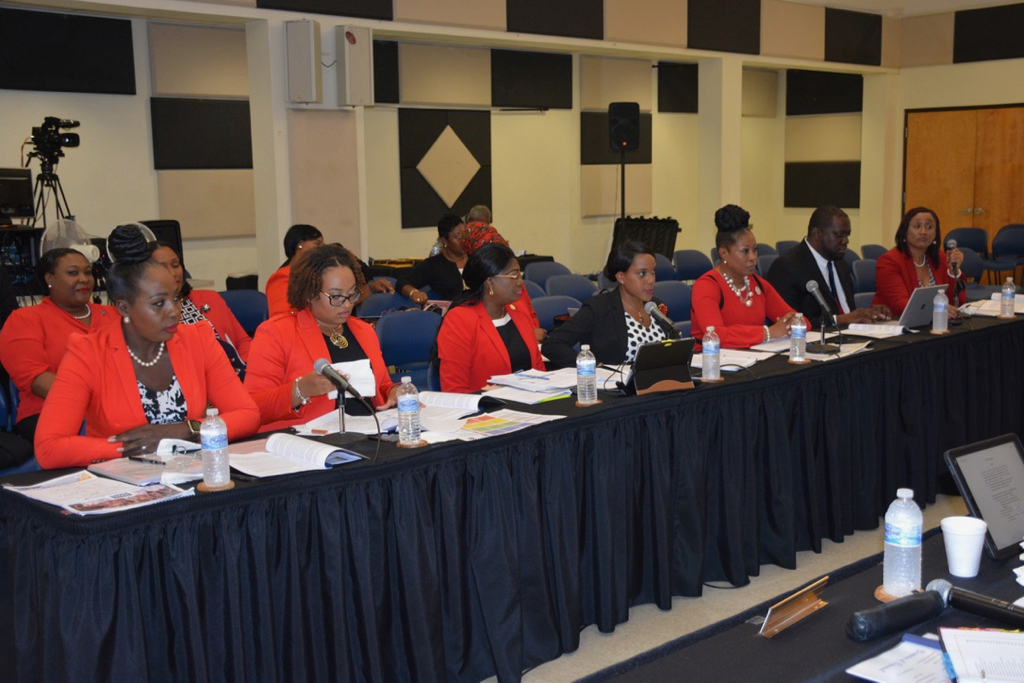 If the V.I. Division of Personnel is doing so much to bring down health insurance premiums, Sen. Donna Frett-Gregory wants to know why employee contributions are not coming down. At the Division of Personnel budget hearing Monday, she said, "I don't see where any premiums are coming down."
Personnel Department administrators said on the contrary, another hike in government employees' contribution to health insurance is being proposed, an 18 percent hike.
Other issues raised at the Monday hearing were government workers stuck in a per-diem-pay basis instead of becoming regular employees, the snags a government employee runs into when trying to donate leave time to an ill worker in a semi-autonomous agency, and the slowness of the hiring process.
Last year Cigna proposed employee costs for insurance going up almost 16 percent, but after discussions the hike was only 4.4 percent.
The Health Risk Assessment program is one of the programs aimed at bringing premiums down.
"This is an attempt by the GESC Board (Government Employees Service Commission) to control our insurance costs," The Personnel Division website says. "When plan members start to make positive health changes as identified though conversations with their primary care physician, our population will become healthier."
The program is not popular with all government employees because employees who do not have the health assessment done each year have $500 deducted from each of their salaries.
The Personnel Division also has a wellness program, which includes exercise activities, physical fitness competitions and classes on healthy food. Participation is strictly volunteer.
"Preventable illnesses contribute a sizable financial burden to our insurance plan," the division website says. "Currently our preventive care utilization is extremely low."
Sen. Allison DeGazon told Personnel Director Dayna Clendenin that employees were stuck five or eight years on a per diem basis.
"They lose those years of service. We need to look at that."
She said the employees were working 40-hour weeks.
Clendenin said that per diem status had been used "to get employees through the door" and she did not know the cost or impact it would have on the government if all per diem employees would become regular employees but she would look into it.
Sen. Janelle Sarauw asked Clendenin how the division could fill vacancies faster.
"It does take a significant time to hire," Clendenin said. "We need to figure that out and reduce the time."
Sen. Kurt Vialet, chairman of the Finance Committee, asked if the division had analyzed the hiring process to see where the snags were.
"This has been an issue for years," he said.
Clendenin answered that an analysis had been done and "a snag was found in Personnel." She said one person was approving all the new hires. The Division now has two people doing the approvals. Clendenin added it was found that most of the snags in getting people hired happened at the department level.
When a government employee goes on extended sick leave and uses up all his or her sick leave, the V.I. government allows other employees with accumulated sick leave to donate that leave to the sick employee. The problem in recent years has been that semi-autonomous agencies will not accept the donated leave unless it is accompanied by a check. Vialet said this has led to some sick employees who thought they were getting donated leave going 60 or 90 days without receiving any checks.
"We really need to settle this matter. It is a matter that has been up in the air too long," Frett-Gregory said.
From Oct.1, 2018, through May 31, Clendenin said, the Division approved 134 donated leaves. During the same period, it disapproved 15. Clendenin said the policy needs strengthening through legislation.
Personnel Division employs 44 people; 31 in the St. Thomas/St. John District and 13 on St. Croix.
Personnel oversees recruitment and classification, strategy and organizational development, fiscal and administrative services, human resources information systems, records management, donated leave program and group health insurance.
According to testimony, the government's Group Health Insurance plan has 13,941 participants, which includes active government employees and retirees.
The administration recommended a budget of $42.2 million.