Unlike past years, there was no opposition or protest along the parade route for this year's Pride Parade on St. Croix or at St. Thomas Pride Week events, no threatening signs or groups trying to intimidate the participants.
But it was another story on social media, with some people posting vicious anti-gay slurs, opinions that being gay didn't exist in the Caribbean until it was brought in from outside and at least one implicit death threat against gay men.
"Boom bye bye in a batty boy head all the nasty men have fu dead.. yes I Buju," Ciara Abigail Defoe posted in a comment on a Facebook posting of V.I. Source coverage of the St. Croix Pride Parade.
Defoe later deleted the post. As recently as Monday evening her Facebook page indicated she is a VIPD Forensic Investigator, although an inquiry could not confirm if a person of that name had ever worked for the department.
Batty boy is Jamaican slang for a gay man. It is an exhortation to shoot gay men in the head and kill them. The words appear to be a nod to similar – but not identical – phrasing in a 1992 Buju Banton song entitled "Boom Bye Bye."
Banton, who coincidentally performed over the weekend in Tortola, has long disavowed the song and removed it from his discography and online streaming services.
Defoe did not respond to a request for comment sent to her Facebook page.
Because Defoe's Facebook profile indicated she is a police officer, her posting a death threat against part of the community called into question her ability to impartially enforce the law.
Asked for comment, Government House Spokesperson Richard Motta said "the administration has zero tolerance for threats of any kind against individuals for their sexual preference or for any other reason."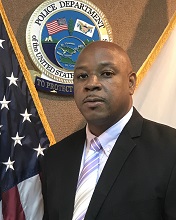 Asked whether the V.I. Police Department would take any action, Police Commissioner Jason Marsh said the department "will not tolerate threats to anyone because of their sexual orientation or for any other reason."
"As law enforcement officers, we have to be professional in all that we do, publicly or privately," he said.
He also said they would communicate with Defoe.
A short while later, Marsh called back to say "that is not one of our employees."
Marsh said they had no record of Defoe working for the VIPD currently or for the last several years. He said he could not verify if she worked there at any point in the past but said she definitely did not work there currently.
Banton has long disavowed the song and its lyrics, and has removed it from every platform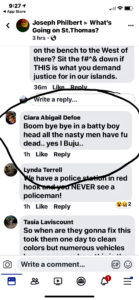 he controls. It was originally written when Banton was a teenager, about a man who molested a teenage boy.
"I recognize that the song has caused much pain to listeners, as well as to my fans, my family and myself. After all the adversity we've been through I am determined to put this song in the past and continue moving forward as an artist and as a man," Banton said in a March 2019 story by Rashad Grove in hip hop, sports and entertainment news magazine The Source.
"I affirm once and for all that everyone has the right to live as they so choose," Banton said.
In June 2007, Banton signed the Reggae Compassionate Act, which meant he agreed "to not make statements or perform songs that incite hatred or violence against anyone from any community," according to the British newspaper The Guardian.