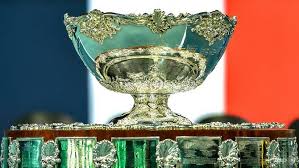 For the first time in seven years, the U.S. Virgin Islands is sending a team to participate in what is considered to be the highest regarded team tennis event in the world. Kris Elien, Nicholas Bass, Tomas Del Olmo and Russell Armstrong were selected to represent the V.I. June 17-22 in Costa Rica. Colin Robertson will be the coach/captain of the team. Other nations participating in the Group III Caribbean and Central American group are: Antigua and Barbuda, Bahamas, Bermuda, Costa Rica, Cuba, Honduras, Jamaica, Panama, Puerto Rico and Trinidad/ Tobago.
The players were selected by the V.I. Tennis Association for their level of play, experience and their ability to represent the territory based on the VI Olympics Committee guidelines. Kris Elien from St. Croix is the anchor and has a tremendous amount of experience, having represented the V.I. in many past Davis Cup and professional level tournaments. Similarly, Nicholas Bass, also from St. Croix, is a veteran Davis Cup player. Both Kris and Nick are professional coaches with high certification levels; they teach in Maine and Washington State, respectively.
Newcomers to the Davis Cup, but not to international junior competitions, are Del Olmo from St. John and Armstrong from St. Croix. Del Olmo is a sophomore at Siena College in New York, playing at the NCAA Division 1 level. Armstrong will be a freshman at Mt. St. Mary's, who is also beginning play at the NCAA Division 1 level.
Davis Cup had a complete change of format in 2019. Gerard Pique, a well know soccer player from Spain, became a new force in the event, with an idea to create a World Cup similar to soccer's. Reformers were calling for a streamlined event that was more marketable and attractive to the public. Kosmos, Pique's investment group, has invested $3 billion over 25 years in the event.
The advantage to this new structure is that it gave smaller nations like the U.S. Virgin Islands the ability to be able to participate by partially funding the teams. The larger nations won't have to have their players dedicating up to four weeks of their year to the event so they are able to attract bigger names to Davis Cup participation.
"We are very excited to be able to participate again in this exciting event," said Kelly Kuipers, newly elected president of the VI Tennis Association. "We are very proud of our players."
For photos, please visit our Facebook Page: Virgin Islands Tennis Association
For more information, contact Kelly Kuipers at vitennisassoc@gmail.com or 690-7470.