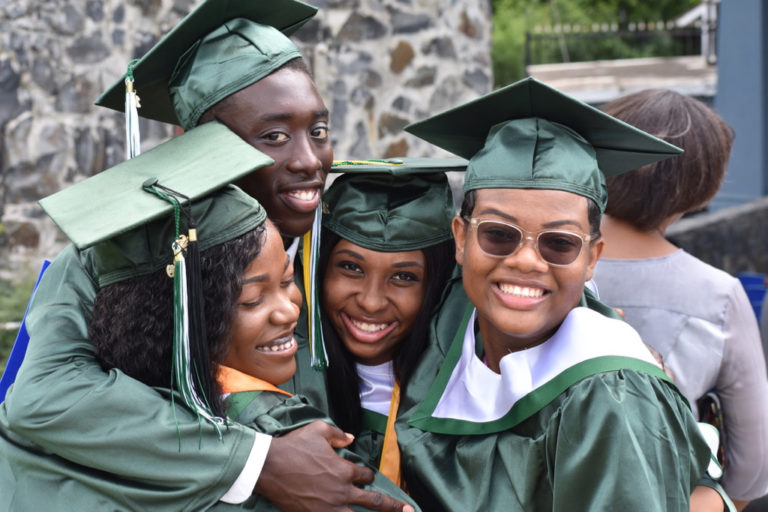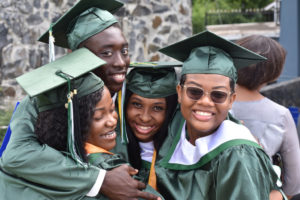 A class of four from the St. Croix Seventh-day Adventist School received their entrance tickets to the world of higher education on Sunday with about $242,640 in scholarships. They credit their accomplishments to supernatural powers.
When I graduated from the same school 10 years ago, I had no idea that theme of the supernatural would be a source of controversy in the years to come. It didn't even cross my mind that there'd be times I'd be labeled as narrow-minded for the beliefs I carried or that there'd be times when I myself would consider that all I'd believed could simply be nonsense.
But as I sat in the audience on Sunday, it felt good to know that after seeing so much more of the world and experiencing so much, I could still feel proud of where I came from.
A Theme of Spirituality
The entire theme of the graduating class's alma mater is spirituality. This theme transcended the school walls into every aspect of the graduation ceremony at the Island Center for the Performing Arts.
Salutatorian Mahlana Graham told a crowd of friends, family, and supportive church members that God was the author of all her success. Mahlana is a two-time territorial Poetry out Loud winner and winner of more than $60,000 in scholarships for her college education. Among her scholarships are awards from the American Federation of Teachers, the Rotary Mid-Island Scholarship, and the V.I. Board of Education.
"I want you to know, St. Croix Seventh-day Adventist School, that I have never seen any of my wins as my wins but instead ours," she said during her speech. "It has always been a win for my school, for my family, my church, and most importantly – my God. We must not forget for a second that this celebration is all thanks to the Lord God Almighty."
Valedictorian Stacy Frederick reminded her classmates that their futures wouldn't be without challenges. She advised them from the words of American author Richard Strozzi-Heckler, who said that one of the keys to success "is often simply staying on the path." But Stacy added a bit of her own advice too.
"I submit to you, fellow classmates, that to stay on the path means we must stay on the path with God," she said. "We must embrace our godly heritage and training."
Link Between Spirituality and Success?
But does a theme of spirituality lead to meaningful results?
Mahlana thinks it does.
"We always have an extra oomph, a little spice with what we do, and we stand out all the time," she said in a separate interview. "I would definitely say it's due to the spiritual presence."
Stacy, the highest-earning graduate, racked up about $134,654 in scholarship funds. About $1,812 came from personal gifts from her local church and individual supporters. The NCC, the governing body for all SDA churches in this region, also awarded her $2,000 for high achievement in math and Bible and for being the class valedictorian.
She also received an award of $1,000 from the University of the Virgin Islands Board of Education and $129,842 from the Total Merit Award Scholarship. The largest contribution comes in the form of a full ride to UVI, including tuition and room and board.
Stacy plans to major in nursing at UVI before moving on to ultimately study medicine. She's already gotten a head start after completing 32 college credits at UVI as an early-admission student during her senior year of high school.
Shomari Francis also plans to study at UVI. The accomplished soccer player received $562 in scholarship funds from the SDA School Class of 1979 and from a personal gift.
Chanel Aubert earned $41,062 in scholarship awards. The bulk of that came from a Merit Scholarship Award of $40,000. She also received $500 from the NCC for high achievement in English; $512 from the SDA Class of 1979; and $50 from a personal gift. Aubert goes on to study at Oakwood University in Huntsville, Alabama.
Mahlana is walking away with $66,362 as she goes on to pursue her undergraduate degree at Oakwood University. She's already completed 27 college credits at UVI as an early-admission student.
If you ever have the opportunity to meet Mahlana in person, you meet someone who is confident in her identity. Part of that identity is someone so self-driven and intelligent that she could achieve at any school. But she told her parents she wanted to transfer from the Lew Muckle Elementary School to go to the SDA School.
She'd seen her friends from church get to sing gospel songs in their school choir and participate in biblical activities. She wanted to be a part of it all.
"That's who I am," she told me.
I was impressed with the dignity in her voice and her stance when she said it.
It made me think of my own life and the experiences that've brought me to the same confidence in my religious identity.
Religion and My Journalism Experience
When she first met me, I think it boggled my first editor's mind that someone could be so curious about life yet so convicted in religion.
She always referred to me as a "journalist at heart" and I think, in her mind, that meant there was something deep inside of me that was better than organized religion because in the same breath she'd mention how curious she was to see if my religious beliefs would still stand as I evolved in my career.
It's easy to understand that thought process because apart from having strong analytical skills, journalists typically have a strong sense of justice and empathy. And sometimes, it's hard to see the justice, empathy, or logic in religion, especially because of some of our representatives.
Historically, people have used organized religion to manipulate, humiliate, and scorn others. I get it – religious people can be horrible sometimes.
But not always.
I think it all depends on your experiences with religion and your motive for desiring it. Some people get a high from making others feel small, and religion can be a convenient tool for doing that because it's easy to mask your condescension under "God says thou shalt not!"
But people also use their intelligence, or their degrees, or their titles, or their experience to snub others as well. Does that mean that intelligence or degrees or titles are bad? No, it doesn't.
You can use religion, intelligence, education, charm – anything useful – to either be a gift or a curse to the world.
I remember being 21 years old, fresh out of college and hungry for work. I was so green in journalism that I was scared out of my mind. When I was assigned my first story about the Government Employees Retirement System, I was so confused.
Why did Gov. (John) deJongh need to find money to fund it? How does a pension system run out of money? What would that mean for retirees?
The day after I wrote my first story, I went to a meeting hosted by the St. Croix Government Retirees Inc. They had my coverage of the issue in one paper and coverage from another paper. They were comparing; in other words, they were ripping my less-experienced coverage to shreds.
That moment confirmed for me the enormous responsibility that I carried. People were counting on me to report the facts with accuracy and clarity so they could make informed decisions.
From that moment, I only had about three more months to be green. I soon started being assigned investigative pieces. I honestly wondered why I kept getting them; I was green, and they were hard. Sometimes, they required analyzing lots of documents, making tons of phone calls, getting hung up on, getting lied to, etcetera, etcetera, etcetera.
But I suppose the assignments kept coming because it was evident that I cared and that I had the potential to do these stories justice.
The thing is: when I really think about it – all of what makes me a good journalist I owe to my experiences with my religion.
My experiences at home, school, and church taught me to dissect the Bible, to think critically about it, and to figure out how I could apply its teachings to my life. Christian education taught me that knowledge is most meaningful when you use it to help others.
These are the ideals and skills that I think made my work stand out as a young journalist, even when I was only earning $10 an hour.
And, like the recent graduates of my alma mater, I don't take credit for any of it. I know that everything that is good in me comes from God.