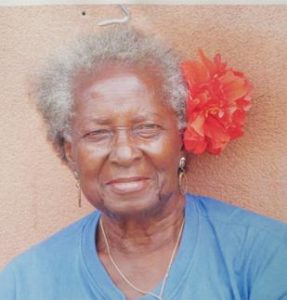 Mary Thomas Moore died on May 18.
She is survived by her children: Francisco A. Serrano, Stephanie D. Moore-Stevens, Debrah S. Henry and SM Sgt. Emmanuel D. Harrigan Tomar; brother, Richard "Baracuta" Thomas; grandchildren: Llamar A. E. Moore, Precious S. Donastorg, Ashield O. Frett, Karez S. Kharfan, Kadir D. Richardson, Kiara D. Rogers and Kandea' M. D. Richards; great-grandchildren: Mateo N. Alomal, Brian V. Mendez, Jadden Moore, Ashield O. Frett Jr., Neveah S. Donastorg, Stephanie V. Frett, Se'Taz Moore (deceased), Se'Lea Moore, Million M. Huggins and Se'Nier Moore; and nephews: Clayton Thomas, Armond, Teddy, Louis, Elroy, Elridge, Leon, and Ludrick Thomas, Lewis, David, Alcedo and James Richards;
She is also survived by nieces: Slyvia Thomas, Conchita Benjamin, Dorothy Todman, Ismay Skelton, Fostina Frett, Hyancinth Thomas, Dr. Ruth E. Thomas, Laura T. Daniel, Lyra T. Harrigan, Louise T. Lettsome, Jennie Wheatley, Alvara Rabsatt, Dr. Valaria Wheatley, Zelia Frett, Adoras Malone, Ora Penn, Medita Wheatley, Orpha Malone, Marilum Bass, Irma J. DeWindt, Valarie Thomas, Leudena Thomas, Edris Jackson, Adina Raymo, Valarie Petersen and Daphne Gonzales-Thomas; special niece, Lorna Thomas Maccabaeus; many other nieces, nephews and relatives to many to mention; special friends: Ezelyn, Margaret Moore and Marylin Krigger.
The first viewing will be held from 7:30-8:30 p.m., Friday, May 31, at Turnbull's Funeral Home. The second viewing will be held at 1 p.m. followed by a funeral service at 2 p.m., Saturday, June 1, at Christ Church Methodist. Interment will be at Eastern Cemetery.