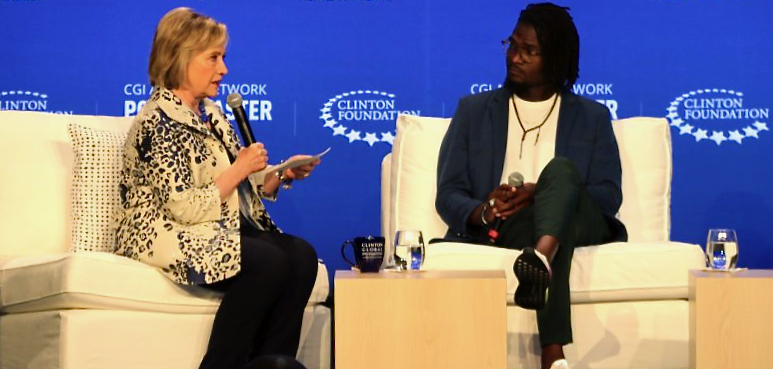 Two sessions Tuesday that looked at small business development and climate change continued a conversation on resiliency between regional leaders and potential partners that Gov. Albert Bryan Jr. said may not happen often but which he called critical to each island being able to respond better each time disaster strikes and recover more quickly.
Speaking at the final session of the Clinton Global Initiative's Action Network on Post-Disaster Recovery, Bryan described his experiences after several major hurricanes and observations on rebuilding afterward. Recovery post Hurricane Marilyn was better than after Hurricane Hugo, but with Hurricanes Irma and Maria in 2017, Bryan said that, "we got forgetful and had to learn the hard way that you always have to be diligent and resilient."
Two years after the storms, residents still struggle daily, but because of continued conversations – such as those spearheaded over the past year and a half by CGI – and partnerships, new ideas and concepts are coming to light that can help not only Virgin Islanders but people all over the Caribbean build a stronger community of the future.
Several of those new ideas and partnerships were brought to light during Tuesday's sessions, including efforts being made by local governments to reduce fossil-fuel dependency and build trust among residents so that they can take advantage of resources being offered to help build organizations like small businesses.
Speakers from Puerto Rico shared how churches are banding together to distribute supplies and pool resources and, from St. John, artist and engineer Kurt Marsh Jr. also shared what's being done to form a co-op tasked with preserving arts and culture so that it transcends disasters.
Some speakers said part of the process if you're part of a government is being realistic about some of the societal problems that existed before the disaster and finding ways to solve them so that recovery isn't hampered.
Aruba's Prime Minister Evelyn Weaver-Croes said part of the process included combating public distrust and an overregulation of small businesses that made it hard to attract new investment. Post-disaster, that kind of environment is hurtful for any government, and Aruba began the process of creating a digitalization plan to make small business creation easier, while also implementing an integrity plan to foster trust among its citizens.
These two efforts are connected through a larger e-government initiative that Weaver-Croes said is rolling out with help from partner Estonia, and is further designed to increase transparency and combat corruption.
Meanwhile, Premier Andrew Fahie of the British Virgin Islands said his territory's government is seeking to cut its dependency on fossil fuels in half within the next seven years, and views this process as a key part of its resiliency strategy.
"In seven years, we hope that 50 percent of our portfolio will be alternative energy," he said. "And we have found that this will allow us to make the same amount of profit at a lesser cost to the consumer. The more money people save, the easier it is to be more resilient, because then those consumers can invest more in areas such as education, and learning the skills and technical trades needed to promote resiliency."
During a session on climate change, Marsh said part of building resiliency is realizing the government can't do everything. Bringing in partners with new, innovative ways of doing things and making them part of the recovery efforts helps bring much needed help in faster, he said.
"The thing about resiliency is that it is an exercise in trying new things and beyond acting differently, we have to act more effectively," Marsh explained. "Territorially, we responded to the hurricanes in a way that we haven't before because we haven't faced the magnitude of the hurricanes we saw in Irma and Maria. Collectively, we now have to face getting external help, and building those public-private partnerships have been the saving grace. Where the local government wasn't able to respond just yet, there was a lot of public sector aid that came right away."
As part of a contingent of speakers that also offered suggestion, University of the Virgin Islands President David Hall said the institution, with initiatives in entrepreneurship, marine biology and coral preservation, and energy, is poised to become a hub for continued discussion.