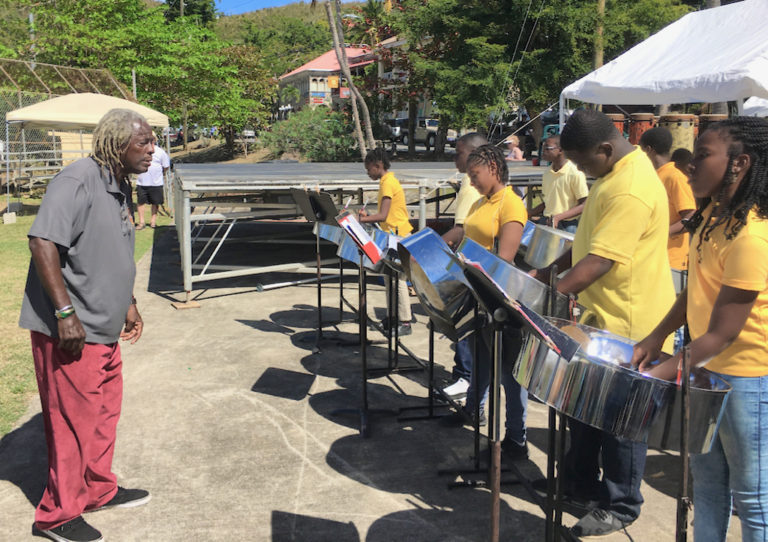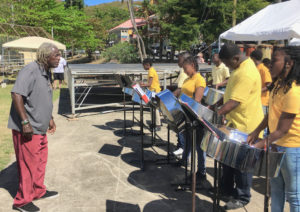 Pan-O-Rama, the event that kicks off St. John's July 4th Festival, will take place on Saturday, June 8, one week after the date originally set for the popular steel band competition. The event, held along the waterfront near Frank Powell Park, begins at 4 p.m. and ends in time to get participants from St. Thomas back home on the 11 p.m. ferry.
This year as many as eight bands are scheduled to participate, including, for the first time, the Rising Stars Steel Orchestra from St. Croix.
"We're looking forward to the beat of the drums and our special guests from St. Croix," said Leona Smith, one of the organizers of the St. John Festival. "We hope everyone will come out and support out youth, as the majority of the participants are students."
Liston "Matey" Sewer, who coordinates Pan-O-Rama, said the Rising Stars from St. Croix will perform using pans brought to St. John from the Rising Stars on St. Thomas. The St. Thomas band was formed in 1981 by Territorial Court Judge Verne Hodge as an activity to engage youth and combat juvenile delinquency. It proved to be so successful that a similar program was launched on St. Croix.
Other bands participating are the Bertha C. Boschulte Burning Blazers, the St. Thomas All Stars, Pan Around the Neck, Pan in Motion, Ulla Muller Panatics, and St. John's own Love City Pan Dragons.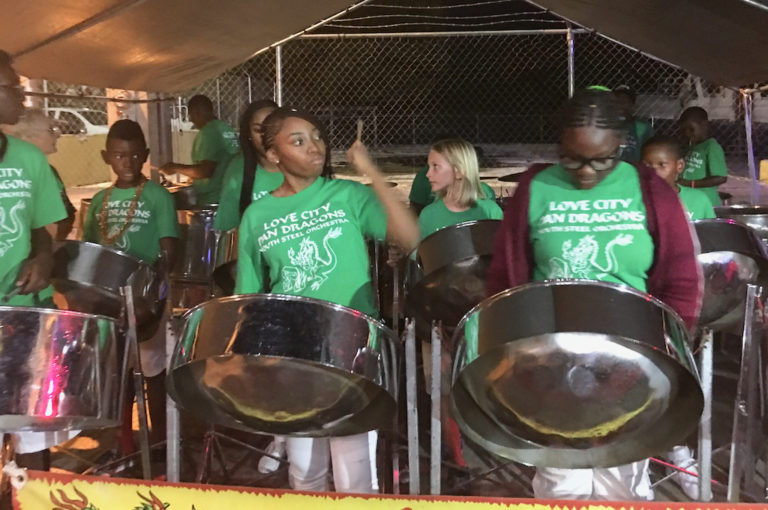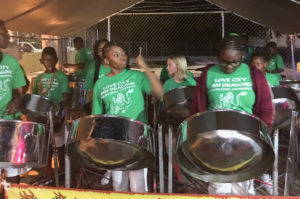 The St. John Festival Committee will have a concession selling food and drinks for the event in the park.
This year will be bittersweet for the members of the BCB Burning Blazers. "Matey" Sewer, who has directed the band for 23 years, is retiring.
"I love doing it, but I'm tired of taking the boat," said Sewer who commutes from the east end of St. John to Bovoni throughout the school year.
Sewer said he started playing steel pan 60 years ago, when he moved from St. John to Harlem, New York, at the age of 13. He returned to visit the island every year before moving back permanently in 1990. That year he began teaching steel pan to 16 students at the Guy Benjamin School in Coral Bay. He transferred to BCB Middle School where he now directs a steel band twice that size.
Sewer said not all of his students will participate in Pan-O-Rama.
"Some of their families think Carnival is un-Christian," said Sewer. "But we're celebrating freedom from slavery. People in churches were fighting for freedom, too."
After he retires, Sewer plans to do some traveling and then return to St. John to start a new steel band for adults and children. Asked whether he is concerned about competing with the Pan Dragons, Sewer said he was not.
"I want to compete – competition is good. The people from St. John will have to step up."