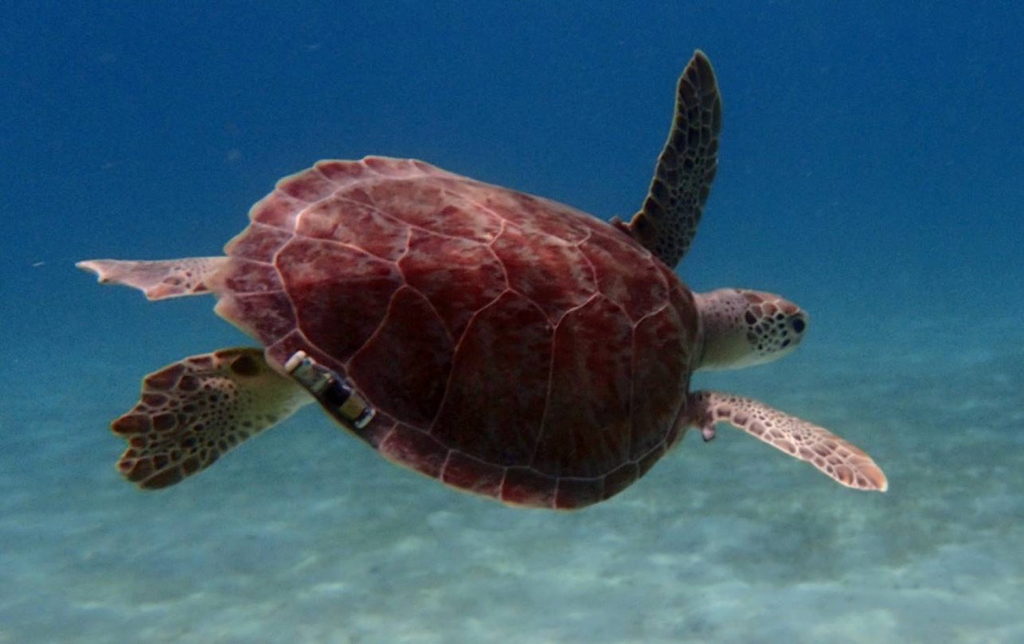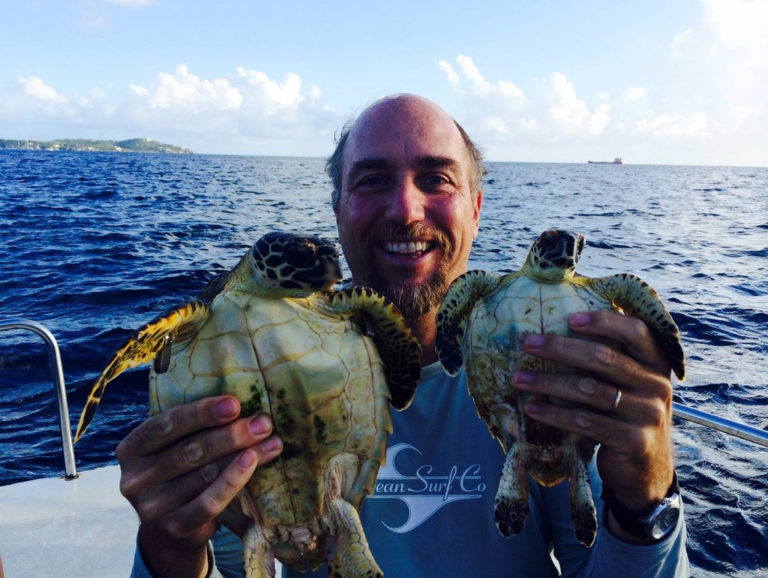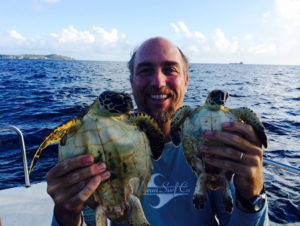 Virgin Islands residents who lived through hurricanes Irma and Maria know what they had to do to survive the storms, but what about the other creatures who inhabit the land and the sea?
Thanks to ongoing research, scientists at the University of the Virgin Islands know what happened to a population of juvenile hawksbill sea turtles which they had been tracking near Brewers Bay: All 11 turtles found safe places to shelter nearby, and all 11 returned to their normal home range within a matter of days.
How do the researchers know? In 2014, scientists at UVI constructed an acoustic array in Brewers Bay consisting of 40 receivers that would pick up signals transmitted from tracker tags attached to turtles' shells. The project was funded by a grant from the National Science Foundation, and donations to the UVI Sea Turtle Conservation and Research Fund.
In August 2017, shortly before Hurricane Irma struck, researchers tagged 11 juveniles, according to Paul Jobsis, a UVI professor who directs UVI's Center for Marine and Environmental Studies. Except for a brief period during the storm, when there was too much noise to get complete dive records, the receivers successfully tracked the turtles' movements throughout both Irma and Maria.
Researchers were able to download the data from the receivers soon after the storm, and in November they dived Brewers Bay to confirm that the turtles were safe and sound. All 11 hawksbills stayed in the area and were detected by the receivers.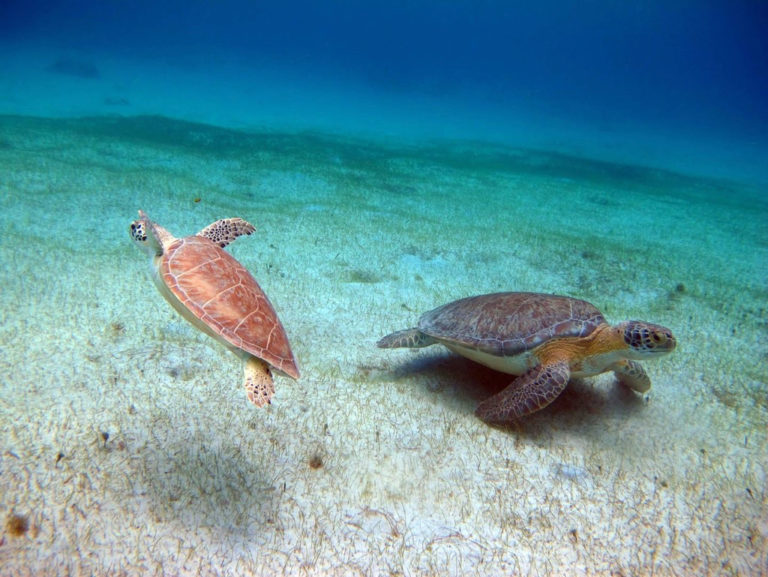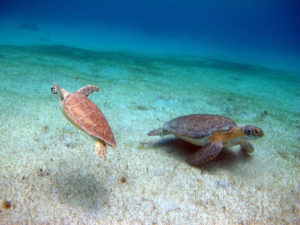 Jobsis was pleased that 38 of the 40 receivers, which look something like large beer cans, were still in place and functioning after the storm. At a cost of $1,500 apiece, this was good news.
The 11 turtles that were tracked are not the only sea turtles living in Brewers Bay and nearby along the runway. In the past five years, researchers have tagged almost 135 turtles, including green turtles, in the study area.
Scientist have less data on the green turtles, however.
"We can't keep the acoustical trackers on the greens. They are meticulous cleaners," said Jobsis. "They swim under ledges and scrape the tracker tags off their shells."
The Virgin Islands is a great place to study sea turtles, for it is home to at least three species of sea turtles – greens, hawksbills, and leatherbacks.
"St. Croix has one of the largest nesting beaches for leatherbacks and a 30-plus-year data base for turtles nesting on Buck Island," said Jobsis.
The robust turtle populations have attracted several other turtle researchers, including Kristin Hart and Kelly Stewart, who continue the work but are not a part of UVI, Jobsis said.
Eight students at UVI have completed their master's theses based on their research on sea turtles, and three others are now working on theirs. UVI students who have contributed to knowledge of local sea turtle populations include Scott Eames, Lora Johansen, Paul Hillbrand, and John Cassell.
Researchers now hope to learn more about the 11 hawksbill juveniles that are being tracked, including their gender. Among mature turtles, a long tail indicates that the turtle is male, but to determine the sex of a juvenile, a blood sample or laparoscopic surgery is necessary.
"These juvenile turtles are five to 20 years old. They take a long time to reach sexual maturity, sometime between 20 and 30 years," Jobsis said.
It has taken years of protection and conservation, but now the many populations of endangered sea turtles are starting to recover.
Studies are also underway to use genetics to find out where the turtles were born and if any are related. Genetic studies are critical for better understanding of sea turtle biology and the recovery of the species. Jobsis joked that the unofficial name of a study of paternity in hawksbills on St Croix by his student Paul Hillbrand is "Who's your daddy?"
Although snorkelers may regularly observe a group of turtles apparently associating together, it cannot be assumed that they are a "family," Jobsis said.
Scientists were concerned the hurricanes may have damaged beds of native seagrass, the primary source of food for green sea turtles. Fortunately, since the storm, the seagrass beds have recovered, and the green turtles appear to have returned to their home ranges.
In recent years, an invasive species of seagrass, Halophila stipulacea, has become more pervasive in the Virgin Islands, and marine biologists worried that it might overtake the native seagrass, Syringodium filiforne.
It was unclear at first whether the local green turtles would lose their favorite food source, Jobsis said, but marine biologists are now less concerned. Judging by the amount of fat around their necks, the green turtles seem to be well nourished. The turtles will eat the invasive species of seagrass but seem to prefer the native species.
Like a lot of us, given the choice, they seem to pick the food they grew up on.