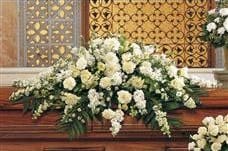 Amin Abdullah, formerly known as Norbert Todman, was born on Jan. 21, 1952, and died at the age of 67 at the Roy Lester Schneider Hospital on April 18.
Abullah is survived by his wife, Kahdijah Joof Abdullah; children: Kahlid Adbullah, Aminah Abdullah and Sulliman Abdullah; stepson, Ajani J. George — Aquil Abdullah (deceased).
He is also survived by his sisters: Joyce Delemos Francis and Terry (Theresa) Todman; brothers: Calvin Todman (also known as "Devil"), Courtney Todman (also known as "Mayfield") and Clarence Todman Sr. (also known as "Claz"); and many nieces and nephews too numerous to mention.
Special friend: Naeem Muwwakkil (Muw wak kil) of Atlanta, Georgia.
Mr. Abdullah will be given a Muslim burial, which is pending.