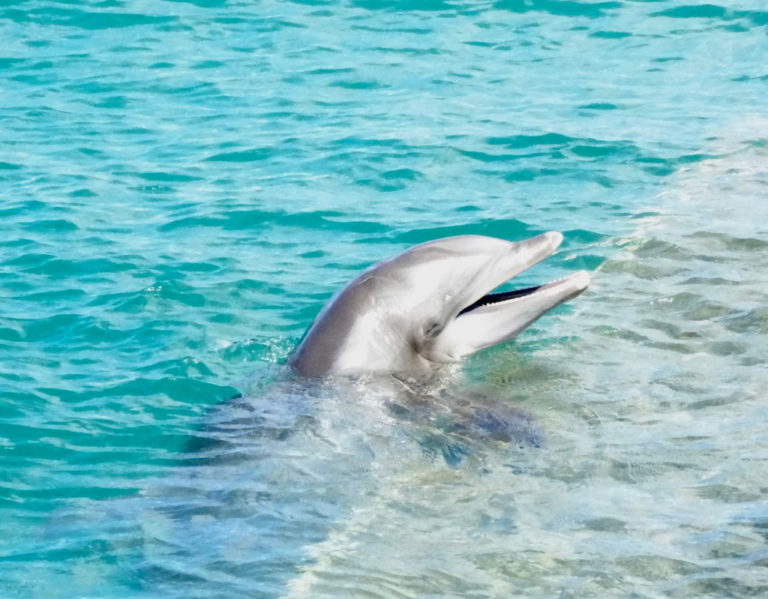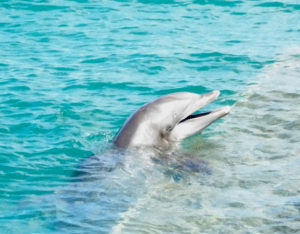 Liko, Ping, Sonny and Noelani, the Atlantic Coast Bottlenosed Dolphins who have taken up residency at Coral World Marine Park on St. Thomas, were home and receiving guests Wednesday afternoon.
The four – two females and two males – who arrived on the island in February, had never been in the ocean before coming to St. Thomas.
Greeting and interacting with humans, however, is nothing new to these mammals. They were raised in captivity and have had interactions with people practically since birth.
What is new for them is being able to catch food and feed at will.
"Look out at that big brown area, " said Lee Kellar, Coral World general curator pointing to a large shadowy expanse in the center of the 69,000 square-foot habitat. "That is all red cheeked sardines and yellow tails."
Before arriving in the territory the dolphins, who are also fed by their caretakers appropriate to their energy expenditure, never had the chance to feed on their own as they would in the wild.
Emma Landvatter, intern coordinator and dolphin trainer, said they are also very busy discovering coral and squid and other sea creatures with whom they now share their natural quarters.
"Ping got inked the other day," Landvatter said, smiling. "They are learning so much."
And learning is part of the necessary care, according to Kellar. The dolphins, who range in age from eight to more than 18 years old, are also living in a sustainable situation and teaching as well as learning.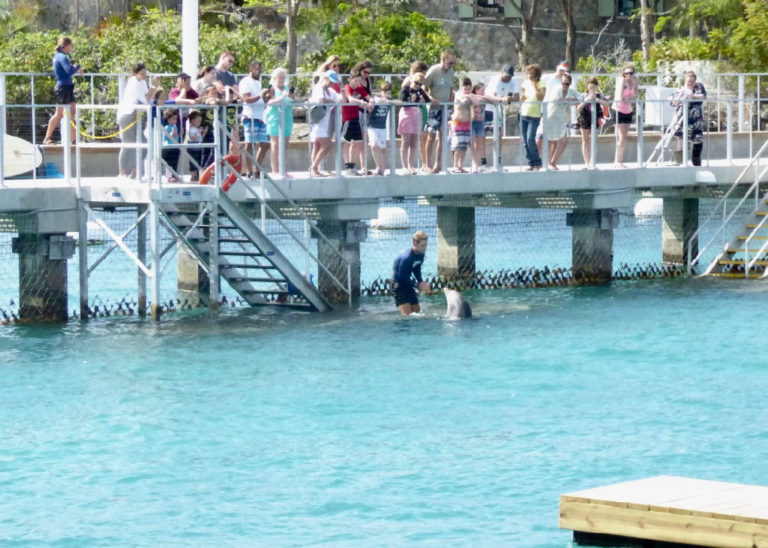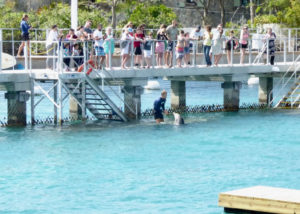 Coral World officials said their commitment is to expanding the marine park's community outreach. They bring about 4,000 Virgin Islands children to the park (for free) every year to spark interest in their environment and open their eyes to possible careers in the marine industry.
"They live on an island; it just makes sense," Kellar said.
Meanwhile, Kellar is fully aware of the many falsehoods about and criticisms of the attraction flying around the island, and was completely open to addressing the genuine concerns, one being the dolphins were brought to St. Thomas for the purpose of breeding and selling them.
Dolphins like sex, just like people – and just like people, some like it more than others. What that means is there may be offspring. But Kellar roundly dismisses any notion that there is profit in dolphin breeding – or that that is the intention. Their upkeep is $300-$500 a day.
For Trudie and Neil Prior, the facility on the East End is and always has been a contribution to the community. But to keep it sustainable, it is also an attraction.
In other places and with other people, you can raise the money to build something like this, Kellar said, with a sweep of an arm toward the steel framed expanse of docks and water, but at the rate of money that needs to be spent just to maintain the animals, those places would be out of money in a month.
Addressing the procreation that will most likely take place, why not only have one gender or the other? Because, said Kellar, that's unnatural.
"It is not a good social group," he said.
Why not separate them? "That's cruel," according to Landvatter. "Liko loves Ping. It would be awful to separate them."
However, they do have "a room of their own." In the deepest part of the 20 acre home is a place where any of them can go and be alone. And each of the smaller holding areas has gates that can open and close. There are six docks where visitors can get close – but not too close – to the dolphins, and only when the animals indicate they are willing to interact.
"We never, ever make them do anything," Landvatter emphasized.
Mario Picayo, who researched, wrote and published the children's book, "Dolphins of the Caribbean," understands that captive-born dolphins can never be released to the wild.
In a measured response to a Source story announcing the arrival of the four animals from a facility in Arizona, where several dolphins had died from as yet to be fully determined causes, Picayo asked, "Could the four dolphins from Arizona now in the V.I . be carrying pathogens that can spread into the surrounding waters? They will be penned outside with free-flowing water from the bay going in and out of their pool. There are wild dolphins in the area, so it should be something of concern."
It was an obvious concern, Kellar said. "We've spent tens of thousands of dollars on testing;. You are looking at animals that are not carrying anything that is contagious."
Part of the $18 to $20 million spent on the modern, one-of-a-kind facility includes a state-of-the art-laboratory and clinic meant to serve all of the animals in the park. There is also a veterinarian on site and a specialist on call.
Critics have objected to the facility being referred to as a sanctuary, which Webster's dictionary defines as a place of refuge or protection; a reservation where animals or birds are sheltered for breeding purposes and may not be hunted or trapped.
"We feel very comfortable calling this a sanctuary," Kellar said. "The dolphins are protected and fed; they are having a good time."
Kellar, who came as a consultant to Coral World 10 years ago, also explained that finding food is a huge energy drain for dolphins in the wild.
"Catching fish is not that easy," he said.
And the fish supplies are dwindling across the globe, just to add to their burden. In captivity, they are well fed in proportion to their calorie burn.
Nor is the wild necessarily a safe haven from people. There is a place in the Gulf of Mexico where dolphins go to rest. But tour operators are wise to the location and routinely take tourists to them, thus robbing the animals of their quiet time.
The wild is dangerous in other ways, according to Kellar, who cited two fatal injuries to dolphins – one being struck by a boat, the other being stabbed and killed with a screw driver.
"These were dolphins who are habituated to people," he said. In the second case, the dolphin came up to a fisherman's boat and he stabbed him to death.
"Dolphins should be very wary of people in the wild."
It's not that Kellar believes they are somehow better off in enclosed areas. They just are and always have been captive dolphins. At Coral World, he said, they are in a concierge medical situation with an on-site veterinarian and a dolphin consultant on call.
"I believe they are in a wonderful situation here at Coral World," said Kellar, who has worked with marine mammal all over the world for 40 years.
Eventually these dolphins will have the opportunity to "take a walk on the wild side."
Landvatter points to a part of the dock on the outboard side where the dolphins will eventually be coaxed to enter the bay in order to research things such as how fast they swim, how deep they dive and more.
What will keep them from swimming off? She smiled and said confidently, "They will come back." In fact, she says it will be very small steps, inch by inch to even get them to leave.
And while speaking of research, in his book Picayo discusses research that has uncovered the ability of dolphins to help people who are ill or have learning disabilities by making them calmer. According to one theory, "dolphin's echolocation produces enough sound energy to change cells in the body of the person receiving the [dolphin] therapy," the book says.
Even if this theory "is all in the head," he writes, people feel better because being in the water with a dolphin is an amazing experience.
Picayo believes dolphins not born in captivity are meant to be in the open ocean. Meanwhile, he says, "I hope these will be given the best life possible." There are agencies tasked with inspection and enforcement of proper care procedures, he pointed out. "It they are doing their job, then the dolphins should be cared for in the best possible way."