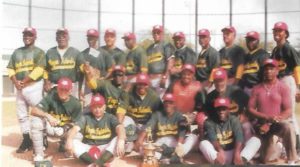 Most people remember Darlan Brin as the face of the V.I. Port Authority, but since 1988, he's gained recognition for something completely unrelated: senior men's baseball.
At a a ceremony Saturday, Brin will lead a program honoring people he says not only were outstanding players, but who continue to carry the torch, guiding younger generations in the game The event will take place at 12:30 p.m. Saturday at the University of the Virgin Islands' baseball field on St. Thomas.
Included among the honorees will be Future Stars Baseball founder Darren Canton, Explorers baseball organizer Michael Bute, and Little League officials Steve Parrs and Senator Athneil "Bobby" Thomas.
Special recognition will be given to:
– Eldridge Blake, who helped the men's senior team win its first 1988 championship with six home runs. He was recognized as the tournament's Most Valuable Player, with 14 hits in 23 at-bats;
– Joseph Clendinen, who was president of the St. Thomas men's baseball league for many years, and also helped the team win its first 1988 championship; and
– Franklin Steel, who Brin said has continued to help inspire his fellow players.
Nationally, the Senior Men's Baseball League was established in 1988 and offers athletes 18 years and older the chance to continue competing and pursuing their passion for the sport. Brin founded the territory's baseball chapter and for decades has taken groups of players to the mainland, where they've continued to win championships.
Now, Brin says he has the chance to honor those players that not only don't get the recognition, but also volunteer outside the league – and their own everyday jobs – to coach local Little League teams and mentor young athletes who are also following their dream of one day playing in the majors.
"I found out in 1988 that there was an organization that would have tournaments annually for players 40 years and older, so I helped form a team here on St. Thomas, and that year, we went to the tournament and we were champions," Brin recalled. "The year after, we came in second, and we never advertise, but we are out there, representing the Virgin Islands, and continuing to advocate for the immense amount of talented athletes we have here."
Brin said many of the V.I.'s senior team players cover their own tournament expenses – including travel – and still come home to raise funds for local baseball programs and organizations.
"I find that these individuals have made extraordinary contributions to the game, in terms of its growth and development, particularly at the adult and senior levels," Brin said. "In my mind, it was time to recognize these individuals, especially those who have made a difference in the development of very young players year after year."