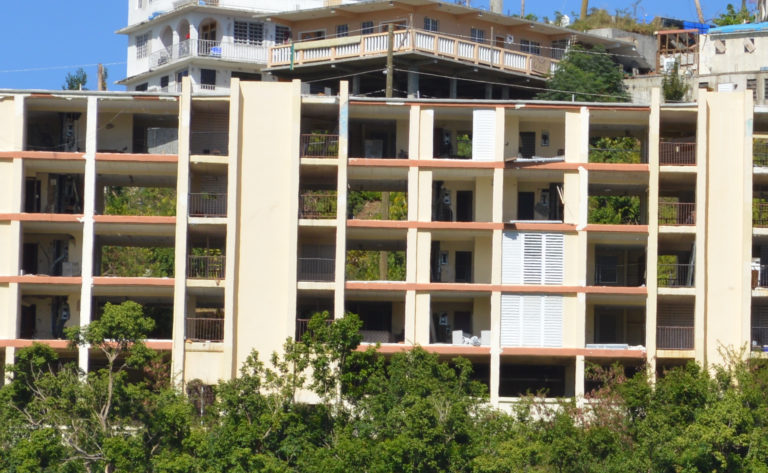 The Virgin Islands is slowly unwinding the red tape wrapped around a $1.9 billion package of federal disaster assistance.
The money was "awarded" by the U.S. Department of Housing and Urban Development in the form of Community Development Block Grant – Disaster Relief funds a few months after the September 2017 hurricanes. The money is meant to fill "unmet needs" or gaps left by other disaster assistance programs.
In July 2018, $242,684,000 of the total was actually "allocated," meaning that HUD had approved the territory's plan for spending that much of the award on specific housing needs, infrastructure such as electrical power systems, and economic revitalization including enhancing sea and airports.
However, the V.I. still had to develop policies and procedures and finalize plans for individual activities – and have them approved – for actual expenditure.
A federal report completed last month and released this week reveals that the Virgin Islands has yet to actually draw down any of the allocated money. That drew some public criticism of the territory for dragging its feet, but the report put the blame for delays primarily on HUD's bureaucracy.
The report, requested by Congress and conducted by the independent Government Accounting Office, found that all four jurisdictions assigned major CDBG-DR funds associated with 2017 disasters were slow in actually obtaining any of the funds.
As of January of 2019, Texas had drawn down just $17.5 million of an available $5 billion; Florida had drawn down $1 million of an available $615.9 million, and neither the Virgin Islands nor Puerto Rico had tapped any of the funds available to them, ($242.6 million for the V.I. and $1.5 billion for Puerto Rico.)
The two Caribbean territories had been given more time to submit their action plans than Florida and Texas since both states were more familiar with the process, having received CDBG-DR funds more recently than the territories have.
The GAO found that HUD has to customize grant requirements for each disaster – "a time-consuming process that has delayed the disbursement of funds."
An official from one of the grantee jurisdictions told GAO that it is difficult to manage the multiple CDGB-DR grants it has received in recent years because the rules are different for various awards.  Grantees have faced additional challenges "such as the need to coordinate the use of CDBG-DR funds with other disaster recovery programs that are initiated at different times and administered by other agencies," the report states.
"Without permanent statutory authority and regulations such as those that govern other disaster assistance programs, CDBG-DR appropriations require HUD to customize grant requirements," the report says. So, GAO recommends that Congress consider permanently authorizing a disaster assistance program that addresses unmet needs.
The report also found "HUD's review of grantees' initial steps was limited and it has not developed monitoring or workforce plans" and "HUD does not have adequate guidance for reviewing financial processes and procedures and assessments of capacity and unmet needs."
The Virgin Islands has been moving ahead with parts of the CDBG-DR plan.
The territory annually receives traditional CDBG funds that are not disaster-related, and for the last few years the VI Housing Finance Authority has administered those funds.  Now the Authority has established a division devoted specifically to the CDBG-Disaster Relief grant. As of February, the report says, the VI had met about half of the staffing need for that division, filling 28 of 58 positions.
The territory also has submitted an amendment to its original allocation request, adding plans for more expenditures, and coming closer to the total award.  HUD approved the amended allocation March 1.
The total funding allocation as of now is just over $1 billion:
·         Public and affordable housing development, rehabilitation or construction of affordable rental units, including subsidized and mixed income rental units, $72 million
·         Supportive Housing for vulnerable populations, rehabilitation and reconstruction, development of hew housing, and provision of supportive services to elderly, disabled individuals, and individuals who are homeless, $90 million
·         Homeowner rehabilitation and reconstruction, for owner-occupied units, $60 million
·         New construction for homeownership opportunity and first-time homebuyer assistance, $50 million
·         Forgivable construction loans to owners of rental housing to rehabilitate and reconstruct disaster-impacted rental units, $25 million
·         Port and Airports, expansion of port capacity (through dredging and adding berthing space) and improvements to airport's passenger processing infrastructure, $40 million
·         Tourism Industry Support (required a special waiver to use disaster relief funds,) developing marketing strategy and campaign and technical assistance to private sector entities, $10 million
·         Workforce training and job placement services, with initial focus on low and moderate-income individuals for construction and other recovery-related jobs, 10 million
·         Local match for Federal Disaster Relief Program, including FEMA infrastructure funding, $168.8  million
·         Electrical power system enhancement, including instituting mitigation measures to prevent or reduce service disruptions, $135 million
·         Repair and replacement of damaged public infrastructure (such as nonfederal roads) hardening of infrastructure against extreme weather events, and construction of new infrastructure to connect to or improve the delivery of public services, such as building new trenches to bury or expand utilities, $305 million
All funds must be expended by 2024.