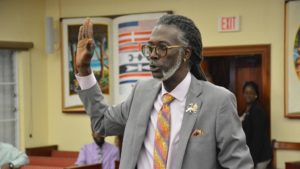 Agriculture Commissioner Nominee Positive T.A. Nelson received a unanimous nod from lawmakers on Thursday, but not before fielding questions on a perceived conflict of interest stemming from his high-profile advocacy for medicinal and recreational cannabis.
"I don't see a conflict, and I think I'll be able to serve without any bias," Nelson said.
The Senate Rules and Judiciary Committee, chaired by Sen. Alicia Barnes (D-STX), did approve Nelson, Gov. Albert Bryan's agriculture nominee, on Thursday. But multiple lawmakers brought up the issue of cannabis, with Barnes saying her office received calls concerning "perceptions of conflict of interest" between Nelson's push for the recently enacted Medical Cannabis Patient Care Act, which contains cannabis farming provisions as a major component, and his appointment as commissioner of agriculture.
Nelson recently appeared in DOPE Magazine, in an article and social media segment highlighting his role in the legalization of medicinal cannabis in the Virgin Islands. Nelson also shared on Tuesday that he joined a group of individuals advocating for recreational cannabis on an international platform. The former lawmaker, however, stressed that he sees no conflict of interest.
"Can I perform the job of agriculture commissioner? Yes. Is that separate from my advocacy for cannabis? Yes. In my testimony, I said nothing about cannabis because this is my agriculture nomination. I am fully focused on what agriculture's responsibility is," he added.
Nelson also said he is careful to point out which hat he wears when speaking at cannabis-related engagements, separating his government cabinet position from his advocate role.
Nelson, a seven-term former senator with background in accounting and business, also found himself justifying his nomination considering his lack of agriculture expertise. Nelson said while his predecessors may have educational background in agriculture, many are still not pleased, he said, with the current state of the local agriculture industry. Agriculture is about agribusiness, Nelson said, and his accounting and policy-making background would prove valuable in his appointed role.
"What agriculture needs right now is not necessarily a 'farmer of the year,'" Nelson said. "It needs someone who understands policies, how to source funding, who understands how to use those resources to achieve our objectives."
According to Nelson, the territory's agriculture industry has gone from being an economic pillar to stagnation. Nelson pointed to the shrinking and aging farming population, an issue his department aims to address, in part, by establishing after-school and summer camps, as well as apprenticeships to draw young people into the field. Nelson said persistent issues with freshwater availability and high cost of utilities also impede the growth of the industry.
"In recent years, there have been legislation passed attempting to revive the industry. However, due to lack of action based on funding shortages, miscommunication or just unwillingness, most have not been implemented," Nelson said.
"Routine budget cuts continue to eat into our resources, further prohibiting growth," Nelson said, pleading with lawmakers not to cut the Agriculture Department's budget even more and pledging to focus on filling positions that would ultimately generate revenue for the department.
Nelson said one of his priorities is food security, and reducing the need to import food. According to Nelson, the territory's reliance on importing up to 95 percent of its food demand should be cause for alarm. In the aftermath of two Category 5 hurricanes, Nelson said the territory must focus on stocking its own warehouses, bunkers and food stores.
"Relying on that warehouse in Puerto Rico is not appropriate. It's not adequate," he said, referring to FEMA's climate-controlled warehouses in Puerto Rico that store disaster commodities for deployment to the Virgin Islands in the event of a disaster.
Voting to advance Nelson's nomination were Sens. Myron Jackson (D-STT), Kenneth Gittens (D-STX), Novelle Francis (D-STX), Steven Payne (At-Large), and Barnes. Sen. Stedmann Hodge (D-STT) was excused. Sen. Dwayne Degraff was absent.
Health Commissioner Nominee Advances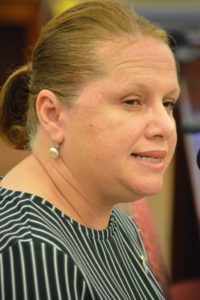 The Senate Rules Committee also approved the nomination of Justa Encarnacion to take the helm at the Department of Health.
Encarnacion, a healthcare professional with an extensive background in nursing and experience in management, served as Vice President of Outpatient Services, Vice President of Strategic Services and as Chief Nursing Officer at the Juan Luis Hospital on St. Croix.
Encarnacion said one of her priorities is developing a Virgin Islands Health Plan, with support from the Centers for Disease Control and the US Department of Health. Developing the territorial health plan will involve a health needs assessment that would gather input from various agencies, including the Department of Human Services, the Department of Education, hospitals, nonprofits and federally qualified health centers, according to Encarnacion.
"Taking this approach will lead to better health outcomes, reduce health disparities, increase preparedness, and increase in the overall quality of life for our population," Encarnacion said.
Encarnacion said she also aims to accomplish the opening of the planned 40-bed residential behavioral health facility on St. Croix and getting all off-island behavioral health patients back to the territory.
Encarnacion also updated lawmakers on the status of various Health Department projects, including the department's nearly completed modular units on St. Croix that are set to open on April 4. According to Encarnacion, the Eldra Schulterbrandt Long-Term Care Behavioral Health Facility Project is almost completed and slated for an early April opening.
On St. Thomas, the Health Department has opted to renovate the Knud Hansen towers and surrounding buildings instead of building modular units on a plot of land next to Schneider Hospital. Health Department representatives met with members of the Army Corps of Engineers and representatives from Witt O'Briens on March 26, according to Encarnacion, to provide information needed to move the project forward.
The Health Department will also be moving its Behavioral Health and Substance Abuse Division's outpatient services from Schneider Hospital to its Barbel Plaza location, she said.
Voting to advance Encarnacion's nomination were Gittens, Francis, Payne, Degraff and Barnes. Hodge was excused; Jackson was absent.