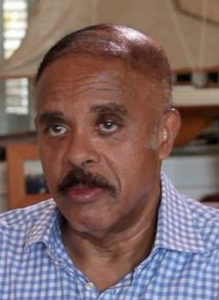 Robert Charles deJongh Sr., known affectionately as 'Bobo', Bobby, and Bob, was born on July 27th, 1946, on the island of St. Thomas in the United States Virgin Islands. Bob was born to Mavis Elizabeth Bentlage deJongh and Percy Leo deJongh, both natives of St. Thomas, Virgin Islands, and dedicated public servants. His mother Mavis, who passed away 5 days shy of her 95th birthday in 2015, was a retired Assistant Director of the US Customs Services. His father, Percy deJongh was the Commissioner of Finance of the Government of the Virgin Islands. Percy and Mavis raised four children – James, Bob, John, and Edith. These four children were the central focus and core of Mavis and Percy's tightly-knit family unit, which was based on family values, strength, hard work, perseverance, sacrifice and entrepreneurship.
This solid family unit has produced a multi-talented assortment of entrepreneurs, writers, leaders, professionals and business people. Bob strove to emulate his accomplished older siblings and at an early age, Bob's family recognized that he had artistic capabilities, which they stimulated throughout his school years. Bob was a spirited and exceedingly inquisitive youth, and yes, he was occasionally in good natured trouble. He spent time out and about at Estate Staabi, in Savan, and exploring the ever- expanding town of Charlotte Amalie in the 1950's and early 1960's. Bob graduated from Sts. Peter and Paul Catholic School in 1963. At the inspiration of a recently reunited cousin, architect Percy Ifill of New York City, he began his studies in architecture at Howard University in Washington D.C. Bob lived his professional life as an architect.
While at Howard University, he met Donna Geal Criner and they were married in 1967. The couple were married for almost 52 years. In addition to managing their 45-year old architecture business, Bob and Donna raised two children, Robert Charles deJongh, Jr. (Monique Jellerette deJongh) and Christine Elizabeth deJongh (James Liburd, Jr.). Their grandchildren are Dylan Evadne deJongh (28), Jordan Carole deJongh (25), Nina Emanuelle Lewis (20), Amahl Kedar deJongh Lewis (17), Ajahni Kiell Liburd (15) and Onnika Iman Liburd (13).
After graduating from Howard University in 1971, Robert worked with Walter Marlow, AIA and Bryant & Bryant Architects, in Washington, D.C., as Design Chief. During this time, Robert worked on the Georgetown Day School, the Sidwell Friends School, the Washington Technical Institute, and the new Paul Dunbar High School, in Washington, D.C. Robert also maintained a private practice creating perspective renderings for the Washington D.C. design community.
Robert and Donna moved to St. Thomas in 1973 to establish what became the deJongh Group, P.C., their architectural firm. The practice grew from a sole proprietorship where Donna and Bob were the only employees, to a firm which, at its height in the late 1980's and early 1990's consisted of 60 multidisciplinary professionals. As political, economic, and natural disasters occurred in the Virgin Islands, the firm reduced in size and rode out the storms. Through it all, Bob and Donna persevered in their efforts to stay in business and for the last eight years, their firm has been comprised of a team of 5-7 dedicated individuals, some of whom have worked with them for over 30 years.
Many of Robert and Donna's former employees and interns also have gone on to create their own architectural / engineering firms in the Virgin Islands. Over the years, approximately 30 interns have completed their post-graduate training in their offices. Many of these former architectural interns went on to obtain professional licensure and now have practices of their own in the Virgin Islands and across the mainland US.
Bob and Donna's driven focus led them to prepare multiple urban master plans for the growth of St. Thomas and other municipalities in the Virgin Islands. The idea for St. Thomas' Main Street Mall was conceived by Bob and Donna in 1974. More recently, they contributed to design charrettes for Garden Street, Savan/ Lower Kronprindsens Gade, Hospital Ground, and St. John's Coral Bay Community Engagement. Together, Bob and Donna participated in the architectural planning of personal residences, courthouses, police facilities, hospitals, and many historically-sensitive restorations and expansions of urban, vernacular and infill buildings across St. Thomas, St. John, and St. Croix. Bob was committed to the preservation of historic buildings and was particularly passionate about the projects in and around his own home of 37 years, Crown House, the former residence of Peter von Scholten, the Danish Governor-General of the Virgin Islands who freed the slaves in the Virgin Islands as a result of the Fireburn and other slave-rebellions.
Bob and Donna performed services in Washington, D.C., New York, Texas and Georgia. Donna was the African-American, female architect selected by the Camille Olivia Hanks Cosby Foundation for a rare architectural opportunity and together, they designed and oversaw the construction of the Camille Olivia Hanks Cosby Center at Spelman College in Atlanta, Georgia. The team also conducted several improvements to various facilities for the University of the Virgin Islands Campuses, including hurricane Marilyn repairs to three campuses, dormitory/administrative facility repurposing, and the conversion of a former seaplane hangar into the UVI Sports & Fitness Center, where the nationally-televised NCAA Paradise Jam tournament has been held for 18 years.
Professionally, Bob served on many corporate and public boards and commissions. He was the President of the Virgin Islands Chapter of the American Institute of Architects on numerous occasions. He served as president of the St. Thomas-St. John Chamber of Commerce, and as a member of the St. Thomas Historical Preservation Commission for more than 17 years. Bob served on the National Trust for the Endowment of the Arts as the USVI Representative. He also served as a State Representative on the National Board of Historic Preservation. Bob served for 12 years on the Board of Directors of TLC Beatrice International Holdings, Inc., for founders Reginald F. Lewis and Loida N. Lewis. During this extended period, TLC Beatrice became the largest African-American owned multinational company in the US to date. This service led to his appointment on many committees and advisory commissions on growth and planning in the Virgin Islands. Bob was nominated to the National Documents Committee of the American Institute of Architects, for a 10-year term. He completed 3 years of that term prior to his illness. The service of his practice, and his service on many boards and commissions spanned across the administrations of USVI Governors King, Luis, Farrelly, Turnbull, Schneider, and deJongh. Bob was a well- respected member of the design and construction community in the Virgin Islands.
People would say that when you saw one, you saw the other. Bob and Donna deJongh were inseparable in life, business, and recreation for the 52 years of their marriage. They actively played doubles tennis nightly, hosting an annual community tennis tournament at the Sub Base Tennis Court for over 25 years. Bob and Donna helped the VI AIA Chapter start the E.H. McDowell Scholarship Fund for architectural studies in the early 1980's. Together they sponsored senior and little league baseball teams, junior basketball teams, carnival troupes, and the education of many individual students over the years.
Over the years, Bob and Donna worked together to help multiple families and businesses recover from the region's many tropical storms including Hurricanes Hugo, Marilyn, and others. Unfortunately, during the ongoing recovery processes of Hurricanes Irma and Maria, Bob was sidelined by his diagnosis of glioblastoma multiforme, a brain-tumor.
Around their 50th wedding anniversary, in April of 2017, Bob was diagnosed with this deadly cancer. In May of 2017, he traveled to the renowned MD Anderson Cancer Center in Houston, Texas where he had a craniotomy to remove the recently diagnosed tumor. He recovered over the summer at the residence of family members, Michael and Christine Smith. In August of 2017, after the initial round of treatment, Bob and Donna went home to St. Thomas to tend to their properties and business affairs. Then, the catastrophic trio of Hurricanes Harvey in Texas, and Irma / Maria in the VI, occurred. The combination of storms and catastrophic illness generated the 'perfect storm' of health and life challenges for Bob and Donna. Following Hurricane Irma, which they rode through with their grandson, Amahl, Bob and Donna remained in the VI and attempted some recovery efforts for their properties and those of their neighborhoods. These efforts proved to be too physically taxing for Bob, who was already impaired by the cancer treatment and was without power, water, and appropriate medical support.
Just before Hurricane Maria, Bob and Donna were medically evacuated from St. Thomas to San Juan, Puerto Rico where they spent the night. They just barely made a United Airlines flight back to Houston on the Sunday before Maria devastated the VI and Puerto Rico. Bob was able to resume chemotherapy and radiation treatments at MD Anderson. He tolerated chemo well, but glioblastoma multiforme is an extremely aggressive form of brain cancer. Bob survived after his surgery, radiation, and chemotherapy for almost two years, well in excess of most with this diagnosis. Unfortunately, his speech, vision, and motor functions were severely reduced. It was a continuous battle for him to communicate and remain mobile. Donna and immediate family members cared for Bob at home. Our husband, father, brother and grandfather fought the good fight and went home to be with the Lord on March 13th, 2019.
Bob was loved by his entire family and many other special friends. His surviving brother, James deJongh of New York and St. Thomas, was his lifelong best friend. Bob had many other special nieces and nephews, the children and grandchildren of his sister Edith deJongh Woods (d/c) and John Woods (d/c) including Julie Woods Dukes, John Woods, Fred, 'Freddie' Woods (d/c), Robert 'Robbie' Woods (d/c); the children and grandchildren of his brother, John deJongh Sr. (d/c), Judith deJongh McCoy (Mike), John deJongh Jr. (Cecile), Stanley deJongh (Gwen), Sydney deJongh (LaMae), and Mary deJongh Frate; the children and grandchildren of Christine Criner-Smith, Krystene Woodard (John) and Deanna King (Michael); the children and grandchildren of Oscar Criner III and Sandra Criner; and the children and grandchildren of Harold Criner.
Bob was well loved by his cousins and other special extended and bonus family members, including the Criner, Daniels, and Smith families of Houston, Texas; the Jellerette family of New York; the Lewis and Galiber, families of St. Thomas and St. Croix; the Benjamin family of St. Thomas, the Milligan and Christopher families of St. Croix, special friends Edwin and Elsie Turnbull, the Moorehead, Classen, Boschulte and Costa families; Maria David and family, Paul and Karen Lange of Atlanta, GA, Paul Stegenga of Atlanta, Ga., William 'Bill' Spinks of Farmington Hills, MI, Charles and Michelle Jones of Florida, Loida N. Lewis of New York and the Philippines, Ronald and Charlayne Hunter-Gault of New York, and the members of the St. Thomas Racquet Club, Sub Base, St. Thomas, V.I. There are so many people who loved and supported Bob over the years – too many to mention…Thank you to all of you!
The family appreciates all of the loving kindness and care that has been shown during this difficult period. In lieu of flowers, please feel free to make a donation to the MD Anderson Cancer Center in memory of Robert deJongh, Sr. via this online donation form. Thank you all so very much.
Special thanks to the VI Chapter of the American Institute of Architects for their wonderful tribute. Please visit <www.robertdejonghsr.com>. If you would like to contribute to this compilation, please email your image, message or 1-minute video to <[email protected]>.
A memorial service will be held in Texas, on Tuesday, March 19th at 1 p.m., at Trinity Episcopal Church, 5010 N. Main Street, Baytown, Texas 77521. A memorial service at the St. Thomas Reformed Church, St. Thomas, V.I., is to be scheduled.
https://www.dejonghgroup.com/index.php