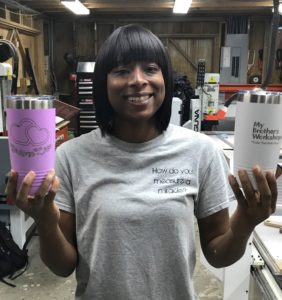 My Brother's Workshop (MBW) launched its Double the Love Matching Donor Campaign on Feb. 1 after receiving the news that an angel donor would match all donations in February up to $50,000. The campaign launch party at RooT 42 was a great success and raised $17,314!
The momentum from the campaign did not slow down, and many new and existing donors continued to show their support over the course of the month. The campaign raised a total of $116,745 ($66,745 from campaign donations and $50,000 from a matching angel donor).
MBW had raffle prize giveaways each week where all donors were entered to win limited edition Double the Love insulated tumblers (laser engraved at the workshop) and free tickets to the upcoming Mystery Under the Big Top Event on April 6.
With these donations, My Brother's Workshop will continue its work with young people in the territory. MBW, known for their vocational training, has seen incredible growth in the past four years. It all started with four students in 2007, and now MBW sees around 150 each year. Through their holistic approach that includes on-the-job training, mentoring, counseling, education and job placement, MBW is seeking to end youth crime and violence in the U.S.V.I.
To learn more about My Brother's Workshop, visit www.mybrothersworkshop.org or email inquiries to [email protected].