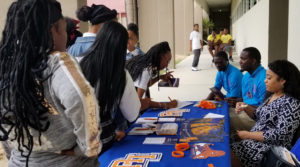 Students from St. Croix met with representatives of dozens of colleges, fraternities, sororities and military recruiters Tuesday at the CTEC college fair to consider where their future might take them.
The college fair is coordinated annually by Greg Tyler and held at various St. Croix and St. Thomas high schools for 11th and 12th grade students. The aim is to provide an opportunity for students to meet directly with admissions representatives and gather information regarding each individual college or university.
The four schools taking part Tuesday were St. Croix Educational Complex Academic School, St. Croix Career and Technical Education Center, Adult Education, Alternative Education and St. Joseph High School.
Students had the opportunity to have their questions answered and submit applications for further information.