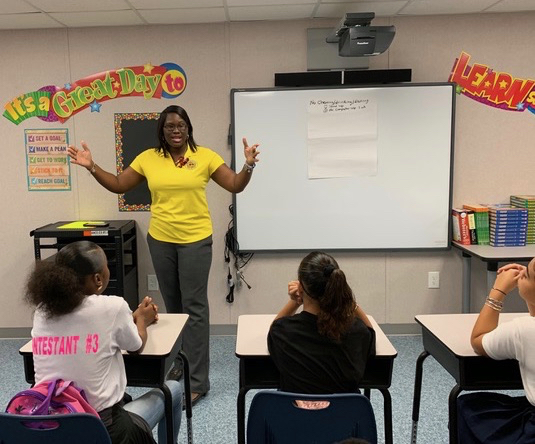 It was homecoming at Arthur Richards Jr. High School Monday, as 285 students, 30 teachers and eight para professionals returned to their campus for the first time since a pair of hurricanes rocked the territory in 2017.
"We've been out of our home for two years. Since Hurricane Maria, we've been homeless," said jubilant Arthur Richards Principal Kent Moorehead.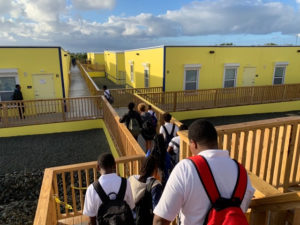 As students piled off school buses Monday they were met by monitors who directed them toward the cafeteria. Mothers dropped off their kids, wondering if they had found the correct entrance.
The seventh graders had never set foot on the Stoney Ground campus and eighth graders had only spent a few days there before hurricanes Irma and Maria devastated the school.
Arthur Richards Jr. High School is the last of the St. Croix schools to resume classes on its own campus after the 2017 storms. The modular units were constructed by AECOM and consist of 48 state-of-the-art buildings situated on the school's former softball field. The softball bleachers still stand, but now they overlook the school.
While teachers and staff walked through school the previous week, everything was new to the students.
After Hurricane Maria, Arthur Richards held half-day classes at the St. Croix Educational Complex High School and from Sept. 2018 through January occupied the upper level of John H. Woodson Jr. High School.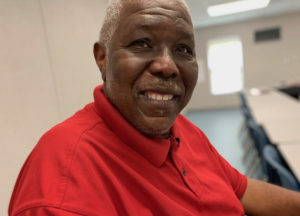 "We want to thank the community and the parents for their patience. We are trying our best to make sure the students receive a quality education and to prepare them for high school," Moorehead said.
He expressed gratitude to the St. Croix Educational Complex and John H. Woodson Jr. High School for accommodating Arthur Richards students while they were displaced.
An educator for 40 years, Moorehead started teaching at Central High School when he was 22. He has been principal at Arthur Richards for almost four years and was principal at Central for 13 years and at Claude O. Markoe Elementary School for seven. He worked as an assistant principal at both Elena Christian Jr. High School and at Central High.
"So I've been around the block," Moorehead said.
Nevertheless, he hinted that retirement hovers in the wings.
"I need to give the opportunity to younger administrators, I need to get on with my life," he said.
But now, it's back to business on the Arthur Richards campus.
Moorehead said the school will move forward with accreditation efforts that had been disrupted by Hurricane Maria and will work on improving its language arts and math scores.
"We know we need lunchtime and after-school tutorials," he said.
Although the school itself was unfamiliar to these junior high students, the Monday morning ritual was not. They gathered, as usual, for a "forward into confidence" motivational mantra borrowed from a Gap commercial.
Moorehead, megaphone in hand, asked teachers to stand with the students as English instructor Glenderlyn David led the call and response mantra in the cafeteria.
"Good morning, Arthur Richards! It's Monday!" David called out. "We are home, what are you going to do?"
"I'm going to push through!" responded the students.
"What if it's too hard?"
"We are going to push through!" they called back.
What if you're not good enough?"
"That's not true!"
The exchange went back and forth, concluding with David's call, "Believe in yourself!"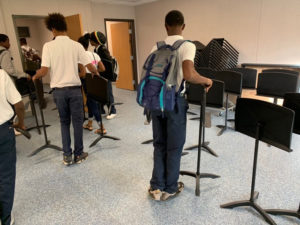 As teachers guided students to their new homerooms, art teacher Jessica Parker escorted the first-hour band class to the room next to hers.
"The kids have been studying music theory because of a lack of a band room at Woodson," she said. "We lost our instruments in the hurricane and are hoping to replace them."
Meanwhile, Parker has collected how-to drawing books, art history books and art magazines for students. The National Junior Art Honor Society and others can come to her room to work on art projects or to draw freely during their lunch breaks.
"One of the benefits of being back home is that teachers are able to open their classrooms for tutorials and extra help during lunch," she said.
Clubs such as the National Junior Art Honor Society, National Junior Honor Society, Future Business Leaders of America and Future Farmers of America can also meet.
"We have been trying to make things as normal as possible for the kids despite the challenges of not having a school," Parker said.
She distributed sketch books to her classes Monday and asked them to decorate the covers using stencils and the how-to drawing books or to draw freely, if they so chose.
Her second-hour students included three seventh graders who are also members of the West End Music and Arts Institute at the Caribbean Museum Center for the Arts: Jason Tuitt, Aidan Jackson, and Nicholai Chase. They each play a variety of instruments but love art as much as they love music.
"I sketch something and then I build it with my Legos," said young Tuitt. Among other things, he drew a snake on the cover of his sketch book because snakes now live on St. Croix.
Aidan Jackson, who keeps eight sketch books at home, has known he loved art for seven years.
"I like this new classroom because it's a lot bigger than the old one," he said.
"And there's no mold," said Tuitt.
Nicholai Chase, quiet and intent on his artwork, acknowledged that this was his favorite class.
Life for Arthur Richards Jr. High students is taking on a look of near normalcy. Granted, teachers wear chartreuse vests and AECOM workers, tweaking the buildings, wear orange vests and helmets. Until the cafeteria kitchen is completed, Central High will satellite breakfast and lunch to the school. The gym has not opened yet but, according to Physical Education teacher Jenma Castro, students are studying nutrition, mental illnesses and the skeletal system.
The kids do want to get back to sports and exercise, Castro said.
To celebrate Arthur Richard's reopening, Etta Mitchell, who teaches business there, has spearheaded festivities that will include a parade and an Honor Roll ceremony on Friday.
"Students have been working on posters and are a part of the parade, as are the sports teams," she said. "We invite the community to celebrate with us and to welcome us back home."