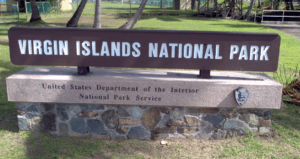 The V.I. National Park on St. John and other National Park Service properties will reopen, Food Stamps are secure and U.S. District Court will not have to scramble to pay its way from internal fees, thanks to a three-week deal to reopen the federal government after the longest shutdown in U.S. history.
"After the longest shut down in history, I am pleased that the government will reopen and federal employees will be paid," Delegate Stacey Plaskett (D-VI) said in a statement Friday.
In a statement to TV cameras Friday afternoon, President Donald Trump announced he would sign temporary appropriations measures funding the federal government for three weeks, without any funding for a border wall. After 35 days of not paying 800,000 employees, Trump's action concedes completely to the Democrat's pre-shutdown request to temporarily fund the government and address Trump's wall separately.
At 6 p.m., the Senate had already approved the temporary funding resolution and the House of Representatives was expected to approve it within the hour, according to C-Span.
The wall played prominently in Trump's 2016 campaign, along with repeated promises Mexico would pay for it. Polls show most Americans oppose the wall proposal. Border crossings have been declining for more than a decade.
"The solution to the Trump Shutdown has always been simple: reopen the government, pay federal employees, and then begin a period of constructive negotiations on border security. It is sad that it took 35 days of inflicting pain and misery on Americans for President Trump and Republicans to come to their senses and agree to this solution, but it is better late than never," Plaskett said in a statement.
"I look forward to working with my colleagues across the aisle and across the Capitol to craft a funding bill for the Department of Homeland Security that provides smart, effective solutions for border security while staying true to our values as Americans," Plaskett continued.
In his address Friday, Trump repeated his assertions that the situation at the border is a national crisis and said he may shut the government again or declare a state of emergency if he does not get the wall funding.
"If we don't get a fair deal from Congress, the government will either shut down on February 15 again, or I will use the powers afforded to me under the laws and the Constitution of the United States to address this emergency," Trump said.
Some Republicans have expressed reservations about the precedent of a president bypassing Congress by declaring a state of emergency in the absence of agreement there is a real emergency, because a future Democrat president might follow suit, declaring an emergency to defy a Republican Congress.
Trump again asserted a wall is necessary on Friday.
"The sheer volume of illegal immigration has overwhelmed federal authorities and stretched our immigration system beyond the breaking point," Trump said.
According to U.S. government data, border crossings have been declining for more than a decade and are currently at record lows.
"This crisis threatens the safety of our country and thousands of American lives. Criminal cartels, narco terrorists, transnational gangs like MS-13 and human traffickers are brazenly violated U.S. laws and terrorizing innocent citizens," Trump said.
Court records show undocumented immigrants commit crimes at much lower rates than native-born U.S. citizens.
The most immediate and obvious impact of reopening will be to allow federal facilities like the V.I. National Park to reopen.
U.S. District Court in the Virgin Islands has been able to rely on court fee balances and other funds to continue functions, with funding to cover the Jan. 25 payday. After that, they would have been working without pay, had the government not reopened.
The Supplementary Nutritional Assistance Program, known as food stamps, were funded through February for the U.S. Virgin Islands, so while a crisis was approaching, SNAP should proceed without a glitch.
The U.S. Coast Guard is very important to the territory and the Navy Times estimates that as many as 43,000 Coast Guard employees were working without pay for the past few weeks. They will now get paid.