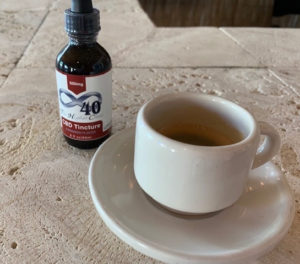 Frederiksted's newest cafe, 840 STX, opened its doors Tuesday morning and offered cannabis oils, salves, and accessories along with its breakfast foods and beverages.
It's legal.
The café will serve not only coffee, kombucha, smoothies, local fruit juices and island-made pastries, Leatherback beers, cocktails, salads and acai bowls. It will promote the option of cannabis oil infusions. A latte with an infusion, for example. Cruzan Rum with a topper.
The 100 percent THC-free infusions won't get anyone high. The cannabis oils and salves sold there won't either.
"The island has nothing like this," said Bill Kaltenbaugh, one of the establishment's founders. "We hope to appeal to a health conscious demographic and people who appreciate a more natural approach."
He and co-founder Kevin Merillat take good health to heart and take their cannabis oil products in earnest, as does their local partner, Garfield Connor.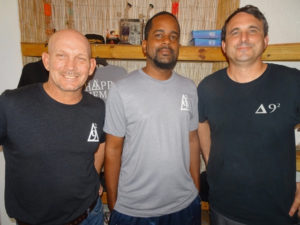 "Cannabis was one of the first medications ever," said Merillat, pointing to its healing properties for skin problems, particularly rashes. "We will proudly display our cannabis-related accessories," he said.
On the accessory shelf behind him, Janis Joplin smiles down upon the scene.
Kaltenbaugh and Merillat explained that marijuana and hemp plants both come from the cannabis family but that hemp does not contain the tetrahydrocannabinol (THC), the active chemical found in marijuana plants. The 840 STX cannabis oils, also known as CBD, are extracted from hemp and are therapeutic, they said.
The three business partners plan to hold monthly events to advocate cannabis. Connor, who worked in California for seven years in the cultivation of cannabis for medical purposes, knows his stuff and will extend his knowledge on the health benefits of CBD.
Conner figures that, as the positive attributes of cannabis become more widely understood, "everybody will jump on the bandwagon."
"The recommended dose is 15 milliliters or better per day," said Merillat. "You can order an espresso with a 15 milliliter infusion."
In fact, at 840 STX, you can request an infusion with any drink the café serves, whether from the coffee and cocktail bar or from the walk-up window on the street. You can also purchase oils from the café's accessory counter and infuse your drink yourself.
Buddies since their college days at Frostburg State University, Kaltenbaugh and Merillat started their company as a medical dispensary applicant in Maryland but subsequently moved operations to St. Croix, intending instead to open a factory. When Hurricane Maria interfered with that plan, the two chose to create a cannabis café and shop.
They visited and interviewed several CBD manufacturers in the U.S. and chose Joy Organics, a family-owned business in Colorado that aims to "help people by creating the most pure, organic and bioavailable full spectrum cannabinoid products on the market," as Joy Organics' website says.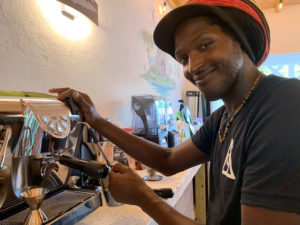 Also on the menu at 840 STX are private label cannabis oils that come in a variety of flavors: natural, lemon, cinnamon, and mint. Rolling papers, grinder cards, and T-shirts also bear the 840 STX logo, but customers will also recognize familiar labels such as Bamboo.
"We know our products are the utmost high-end. We've watched the production process," said Kaltenbaugh. The café's cannabis products, from plants grown in an organic manner, are lab-tested for purity, he said.
Prices will compete with, if not beat, prices anywhere else, Kaltenbaugh said.
"But for those who aren't interested in hemp, we will have the very best coffee and smoothies on St. Croix," he added, nodding toward Justin Guinn behind the bar.
"And the best acai bowls," chimed-in Merillat.
While their slogans, "Happy, Hempy, Cool" and "Healthy, Hempy, Cool" indicate their leaning, the café owners want non-partakers to enjoy 840 STX, too.
The huge open-air windows make for a light-filled, breezy atmosphere, and the small smattering of tables and stools along the bar contribute to its coziness. The partners purchased the coral countertop, its tiles, bamboo ceiling, and its light fixtures locally. Artist Isabelle Picard painted the wall murals depicting island scenes and one of a castle on an island off the coast of Cannes that bears a little sign, Chappelle Sainte Croix.
Seeing that castle in France just after Hurricane Maria had wreaked havoc on St. Croix filled Kevin Merillat with fresh hope.
"We want customers to feel like they are being hugged when they walk in," Merillat said.
He and Kaltenbaugh told the story of naming the café. The term 420 is synonymous with happy hour for cannabis, and April 20 has become an international holiday for cannabis, they said.
"We came up with 840 because we are marketing to business professionals," Merillat said. "It's much more like 8:40 p.m. for them."
By chance, the Frederiksted post office assigned them box number 840. Merillat and Kaltenbaugh took that, along with their 00840 zip code, as an auspicious sign – like the castle off Cannes where the monks lived.
"We want to live up to our motto, 'The Higher Class.' So we won't do anything that's not super professional," said Kaltenbaugh.
Café hours are 6:30 a.m. to 8:40 p.m.