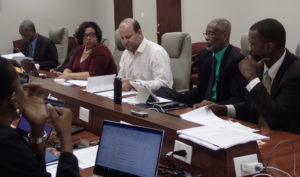 The VI Port Authority board on Wednesday approved a request from the Public Works Department to waive docking fees in Charlotte Amalie Harbor for five years, paving the way for a harbor transportation company to begin ferrying cruise ship passengers to town and back.
According to Tourism Commissioner Beverly Nicholson-Doty, a VIPA board member, the cruise lines "have been asking for it for a long time."
The service provider was not named but should begin in February, according to Public Works Commissioner Nelson Petty, Jr.
Anna Penn, VIPA's chief financial officer, reported that for October, the first month of fiscal year 2019, operating revenues were $3.7 million, but expenses were $4.1 million resulting in a loss of $340,000. The aviation and marine divisions' revenues both were seven percent below budget.
Penn said the accounts receivable included more than half a million dollars in operational and late fees owed by American Airlines and $1.3 million owed by Seaborne Airlines, which filed Chapter 11 bankruptcy last January. Even the V.I. government is not up to date on payments to VIPA. The Planning and Natural Resources Department owes more than $606,000 for pre-hurricane invoices and late charges and the Waste Management Authority disputes it owes $393,000.
VIPA Executive Director David Mapp said the Seaborne bankruptcy was less than $1 million and its only valuable assets were leases. As a result, Mapp said, "the board should just write it off." Acting board chair, Yvonne Thraen directed him to write up the recommendations for the record.
During an executive session, the board approved rate increases at both airports due to the decrease in traffic since the September 2017 hurricanes. The airlines affected by the increase sent representatives to two information meetings last summer.
Also during the executive session, Damian Cartwright was appointed acting executive director to replace David Mapp who will retire at the end of January. Angelo Raimondi was named acting assistant executive director to replace Cartwright.
Additional action items approved by the board included:
– Turner Bay Condominium LLC was granted a 15-year lease with a five-year option, to construct a restaurant and parking lot adjacent to the Sea Shure Allure Resort, for which it will pay $36,000 a year in rent.
– A change order for $164,358 was approved for additional reinforcement work on the new parking garage at Red Hook.
– The dock master building will be relocated, fencing repaired and debris removed at the St. John pier with the approval of a $200,000 contract to Paris Dump Truck Services. Insurance monies will fund the project.
– A $275,446 proposal was approved to complete repairs to the Henry Rohlsen Airport access control system and will be funded by insurance proceeds.
– Almost $200,000 was approved to remove rubber build-up from and re-stripe the CEKA runway. The funding is included in the VIPA 2019 budget.
– Almost $2 million was approved for design/bid and construction management for the $20 million reconstruction project at Cyril King Airport. Damian Cartwright, assistant executive director, said there is "a very, very good probability of funding" the project by the federal government.
Board members attending the meeting were: Thraen, Nicholson-Doty, Petty, Marvin Forbes, Jose Penn, Economic Development Authority chairman, Joseph Ponteen, acting attorney general and Lee Steiner.