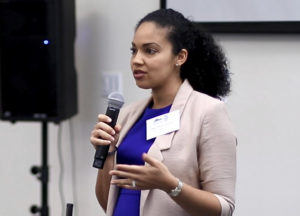 This year's Kids Count Databook, now in it's 17th year of publication, shows that trends over time in critical areas such as health care, education and economic well-being are not improving but instead staying the same or worsening for children and families in the territory.
To illustrate the points Tuesday, Kids Count project managers at the Community Foundation of the Virgin Islands – which collects and compiles the data with funding from the Annie E. Casey Foundation – tracked the progress of Amalia, a child who, at 11 years old, is symbolic of many her age in the territory.
Amalia lives on St. Croix, like the majority of children in the Virgin Islands, in a four-person household headed by a single mother. She lives with her two brothers, and her extended family, includes a grandmother who is taking care of Amalia's cousin John. Like three percent of the children counted in 2014 – the year this databook covers – Amalia was actually born in the Virgin Islands. According to the numbers, more than half of the children in the territory live in households headed by single mothers, while about five percent live in households headed by a grandparent.
And, like 37 percent of the territory's children in 2014, the family lives in poverty, meaning the annual household income is less than $24,000. According to Kids Count consultant Judi Richardson, the economic stability for many local families has been in flux since the 2008 economic recession.
Over a three-year period, Amalia's brother got sick and needed expensive medical treatment. The family was able to cover much of the cost through Medicaid, unlike many of the children in the territory without access to any form of health insurance. And, as she entered kindergarten, Amalia's language and comprehension skills were less than grade level.
That didn't improve over time. Richardson said learning is "cumulative," but as Amalia left third grade, she was still behind, like 43 percent of the children in the Virgin Islands in 2014 who were not able to read proficiently. By fifth grade, 66 percent of Virgin Islands children tested below standard in reading, while 80 percent scored below grade level in math, and Amalia also followed those trends.
Her cousin John, like many students transitioning to 10th grade, considered dropping out. Had he done so, Richardson said, he would have joined almost seven percent of children in the territory who don't make it to their junior year of high school. Luckily, John stuck it out, but like 70 percent of 11th graders, he tested below standard in reading and, like 89 percent of his classmates, in math.
"Not much has changed to improve the lives of Amalia and her family," Richardson said after presenting the data. "As we follow their progress, we're finding stagnation and worsening outcomes with few instances of hope."
Richardson, like other speakers Tuesday, challenged the room full of stakeholders listening to the presentation to think about what they wanted for the future of children in the territory, and what they were going to do to help those goals become a reality.
Gathering the data is the first step. Kids Count Director Anna Scarbriel said that providing the numbers helps inform policies, intervention programs and perhaps most importantly, the distribution of money used to sustain those programs and the communities that need them. She cautioned the group, however, to remember a few things as they continued to look through the report, which is available on CFVI's website:
– The population rates of children continue to decrease, but the territory's numbers, which could be in the hundreds for an island like St. John, are measured against larger communities where numbers hit the thousands, or hundreds of thousands.
– An increase in the median income of families in 2014 only helps get the territory back to the level it was a decade ago.
– The V.I. Education Department switched to a new assessment system in 2014, so the drop in numbers could reflect the students' inability to test at a certain level on a computer, which is now required during the process.
On a positive note, Scarbriel said, there has been an uptick in the community's willingness to hear and share the data. When CFVI first started putting out the book, there was a reluctance to accept the numbers, Scarbriel said. Now, "there's a room full of people" not only ready to understand the data, but do something about it.
"Now people have to take it, and run with it and tackle areas they can really help," she said.
Part of that process is also helping to raise awareness of participating in the 2020 census, which is meant to provide an accurate picture of families and how many people are in them. That data helps determine how federal funding and services are distributed, but during the last census in 2010, some of households didn't participate, she said.
Fear of new laws and national discussions on immigration could make things worse, and Scarbriel encouraged those gathered Tuesday to stress the importance of participation within the community.
Related links — Kids Count data center https://datacenter.kidscount.org/
CFVI Kids Count book https://www.cfvi.net/programs/kids-count.php