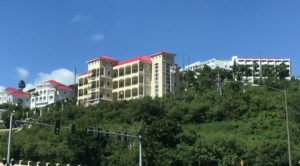 While International Capital and Management Company has released few details on the number of employees it laid off last week, the V.I. Economic Development Authority is awaiting a petition from the company to reduce its staff to 40 full time employees.
The Source reported last week, but could not confirm, the layoff of approximately 90 employees, and was also awaiting a statement from the V.I. Economic Development Authority on the status of ICMC's Economic Development Commission tax benefit certificate, which EDA Chief Executive Officer Wayne Biggs said Tuesday had been renewed in 2016 for 20 years.
"St. Thomas VIEDC beneficiaries' original certificate term is 20 years, St. Croix is 30 years," Biggs explained in an email. "Beneficiaries are entitled to one 10-year extension if they remain in compliance. Additional extensions can be received based on additional capital investments made by the beneficiary if they remain in compliance. International Capital & Management Co., being a St. Thomas beneficiary, received its 20-year certificate in 2016."
Biggs said the downsizing could fall under the territory's Plant Closing Act based on how it was carried out – local law requires 30 days termination notice for employees' and severance packages if the layoffs were found to be in mass – but calls and emails seeking confirmation made to the Department of Labor, which would have jurisdiction, had not been returned by Tuesday.
However, EDC beneficiaries are required to maintain at least 70 full time employees and while Biggs said the EDA had not been notified of ICMC's intent to reduce its workforce, a proposal to downsize to 40 full-time is expected to be forthcoming. Whether the reduction will impact the company's current certificate is still to be determined.
Meanwhile, national reports indicate that Cancer Treatment Centers of America – ICMC's primary client – has also laid off workers systemwide.
"Florida's Department of Economic Opportunity in Tallahassee said it has not received a layoff notice from the company. Generally, companies with 100 or more employees must provide a 60-day notice of a layoff, under Florida law," according to an article in the South Florida Sun Sentinel.
A company spokeswoman, however, confirmed the layoffs were across the company nationwide but did not say what percentage of the work force was affected.
"Like the vast majority of U.S. health-care providers facing pressure to reduce costs, Cancer Treatment Centers of America has found it necessary to make certain organizational and staffing changes to align with declining reimbursement," Abigail Ombre said in a statement, which mirrored one issued to the media last week by ICMC.
ICMC spokesperson Allison Krivatch told the Source last week that the company will continue to provide services to its client.