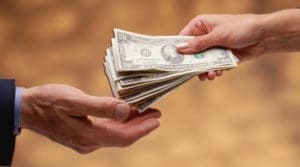 A contractor involved in energy savings performance contracts in the Virgin Islands, Puerto Rico and the mainland pleaded guilty to taking massive bribes or kickbacks from multiple contractors, including those working in the territory.
In an Aug. 6 news release, the Office of the U.S. Attorney for the District of Vermont announced Bhaskar Patel, 67, of Windermere, Florida, pleaded guilty to taking $2.5 million in bribes and kickbacks while working for Schneider Electric Building Americas.
Court documents say Patel admitted a subcontractor based in Puerto Rico, called "SC-5" in the documents, bribed him with $422,080 to get a contract that included energy efficiency work at St. Croix's Almeric Christian Federal Courthouse. Patel also admitted another unnamed Florida subcontractor, called "SC-6" in the documents, bribed him with $218,900 for a contract that included work on both the Ron De Lugo Federal Building on St. Thomas and the Jose V. Toledo Federal Building and Courthouse in San Jan Puerto Rico.
"Patel's crime involved a sweeping fraud that harmed many federal agencies and the American citizens and government employees who depend upon them," U.S. Attorney Christina Nolan said in a statement about the plea agreement.
Patel reportedly selected contractors who bribed him, then falsified the losing bid documentation to cover his tracks.
He also pleaded guilty to collecting bribes from other contractors related to contracts worth many tens of millions of dollars, for work in several states. All the contracts combined exceed $100 million.
The contracts included: a $70 million project for the U.S. Coast Guard in Aguadilla, Puerto Rico; a $24.7 million project for the U.S. Department of Agriculture in Albany, California; a $12.6 million project for the U.S. General Services Administration in St. Croix, U.S. Virgin Islands, involving the federal courthouse there; a $21.8 million project for GSA in San Juan, Puerto Rico and St. Thomas, involving the federal building there; a proposed project of $42.4 million for work on Veterans Administration medical centers in Vermont, Massachusetts, Rhode Island, and Maine; and a $114.3 million project for the U.S. Navy for work on the naval base in Coronado, California.
Patel pleaded guilty to one charge of accepting kickbacks on federal contracts and one charge of accepting bribes relating to federal contracts. He faces up to 10 years in prison on each charge.
The court has already ordered him to forfeit $2.5 million in assets.
Vermont Chief District Court Judge Geoffrey Crawford accepted Patel's guilty plea and released Patel with conditions that were not outlined in the press release. Patel is due to be sentenced Dec. 7.