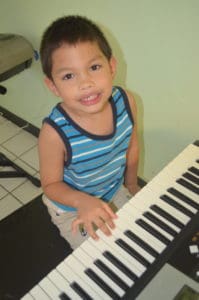 G-Clef Music Academy is registering children and adults from ages 3 to 93 for music lessons. It's not too early or too late to learn how to play an instrument.
Scientific research has proven that playing a music instrument strengthens brain functions. It has been linked to increasing a child's IQ. Music also brings a sense of discipline and builds self-confidence.
Learning music as an adult has benefits as well. Research shows that the brain maintains the ability to change, so older adults can learn how to play an instrument even if they never played one before.
G-Clef Music Academy provides private and group music lessons in piano, guitar, drums, steel pan, ukulele, bass guitar, violin and singing. G-Clef has been teaching students of all ages how to play music for over 10 years. The academy, which is located in Mandela Circle above Cravin' Crabs, welcomes beginners of all ages and learners of all levels.
To read more about the benefits of learning music, visit www.gclefmusicacademy.com and call 344-6449 to schedule music lessons.