To try to inform the community on where the candidates stand, the Source sent each senatorial candidate a questionnaire with questions on pressing issues for the territory. We are running the answers in the order in which the candidates responded. (See Related Links, below.) We aim to publish all the Democratic Party candidates answers prior to the Aug. 4 primary, contingent upon the candidates providing their responses in time. This story covers the views and planned initiatives of Candidate Beatrice Gumbs, who is running as a Democratic candidate in the St. Thomas/St. John District.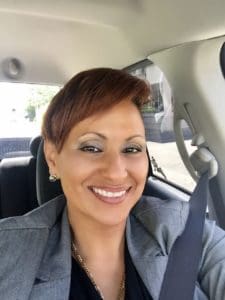 Source: The V.I. government has a $100 million-plus annual deficit, currently cannot borrow on the private market and is not paying many of its obligations, to GERS, to WAPA, territorial nonprofits, sewage treatment contractors, trash haulers, health care contractors and more. But the territory has never missed a debt payment on its $2 billion in debt. Half of that is secured by federal rum taxes which pay creditors before the territory gets control of the funds and half is secured by V.I. Gross Receipts taxes which, by statute, IRB is supposed to give to a third party to pay creditors first. How can the territory avoid a fiscal shortfall that could force cuts to services and government layoffs in order to pay creditors first?
Gumbs: The territory must address its structural deficit through financial planning that does not involve a one-year budget but through a budget that has a five-year forecast that address prior and future years in order to avoid default. Budgets and forecast have to be constructed with sound economic planning and information.
Source: What is your fiscal and economic plan?
Gumbs: My fiscal plan is to strengthen legislation that will create not only short-term growth but long-term economic stability. There is a need to grow the economy through development of other industries, such as technology support, healthcare, economic revitalization with the VIHFA taking the lead since it's already within their statute.
Source: Many young Virgin Islanders are seeking educational and financial opportunity outside of the territory. What plans will you execute to encourage those that remain to stay, and to get those that have left to return?
Gumbs: My plan includes building not only an economy where Virgin islanders want to work for government, but provide opportunities for them to be entrepreneurs and develop a private sector.
Source: What would you propose to address the collapse of GERS in light of the $3 billion-plus shortfall and projected exhaustion of all funds between 2020 and 2023?
Gumbs: There must be a comprehensive plan to address the GERS. There will not be an immediate fix but there must be a plan to address the shortfall annually along with infuses additional cash to reduce the outstanding amount. In order to do so there must be yearly set asides of the budget to address the Actuarial defined contribution along with an amount to reduce the deficiency.
Source: How will you help make government more transparent?
Gumbs: There are already laws in the US Virgin Islands that make government transparent, we just need to have those laws followed.
Source: How do you feel about legalization of marijuana and why?
Gumbs: The Government of the Virgin Islands legalized gambling with the expectations of encouraging tourist to visit for grand gambling ventures. Although, monies have been made in that industry it did not bring in the projected tourism. I see the same for the legalization of marijuana. I would be open to the legal use of marijuana for medical reasons but not recreational. This subject would be open for more discussion and evaluation but at this point I don't find a reason to legalize it completely.
Source: What can you as an elected official do to help alleviate violent crime in the territory?
Gumbs: It is obvious that our communities are in constant chaos when it comes to the amount of violent crimes within our territories. The V.I. Police Department would have to be evaluated on updating training and proper equipment that would allow them to be able to do an effective job within our communities. The Police Department is the frontline in resolving this issue and I would be standing in support of them.
Source: How do you see your role in overseeing government agencies?
Gumbs: Overseeing agencies of the government will involve coordination with those agencies to provide assistance through legislation.
Source: Why are you running and why should voters choose you instead of another candidate?
Gumbs: I am a dedicated servant of the public, I am versed in our territories needs and willing to work on successfully moving our territory in the right direction.
Source: What is your plan to improve the schools and the quality of public education in the territory?
Gumbs: We have over time focused on technology and forgotten the basic trades such as electricians, plumbers, welders, etc.
Source: How will you ensure that adequate funding is put toward healthcare services in the territory?
Gumbs: This must be address through a clear dialogue with the local and federal government on how we address the uncompensated care in the territory. There must be a consolidation of the hospital system to use economies of scale.
A significant amount of post-hurricane recovery on St. John, St. Croix and St. Thomas was made possible by non-profit organizations and volunteer groups. But private donations are down and budget deficits make more funding difficult. What would you, as a legislator, suggest to help support these community groups?
What do you as a senator believe should be priorities for infrastructure, parking and walkability on St. John? On St. Croix? On St. Thomas?
The priorities for infrastructure must be as follows: Water and Waste water infrastructure, then electrical infrastructure along with roads and sidewalks. The issue of parking can be addressed through the planning of roadways.
The Revised Organic Act of 1954 gives the V.I. Legislature the power to establish a USVI constitution by any means it chooses. Currently, the territory cannot charge different property tax rates to different parts of the territory. The territory could set up property tax districts if it enacted a constitution. What should the Legislature do in regards to a USVI constitution?