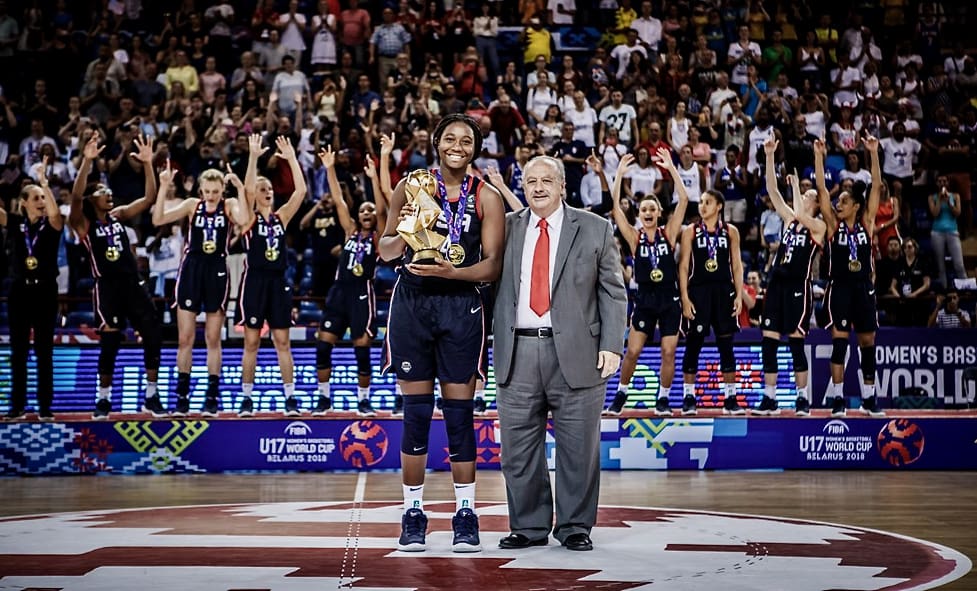 St. Thomas native Aliyah Boston will return in the fall to her high school in Massachusetts, where she now lives, and begin her senior year with something none of her classmates are likely to be able to claim. She's a world champion.
Boston played a crucial role for team USA at the U17 Women's World Cup in Belarus, defeating France 92-40 in the Gold Medal game on Sunday.
In the final, Boston had one of her best games of the tournament, finishing with a team-high 16 points and eight rebounds, shooting an efficient 77 percent from the field.
Boston was born in the U.S. Virgin Islands, but at the age of 12 moved with her sister to live with her aunt in Worcester, Massachusetts Last year the Worcester Academy women's squad finished 23-1, ranked fifth nationally in division two of the National Athletic Association Association of Private schools, and won the NEPSAC Class AA Division championship.
And she was just getting started. The 6-foot, 4-inch forward went into the Women's World Cup and averaged 11.3 points, 7.1 rebounds and 1.3 blocks over seven games in the tournament, which got her selected to the FIBA U17 All Star Five Team. She started in every game throughout the tournament and had the third highest efficiency rate of any player during the gold medal run.
In the first game of the tournament, team USA was matched up against 10th-ranked Italy. Boston chipped in seven points and nine rebounds in a 86-48 victory.
In the second game of the tournament she didn't miss a shot against 13th ranked Mali, scoring 11 points and pulling down three rebounds. Defensively, she provided a steal and block as the USA won 92-39.
In the final game of the group stage, Team USA defeated ninth ranked China 107-50 in a game where Boston had 10 points and eight rebounds.
In the first knockout stage game Boston led team USA with 21 points and nine rebounds in a 98- 42 victory over 57th ranked Columbia.
In the quarterfinal match up against second ranked Spain, Aliyah once again lead team USA in rebounding with nine. She added six points in a 66-31 victory.
The semifinals saw team USA defeat 14th ranked Hungary 84-39, with Boston contributing eight points and four rebounds.
This is not the first time she has impressed with Team USA. In 2017 she lead the U16 team in scoring and rebounding with 11.8 points per game and 8.6 rebounds in the 2016 U16 Americans Championship and was named the tournament's MVP.
Colleges are eager to recruit her, and ESPN lists her as the number-seven player overall in the Class of 2019. She has been named Massachusetts Gatorade Player of the Year the last two years.