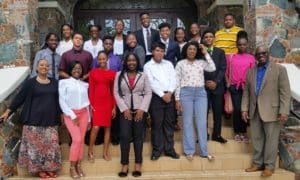 With prideful smiles, firm handshakes and a few happy tears, the Entrepreneur Business Institute (EBI) Summer Program Class of 2018 accepted their awards and certificates as part of their official closing program, which took place at The University of the Virgin Island's (UVI) St. Thomas campus this past Sunday held in partnership with International Capital and Management Company (ICMC) and UVI.
It was a full house of parents, educators, entrepreneurs, students and supporters who greeted the students as each made their way up to the podium to receive their awards, following what has been a jam-packed two-week engagement for the 16 talented high school students who participated in the selective program from across the territory.
"What an amazing sight to see these talented young people inspired, empowered and driven, armed with the important skills of entrepreneurship, professionalism and business, acquired as part of this innovative program," said Karen Nelson-Hughes, director of community relations for ICMC.
"At the beginning of the program, each student enters with trepidation, not knowing what to expect, but by the end of the two weeks, they are one big family, armed with skills, experiences, inspiration and a new network of business associates that will last them a lifetime," she said.
Ashley Allen Sr. served as the event's keynote speaker, offering attendees insight into his entrepreneurial journey through the culinary arts, graphic arts and hospitality, but also, most memorably, sharing key insights and advice for both career and lifelong success that inspired all in attendance.
In an effort to positively impact the business landscape and empower and prepare young Virgin Islanders with the important skills of business and entrepreneurship, ICMC in partnership with UVI's School of Business created and initiated this free summer program over 10 years ago in order to set a clear course to assist students in developing key skills surrounding entrepreneurship.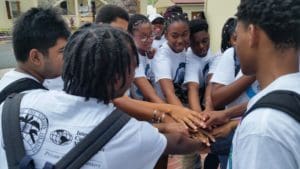 For two weeks, 16 students from across the territory had the opportunity to reside on the UVI campus to enjoy a pre-college experience and learn about the advantages and challenges of entrepreneurship, experience mentorship from successful business leaders, while participating in active discussions about concept development and business ownership, as well as participate in community engagement projects to develop their corporate responsibility.
"We strive to identify those who will benefit the most from our entrepreneurial training offerings," said Dr. Paul Flemming, assistant dean for the School of Business on St. Croix and EBI director. "Many of our past students have since gone on to follow the business, entrepreneurship and leadership track, as well as open successful businesses of their own, and we aspire to continue this trend, as together we inspire the future business owners and leaders of tomorrow."
With a joint mission to empower and enlighten students to continue to think big, International Private Bank (IPB), based on St. Croix, also joined the partnership EBI team by not only offering sponsorship of the program but also by lending their financial expertise to students as part of their "How to Finance a Small Business" workshop, which was led by David Browne, IPB finance manager.
"At IPB we aim to be a positive agent for change in our community. We also believe that it is our responsibility to support and serve our community in ways that will promote corporate responsibility. The EBI program is a program that we feel equips students with the fundamental skill set development opportunity to excel at entrepreneurship, business leadership, professionalism and ethics. These skills are fundamental components that we also believe every citizen should be exposed to. Any community program that helps to build well-rounded citizens, should be commended and supported," said Nichole Knight, IPB chief financial officer.
"Our hope for the students with respect to their future entrepreneurial and or business and professional endeavors is for them to develop a sense of empowerment and "can do" attitude regarding their future and particularly their ability to be the change they wish to see in their community and the world. We also wish for them the realization of their fullest potential."
For more information about this exciting program, contact Karen Nelson-Hughes at [email protected] or via phone at 777-1302.