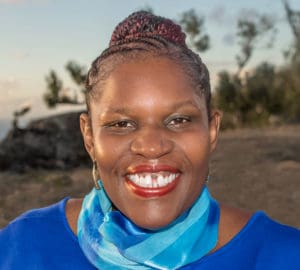 To try to inform the community on where the candidates for V.I. Senate stand, the Source sent each candidate questions on pressing issues for the territory. We are running the answers in the order in which the candidates responded. We intend to publish all the Democratic Party candidates answers prior to the Aug. 4 primary, contingent upon the candidates providing their responses in time. This story covers the views and planned initiatives of candidate Stacie January, who is running for Senator-At-Large as a Democratic candidate.
Stacie January has a served on the Board of Stewards, and as a lay-preacher at the Bethany Moravian Church. She is also a member of V.I. Unity Day Group and the Omega Upsilon Zeta Chapter of Zeta Phi Beta Sorority, Inc.
Source: The V.I. government has a $100 million-plus annual deficit, currently cannot borrow on the private market and is not paying many of its obligations, to GERS, to WAPA, territorial nonprofits, sewage treatment contractors, trash haulers, health care contractors and more. But the territory has never missed a debt payment on its $2 billion in debt. Half of that is secured by federal rum taxes which pay creditors before the territory gets control of the funds and half is secured by V.I. Gross Receipts taxes which, by statute, IRB is supposed to give to a third party to pay creditors first. How can the territory avoid a fiscal shortfall that could force cuts to services and government layoffs in order to pay creditors first?
January: There is no way to avoid a fiscal shortfall. We are indebt and have to salvage what little credibility that our government has. We need to go to our creditors to attempt to restructure our debts. We also need to pursue outstanding debts that our owed to the government, especially from the EDCs. We will have to be efficient, reduce waste, only fill critical vacancies, transfer and cross train employees where we find redundancies. The three branches of government will have to work together with transparency to get the territory out of debt.
Source: What is your fiscal and economic plan?
January: I would promote legislation that fosters public and private partnerships, provide governmental oversight in developing efficiencies throughout the government, put a hold on major capital improvements that were not detrimental to the public safety. We need to develop a comprehensive plan for five to 10 years to 20 years. As one legislator I can be a voice but we will need all three branches to work together on a complete plan. No one person can achieve this goal; it will have to be all about collaboration and developing a team of experts and most important, follow-up, follow-through and implement.
Source: Many young Virgin Islanders are seeking educational and financial opportunity outside of the territory. What plans will you execute to encourage those that remain to stay, and to get those that have left to return?
January: As a senator I would establish a $100 million government scholarship fund for those students who leave the V.I. for educational opportunities by stipulating that with a such a scholarship, they must return to the territory and work for approximately four years.
(B) For those who say at home, renegotiate that ARCLIGHT CAPITAL/LIMETREE build and establish a vocational and technological school. I would offer opportunities for affordable and reasonable home ownership, student loan forgiveness for those employed by our public schools or the hospitals/clinics, an aggressive support for small businesses through SBA.
Source: What would you propose to address the collapse of GERS in light of the $3 billion-plus shortfall and projected exhaustion of all funds between 2020 and 2023?
January: GERS needs an infusion of cash; the VI Government has to acknowledge their contribution to the impending collapse of GERS because of past-unfunded mandates. I proposed that all income taxes that are presently taken from retirees pension checks go back directly to GERS instead of the General Fund.
(B) As a senator, be proactive with my oversight responsibility in monitoring the $1.4 billion agreement with ARCLIGHT CAPITAL/LIMETREE BAY TERMINALS to begin refining operations, creating more than 1,200 jobs and generating a direct funding stream for GERS as negotiated by the governor. Further, I would recommend no additional mandates unless they are accompanied with a long-term plan to fund that legislation and dedicated monies from a specific source of income identified.
Source: How will you help make government more transparent?
January: I believe in total transparency, we all are invested in our government and should have access to any information. With the Legislature working as a unified body, seek to establish mandatory legislation demanding that all public funds, information, and businesses be exposed to the public (taxpayers) as their constitutional right. I would further support the attorney general following up on any questionable practices by any of the three branches of government.
Source: How do you feel about legalization of marijuana and why?
January: I believe legalization of marijuana would decrease fighting among the criminal element in the territory; however, if marijuana is legalized I would recommend enacting legislation that would promote local ownership/partnerships of dispensaries. I would also promote that scholarships be funded so that Virgin Islanders can formally study skills such as chemistry, agribusiness and pharmacology to create employment opportunities for the territory within the industry.
Source: What can you as an elected official do to help alleviate violent crime in the territory?
January: As an elected official to help alleviate violent crime in our territory we have to support our police force so that they can have the tools to respond and follow up on criminal activity. However, we also need to provide opportunities so that our citizens can feel connected and they don't have to resort to crime to make money. I would re-established the Virgin Islands Youth Commission to provide programs and services designed to ensure Virgin Islands youth feels they are a valued part of their growing and changing community. Also, promote employment opportunities and encourage more programs like expanding technical training grants to support companies so that they hire more youth who may not opt to attend college.
Source: How do you see your role in overseeing government agencies?
January: By exercising my elected responsibility in the Legislature as the people's agent for checks and balances of the executive branch. Further, I would do my job by examining the public expenditure of the government with a critical eye in reducing excess and look at ways to become more efficient.
Source: Why are you running and why should voters choose you instead of another candidate?
January: I am running for office because I have a passion to serve my community, because not only am I qualified, but I believe with my education and experience, this is the best avenue by which I could help solve some of the social, economic, environmental, and educational problems plaguing our territory.
Source: What will you do to mitigate the effects of climate change on the territory?
January: I would implement aggressive legislations with stiff penalties as it pertains to the environment, be it government or the public in general. As a legislator, provide legislation to our citizens and school to begin an educational awareness program for such things as a standard renewable energy policy; compensate individuals for rooftop solar energy; expand rainwater harvesting, improve sanitation, and underground cabling for utilities and begin a serious recycling program without focusing on making money but impacting our environment.
Source: What is your plan to improve the schools and the quality of public education in the territory?
January: When elected I would provide oversight to the Department of Education to have Virgin Island schools categorized as Title One schools, which would give them access to federal dollars through that program. Further, having the schools categorized, as Title One would create opportunities for teachers to work that would forgive grants and student loans. Additional, oversight for the DOE includes allocating funding to establish a V.I. curriculum that focuses on local history from K-12 and strengthens educational support to bring our students to their reading level. Provide oversight over the next couple years to ensure that the money received from federal resources to rebuild the schools after hurricanes and Irma and Maria are tracked, and utilized to the maximum for stronger and more resilient schools that are green, safe and able to better survive our tropical weather.
Source: How will you ensure that adequate funding is put toward healthcare services in the territory?
January: I would provide oversight that our hospitals are compliant with Centers for Medicare and Medicaid Services (CMS) and reduce wasteful spending. I would also like to lobby on the federal level more funding for the MAP program. Too many of our citizens walk around without access to affordable health care.
Source: A significant amount of post-hurricane recovery on St. John, St. Croix and St. Thomas was made possible by non-profit organizations and volunteer groups. But private donations are down and budget deficits make more funding difficult. What would you, as a legislator, suggest to help support these community groups?
January: In the last couple of years both locally and nationally as budgets are reduced the reliance on non-profits assistance has become critical. However, we must draw a line between what services are governmental agencies' responsibilities and what are supplemental services provide by non-profits. I would work towards assisting the non-profit obtaining grant funding and partnering with national brands that offer donations for example Amazon's AmazonSmile which gives .5 percent of the price of eligible purchases to charitable organizations.
Source: What do you as a senator believe should be priorities for infrastructure, parking and walkability on St. John? On St. Croix? On St. Thomas?
January: As a senator my priorities with reference to infrastructure, parking and walkability is to secure funding for the projects, ensure that legislation supports the necessary zoning, and provide oversight that the government contracts follow procurement procedures particularly with performance deadlines and close monitoring for potential cost overruns. I would enact legislation that would build wheelchair accessible sidewalks where possible even to extent of closing some streets for pedestrian traffic only.
Source: You live on St. John, as at-large candidates traditionally have. As it stands, HR 4731 will grant CBI Acquisitions a 60-year extension of ownership over the Caneel Bay Resort. What will you do to make sure that the spirit of the original retained-use estate is carried out, and that the best interests of St. Johnians are put first?
January: Having reviewed the previous retained-use estate (RUE), my effort would be to ensure that legislation and oversight honor the original RUE by strict enforcement of the EDC rules. Caneel Bay has played a pivotal role in the St. John and the territory's economy for the past 50 years; legislative efforts should be to protect the employees and the environment.
Source: Property taxes have disproportionately hit St. Johnians. Currently, the territory cannot charge different property tax rates to different parts of the territory. The territory could set up property tax districts if it enacted a USVI constitution. The Revised Organic Act of 1954 gives the V.I. Legislature the power to establish a USVI constitution by any means it chooses. What should the Legislature do in regards to a USVI constitution?
January: I believe that the time is right to finally complete the USVI Constitution for reasons more than property taxes. We are 101 years as a U.S. territory, looking ahead we need to stop being reactionary and have a strategic plan for the next 50 years with milestones in five-year increments. Having the constitution completed would lay the foundation for the territory to plan its steps forward.
Source: Tenants in Bellevue Village say their original leases 13 years ago devote 10 percent of their rent payments towards a down payment in a Homeownership Incentive Program. Bellevue's new owners have not been clear if they acknowledge this requirement. Would you call for oversight hearings and subpoena the new owners to explain their failure to honor the leases?
January: Prior to holding any hearing I would question the previous owners, I would like to understand if the Homeownership was conveyed in the original sale of Bellevue. If this were the case then I would hold hearing with both the new and old owners to determine where are the funds for the past 13 years and for a clear actionable plan forward to assist the Bellevue residents in their goal of homeownership.
Source: Do you support the construction of a new K-12 school on St. John? What do you envision and where should it be located?
January: I believe a new school for St. John is long overdue. I feel that the National Park and the V.I. government should come to an agreement with a location mid-island that would allow future expansion. Further, it should be a green space from the inception. I envision a gymnasium, field and auditorium that can be accessible to the public so that can allow a covered and secured area for the community to come together for any occasion.