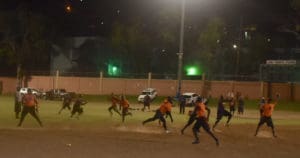 The St. Thomas Men's Flag Football League kicked off action on Saturday night with the first two games of the 2018 summer season at the Lionel Roberts Stadium.
The first game was a defensive battle in which the Sharks came out victorious over the Canes. The Canes took the lead in the first quarter, scoring their only touchdown on the game's first drive. The Sharks responded with touchdowns on back to back possessions in the second quarter to get the lead to 15-7, where it remained for the rest of the game.
The defensive adjustments at halftime left both teams scoreless in the second half.
The second game started with the Archers scoring quickly and never looking back. Kyron Correa scored a touchdown on the team's first possession en route to a 40-10 victory over Dynasty.
Their lead was extended in the second quarter when they capitalized on a Cal White interception. Kevin Callwood made a diving touchdown catch in the second quarter. Just before halftime, the Archers scored again when quarterback Shakim Peterson toook the snap and ran the ball to the left side. Correa scored his second touchdown of the game as the onslaught continued with a 50-yard scamper, making multiple defenders miss.
Dynasty got a consolation score late in third quarter as Malik Jno-Baptiste answered with a long run of his own. Callwood then scored two more touchdowns in the second half with a three-yard run and a pick-six on the next possession to increase his touchdown total to three.
"The first night was a success and I hope that the league can create a family- friendly environment where people can have a good time and enjoy some sports again," league Commissioner Francisco Jarvis said.
The league will return to action at 7:30 p.m. Friday at Lionel Roberts Stadium when Dynasty (0-1) takes on the Sharks (1-0).