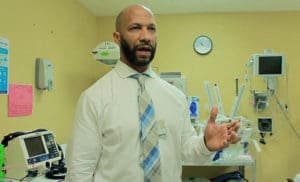 Ten months after the Hurricanes Irma and Maria, Schneider Regional Medical Center on St. Thomas is fully operational, in spite of the ongoing challenge of filling a severe staffing shortage, Schneider executives told the Source on Wednesday.
"All during the hurricane, this hospital was open for business," said Schneider Chief Executive Officer Bernard Wheatley. "We were still delivering babies. We were still doing surgery. The ancillary services, all those services never stopped functioning. And now that the storm has passed, we're in a recovery mode. All those services are fully operational."
In addition to dealing with the institution's post-hurricane recovery, Schneider officials continue to find themselves pushing back against a concerned community's fears that the hospital is either unable to provide adequate and safe health care for its patients, or suffering from severe limitations due to post-hurricane damage.
"We take every patient who comes; that's our mandate," said Chief Medical Officer Luis Amaro when asked if the hospital is indeed limited in the number of patients it could accommodate.
"If the entire island comes, we will at some point treat the entire island," he said.
Schneider executives, however, do admit to losing a large number of medical professionals as a direct result of the hurricanes. The hospital lost some 175 employees after the storms, according to Wheatley, 44 of them registered nurses, leading to "a critical need for nurses." In an effort to replenish its staff, Wheatley said the hospital instituted salary raises for nursing positions, a move designed to aggressively recruit nurses from abroad to come to the territory, he said.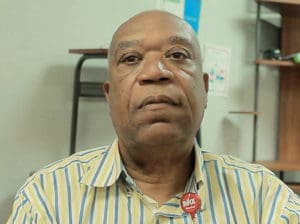 Schneider Hospital also lost physicians from retirement, as well as highly skilled ancillary staff, including physical therapists, occupational therapists, ultrasonographers and X-ray technicians.
"It runs the full gamut," said Wheatley. "These are highly specialized individuals. There's no way to school them here in the Virgin Islands. We have to go abroad to get them."
The loss of an entire hospital wing is also stifling the hospital's inpatient capacity and contributing to longer wait times in the hospital emergency rooms, already a touchy subject for the hospital's clients. Before the storms, the hospital maintained between 65-75 beds for inpatients, more than 50 of them on the fourth floor went out of commission by windstorm damage. Now, that number is down to roughly 30, a significant decrease that forced the hospital to combine its adult medical and adult surgical units.
"That does put a severe stress because those get filled up very quickly," said Amaro. "That's gonna put back challenges to the emergency room in being able to offload patients who need to get admitted."
"It's not a matter of as much the staff from that perspective. It's not a matter of something that we cannot do," he stressed. "It's just that we cut in half the amount of capacity that we had before."
Severe damage to the Charlotte Kimmelman Cancer Institute building also stripped the hospital of its ability to provide radiation and oncology services, leaving patients no choice but to find treatment off-island. The effect rippled across various departments, from further dwindling human resources – oncology-related staff moving off-island from uncertainty over their the institute's future – to less demand for related in-house ancillary services.
"I don't think I'm as back to normal as possible," said Marionette John, nuclear medicine technologist at Schneider in charge of intravenously injecting patients with radioactive tracers to scan them for infections, heart disease or cancer.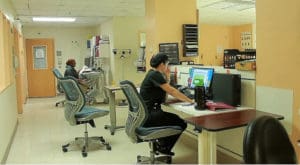 "A lot of people now are going off island to get treatment, and while they're away, they're pretty much getting their CAT scans and bone scans and all of their follow-up imaging done back in the states. So as far as bone imaging, the volume has dropped off," Johnson said.
"That's one solitary service that we did lose. Just about everything else, we've been able to bring back up," said Amaro.
"Just about everything else" includes the hospital's emergency department, one of the areas that Schneider officials want to reassure the community is fully operational.
"I think we're getting there," said Charmaine Bellot, a physician's assistant stationed in the emergency room. "For a while, our trauma rooms were closed because of the water damage, so they've been opened back up."
The CPR rooms are also fully equipped and functioning, said Amaro, and continues to resuscitate patients on almost a daily basis from severe life-threatening concerns, from near drownings to heart attacks to major strokes.
The hospital's operating rooms also did not suffer as much damage, according to officials.
"We had some water leaking, but compared to then and now, the leaking has been substantially subsided," said Shenella Pogson, Schneider's director of pre-operative services, who said the operating unit is practically back to normal. "We didn't get a lot of damages during the storms."
Hospital staff are working with fewer operating rooms, however, but Amaro stressed that "the operating rooms that we are working with and that we are able to staff can provide the very same surgeries that we were providing prior to the storm."
Schneider's Heart and Lung Institute continues to see most of its patients, according to Alva Lake-Ambo, assistant director of the institute. The unit has a regular cardiologist, as well as an additional visiting cardiologist. It also gets a visiting pulmonologist only once a month.
"We weren't able to continue service with interventional cardiology in the CAT lab," said Lake-Ambo. "Office-wise, production-wise, we're back to normal. However, in terms of bringing up more services and having a steady flow with pulmonology and our interventional cardiology services, that's something that we're working on."
According to Wheatley, Schneider currently remains in compliance with the strict criteria – or conditions of participation – imposed by the Centers for Medicare and Medicaid Services, with the emergency and operating units vetted on multiple occasions by its regulating bodies. They have many challenges ahead, he said, with major decisions on the horizon for the future of the hospital's infrastructure and the ongoing need for additional staff, but he remains confident in the hospital's ability to provide residents adequate, safe health care.
"The people of this community we serve have nothing to worry about," Wheatley said. "We have excellent physicians, excellent nurses, we have an array of ancillary staff. We are in business 24 hours a day, which we have to be as the only hospital on the island."