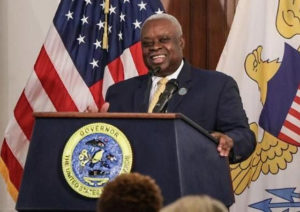 A recommended budget increase for the Office of the Governor was questioned by some senators at a Committee on Finance hearing Tuesday, given that cuts have been proposed for the Legislature and the Courts in FY 2019.
Gov. Kenneth Mapp's recommended General Fund appropriation for the Office of the Governor for 2019 contains an increase of 1.4 million, while the Judicial and Legislative Branches of government are facing proposed budget cuts of $1 million each.
"You're going to have to help me wade through that one," said Sen. Tregenza Roach.
Rochelle Benjamin, director of business and administration for the Office of the Governor, said the two sections of the Governor's Office budget with the largest proposed increases are the "other services and charges" section and the "capital outlays" section.
The budget proposes a 15 percent increase in General Fund money for the Governor's Office compared with what it received in FY 2018. Its recommended General Fund appropriation is $10.64 million, about 95 percent of which covers the Office of the Governor itself, and five percent covers the Bureau of Economic Research, which is funded through it. Given that 2018 is an election year, the Office of the Governor could be headed by someone other than Mapp for much of FY 2019.
Benjamin said an increase in capital outlays of more than $540,000 – a jump of 426 percent – is due to the governor wanting something in the budget to put towards the repair of the damaged buildings under his office, chiefly St. Thomas Government House and the St. John Battery, which were badly battered by Hurricanes Irma and Maria.
Benjamin said although the Office of the Governor is expecting to receive approximately $2.3 million in insurance money, and has submitted project worksheets for building repairs to FEMA, it is unknown how much will be needed to get Government House and the Battery operational again. The extra half million dollars for capital outlays, she said, will serve as a pot to draw from to supplement construction funds coming from elsewhere.
"We don't know if we are going to get all the funding necessary to actually rebuild those, so we actually put funding in there as a cost share measure to ensure that we can at least, from the local side, be able to meet those obligations should we have to," Benjamin said.
She added that while contracts are being negotiated for repair of the Office of the Governor's buildings, there are still many unknowns.
"It's going to take some time. We don't foresee Government House on St. Thomas being rebuilt in the next year," Benjamin said.
When it comes to "other services and charges" in the budget, Benjamin explained that a bulk of the $613,000 increase, a jump of 39 percent, is due to funding for special events that previously came from the miscellaneous section. Those funds now come directly from the General Fund appropriation.
The new placement of event funding, including $250,000 for 2019's inauguration events, accounts for $520,000 of the increase in other charges. Benjamin said there has also been some increase in the governor's travel budget due to more trips involving negotiation and advocacy for disaster recovery funds.
In the events category, however, proposed funding through the Governor's Office for some holidays and celebrations have crept up slightly compared to Mapp's recommended FY 2018 budget, which was proposed pre-hurricanes but never enacted.
Fiscal year 2019's recommended appropriation for V.I.-Puerto Rico Friendship Day celebrations went up $5,000 to $50,000. Funding to celebrate BVI-USVI Friendship Day, $20,000, amounts to $2,000 more than what was proposed a year earlier. Uncategorized annual activities is being funded at a proposed $60,000, which is $6,000 more than the administration's last proposal.
The Government Access Channel is also funded through the Office of the Governor and its proposed allocation for 2019 is $130,000, which is $13,000 more than what was proposed in 2018.
A third section of the Governor's Office budget that is seeing a proposed funding boost is fringe benefits. The recommended amount there amounts to a 16 percent, or roughly $263,000, increase over 2018's appropriation for the same category. Benjamin said this was due to an increase in premiums for government health insurance.
Senators questioned why fringe benefits is seeing an increase when the Governor's Office budget actually shows a slight decrease of $16,000 for personnel costs.
Committee on Finance Chairman Sen. Kurt Vialet directed the question to the Legislature's post auditor Jose George.
"Does that number look right that we have a slight decrease in personnel but a $262,000 increase in fringe benefits?" Vialet said.
George said the number did "seem a little off" and he could not explain the fact that fringe benefits and personnel costs did not seem to be moving in step in more than one department of the V.I. Government.
Personnel costs account for over half of the expenditures of the Office of the Governor. The FY 2019 budget recommends $5 million in funding for 91 positions, 86 of which fall directly under the Office of the Governor, and under the Bureau of Economic Research.
Questions about some of those positions were raised at Tuesday's hearing, although senators were silent about the newest hired position, a chief conservator to care for Government House's art and antiques at a salary of $78,500.
Vialet asked about a position called the boards and commissions coordinator, which he said he did not know existed. The position is filled and funded at $40,000 per year, and Benjamin said the person is tasked with helping work with the territory's various boards and commissions, ensuring vacancies are filled.
There are currently more than 100 commissions and boards established by V.I. law, but many of them are non-functional due to a lack of members and the resources to enforce their mandates.
When Sen. Jean Forde asked who the governor's policy advisor on education is, Benjamin said that position is filled by former Sen. Shawn Michael Malone.
In 2015, Mapp appointed Malone to lead the coordination of a federal grant awarded for climate change-related initiatives. Vialet said he did not know Malone's position had changed.
"He is no longer associated with the climate change federal grant. He is now policy advisor on education," Benjamin said.
Vialet questioned whether Malone had ever been in the education field.
"I'm not sure, but I've been in education a long time and I can't remember him being an educator," Vialet said. "And I wonder how someone who has never been an educator in their life could be a policy advisor on education."
There currently remains a carry-forward balance of more than $223,000 on the Climate Change Adaptation, Planning, Assessment and Implementation grant the V.I. Government was awarded in 2016. Money spent from that grant in FY 2018 was $353,489, according to information provided by the Office of the Governor.
A discussion at Tuesday's hearing regarding grants awarded through the Governor's Office also revealed that a $500,000 federal grant awarded to fund the V.I. Centennial Commission expired at the end of September 2017 with $140,000 left unused.
"We sent over $140,000 back to the federal government from those monies," said Benjamin.
She said she had little other information on the grant or centennial funding and that questions about it would have to be directed to the V.I. Centennial Commission itself.
No votes were taken at Tuesday's information gathering session. Present were Sens. Roach, Vialet, Forde, Brian Smith and Marvin Blyden.