According to the V.I. Government's Bureau of Economic Research, the number of airline passengers arriving to St. Thomas in the first quarter of 2018 was approximately 70 percent lower than in the same period in 2017, while air arrivals to St. Croix were down 11.4 percent.
The BER, which is under the Office of the Governor, provides statistical reports on aspects of the V.I.'s economy which are used by various agencies and businesses for budget projections. The BER was one of five entities to offer testimony at a budget hearing before the Senate Committee on Finance Tuesday.
The data on air arrivals covers only the months of January through April of 2018. Some airlines that suspended flights to the V.I. after Hurricanes Irma and Maria, including United and Spirit, did not return until well into the spring, and Spirit recently expanded its route to cover St. Croix.
As of June, however, the territory still had only about half of the weekly airline seats available as it did one before.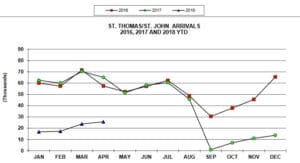 According to Donnie Dorsett, senior policy analyst for BER, the drop in air arrivals is roughly equivalent percentage-wise to the loss of hotel rooms destroyed or put out of commission by 2017's hurricanes. More than two thirds of the territory's approximately 3,850 hotel rooms were lost due to the storms, and many have not yet come back.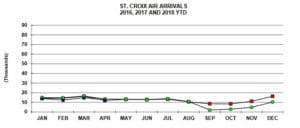 Cruise arrivals on St. Thomas also significantly decreased due to the hurricanes, but the loss of cruise ship infrastructure on other islands meant a nearly 78 percent increase in cruise visitors to St. Croix in the first quarter of 2018 compared to 2017. During the same period, St. Thomas's cruise arrivals dropped approximately 30 percent.
Still, cruise visitors to St. Thomas in the first quarter of 2018 amounted to more than ten times those to St. Croix. That ratio, however, is closer to even than the first quarter of 2017, in which St. Thomas, as one of the cruise industry's "big three" destinations, saw closer to 30 times as many cruise arrivals as St. Croix.
Data for January, February and March – some of the Virgin Islands' busiest months for tourism – show how drastically air arrivals to St. Thomas decreased compared to the previous year. Air arrivals in January numbered just 16,794 people, a 73.1 decrease compared to January 2017's 62,469 people. The smaller number of air arrivals to St. Croix in January, 13,979, was just a seven percent drop from the 15,029 arrivals in January 2017.
"We can see the St. Croix numbers are remaining relatively the same, but we really have a lot of work to do on the St. Thomas district," said Sen. Kurt Vialet. "Some of that's just a direct result of not having sufficient hotel accommodations."
Vialet added that the territory's most recent hotel occupancy tax numbers are showing signs of recovery, with villa and AirBnB units filling some of the gap left by the major hotels that remain shuttered.
The governor's recommended General Fund appropriation for the BER in fiscal year 2019 is $522,489, an approximately $10,000 increase over its 2018 appropriation. That $10,000 will cover an increase in fringe benefits and supplies, according the bureau's testimony.
Personnel services cost for BER will continue to cover five positions, all of them based on St. Thomas.
No votes were taken at the information gathering hearing. Present were Sens. Vialet, Jean Forde, Tregenza Roach, Brian Smith and Marvin Blyden.