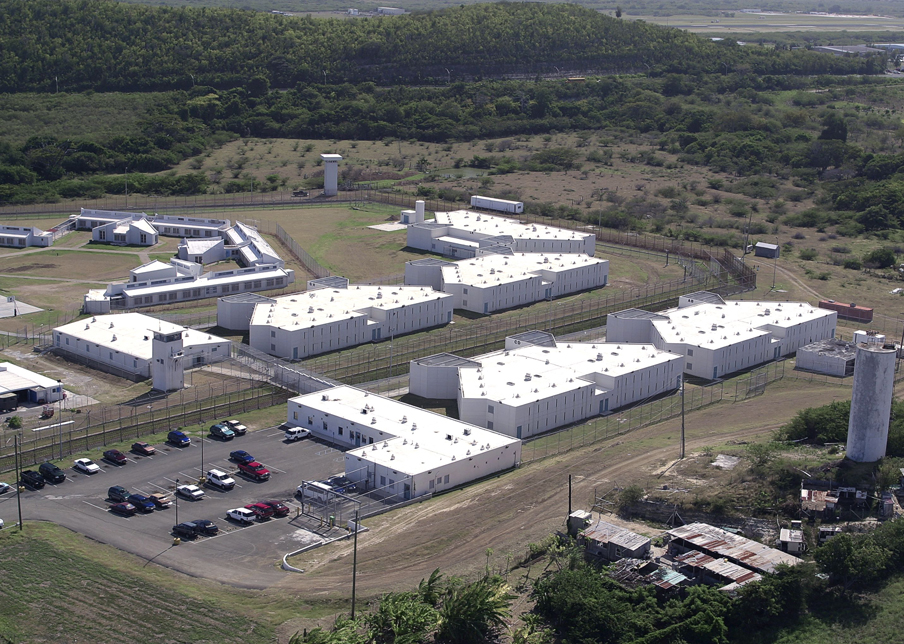 Hurricane damage to the V.I.'s aging correctional facilities has hastened their ongoing deterioration and put them in "the worst shape they've ever been in," Bureau of Corrections Director Rick Mullgrav told senators Tuesday.
Corrections was one of five entities testifying Tuesday at a budget hearing held by the Committee on Finance. The governor's recommended FY 2019 budget for Corrections is approximately $35 million, a decrease of $971,000, or 2.7 percent, from the previous year. Mullgrav said Tuesday many problems in the territory's corrections system will remain until facilities are completely overhauled or rebuilt.
The Golden Grove Adult Correctional Facility on St. Croix and the Alexander A. Farrelly Criminal Justice Complex on St. Thomas need daily repairs that are sometimes outside the scope of what BOC staff can accomplish, he said. Problems mentioned by Mullgrav include chronically leaking roofs and ceilings that are crumbling so badly that metal and wood chips fall into inmates' food.
The Alva A. Swan Correctional Annex on St. Thomas is completely out of commission since 2017's hurricanes, its 78 prisoners absorbed by the other facilities before the storms.
Mullgrav urged senators to consider the long-term savings he said would come from building completely new prisons in each district, even if the funding can only be found to replace one at a time.
"Be reminded until then, we will continue to be plagued by an aged facility that results in more manpower and higher maintenance costs," Mullgrav said.
Cost estimates provided by BOC testimony put the cost of replacing both districts' facilities at up to $150 million, between $30 and $50 million on St. Thomas and between $70 and $100 million on St. Croix. Assessments that will determine how much Corrections will get for hurricane repairs through FEMA have not yet been completed. So far, the bureau has received less than half a million dollars.
Deteriorating facilities are not the only challenges faced by Corrections. The bureau consistently struggles to fill its staff and sometimes has to go looking outside its budget appropriations to fund maintenance and improvements required by the two federal consent decrees it has been under for decades.
Most recently, appeals to the Public Finance Authority have helped with the installation of a cooling system at Golden Grove; the establishment of new training and office space at Roebuck Industrial Park, which was heavily damaged in the hurricanes; and the acquisition of funding for an emergency generator and perimeter fencing on St. Croix and a security surveillance system on St. Thomas.
BOC has 278 funded positions in its budget, of which 206 are filled. Of the 71 vacancies, 51 are for correctional officers. Mullgrav said numerous issues prevent the bureau from operating at a full staff of corrections officers.
"Corrections officer is not as attractive as other law enforcement positions," he said. He added that a planned increase in the position's starting salary, to around $40,000 per year, may help attract more candidates who are qualified and will stay with the bureau rather than leaving for higher paying law enforcement jobs.
When Sen. Novelle Francis Jr. asked what morale is like at BOC, Mullgrav said it is pretty low.
"Let's look at this way, between the long hours that they put in and the fact that we're under settlement agreement and consent decree, and I'm demanding and trying to enforce that we step our game up to a whole different level, I'm asking individuals to do things that they haven't been doing or weren't required to do in the past," he said. "Anytime you try to implement change it's not going to be received very well."
The prisoner population in the V.I. has decreased in recent years due to inmates being moved to mainland facilities. This has been done to both cut the bureau's costs and clear out the facilities to improve conditions, as mandated by the consent decrees. There are 184 prisoners in BOC's facilities, Mullgrav said, 28 inmates and 56 detainees on St. Thomas, and 40 inmates and 88 detainees on St. Croix.
The cost to house a prisoner in the territory as of 2017 was approximately $240 per day. Cost to house prisoners on the mainland was $85 per day. If the prisoner needs access to mental health services, the costs can double.
The difference in cost between the territory and the mainland is due not just to the higher cost of living in the V.I. said Mullgrav, but also outdated and poorly designed facilities that need extra manpower and maintenance to run.
Although the BOC has made progress in recent years towards complying with its consent decrees, there are many things the bureau does not have the resources to provide, such as access to comprehensive mental health services.
When Sen. Jean Forde asked about the status of rehabilitation services and resources such as classes, training, and libraries, at the V.I.'s corrections facilities, Mullgrav said resources, and even physical space, remain a problem.
"At this time on St. Thomas in particular our services are very limited because we have absolutely no room for these things … We have to implement these programs, and the way we're designed right now it doesn't allow us to do it."
No votes were taken at Tuesday's information gathering session. Present were Sens. Francis, Forde, Kurt Vialet, Marvin Blyden, Brian Smith and Neville James.