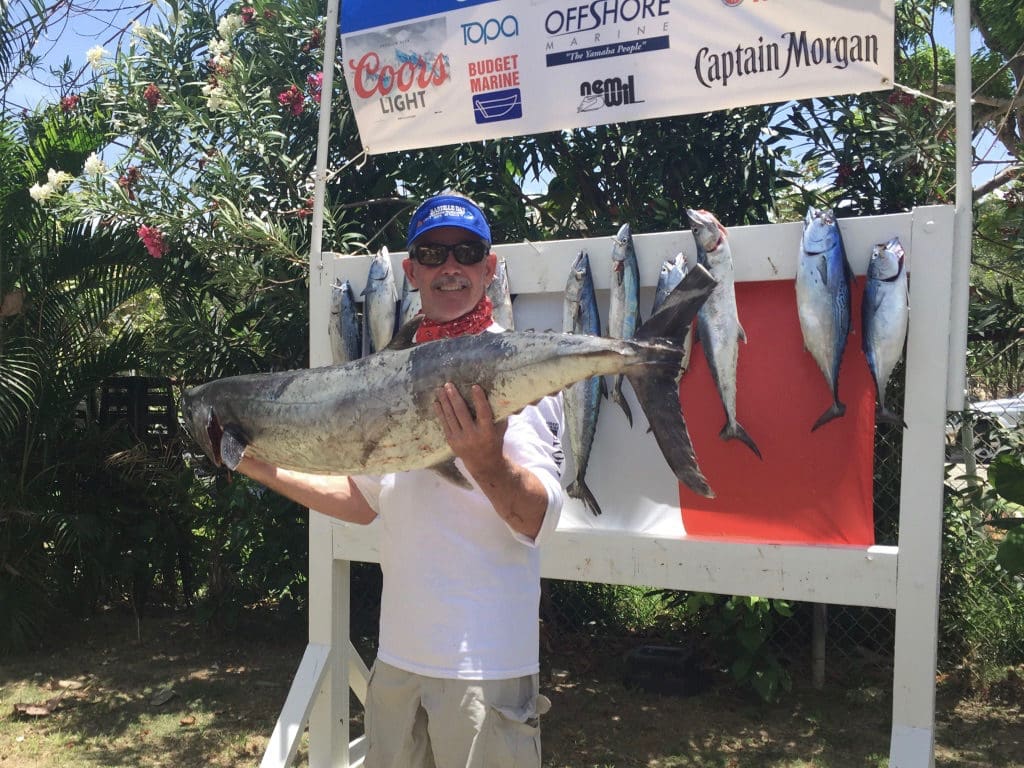 When David Stuedell hauled his 45.55-pound kingfish to the weighing station at the 30th Bastille Day Kingfish Tournament on Sunday, spectators said it was going to land him the big prize.
And it did. And it wasn't close. Stuedell's winning catch topped the next biggest fish in the tournament by almost 20 pounds.
"I've been trying for years to win this tournament," said Stuedell, who has made it a point to travel to St. Thomas in July for the past few years to join the annual competition that Hotwire.com has named one of the Top Ten Ways to Celebrate Bastille Day in the World.
A part-time St. Thomas resident and former owner of Hullbay Hideaway, Stuedell bested 166 other anglers, including 30 junior anglers, on some 54 boats that set off from various docks around the island at 5:30 a.m.
Onboard the Silver Fox and two hours into dropping his line in the water, he felt the telltale tug that was going to win him the coveted Largest Kingfish award and a $2,000 cash prize.
"We caught several smaller kingfish early. Then the tides were good, so we headed back through the same area, which was west of Savannah," Stuedell said. "That's when something pulled my line like you wouldn't believe. I knew right away it was a good-sized fish."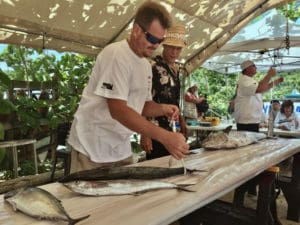 Junior angler Nathan Gatcliffe won the award for second largest kingfish. Gatliffe, who caught his 26.5-pounder aboard the Double Header I, also landed Best Junior Male Angler, catching a total of eight fis weighing a collective 52.5 pounds.
Andrea Tromben reeled in the 24.2-pounder that won third largest kingfish while Leo Vincent caught the fourth Largest Kingfish, a 24-pounder, both aboard Boston Whaler. Tromben also won the Best Female Angler prize, reeling in six fish weighing a total of 65.7 pounds.
Matt Driscoll, aboard Double Header 40, won the Best Captain award with a total catch of nine kingfish. Jonathan Gatliffe at the helm of Double Header I, won the Best Boat award after hauling in 26 fish of the tournament's eligible species.
Raymond Peterson won Best Male Angler, catching seven fish totaling 88.1 pounds. Isabelle Gatcliffe, meanwhile, won Best Junior Female Angler, setting a new tournament record with 75.90-pounds of fish aboard Double Header I.
Other species of fish also earned prizes. Junior angler Noah Mydlinski, caught the Largest Barracuda at 18.85 pounds aboard the Dogsled. Double Header 40's Driscoll, won the Largest Bonito award with his 6.1-pounder. Scott Newland caught the Largest Mackerel, a 5.45-pounder, also aboard Double Header 40.
The annual Bastille Day Kingfish Tournament is one of the highlights of French heritage celebrations on St. Thomas. This year, the Northside Sportfishing Club-event did not scale down in spite of last year's hurricanes, largely due to the generosity of their sponsors. Carol Bareuthers, who serves as the event's media coordinator, said they approached their sponsors this year with the expectation that post-hurricane challenges might yield them less than the usual support, but their sponsors insisted on giving full donations, she said.
"I was surprised too," said said Edwin Bryan, one of the founders of the annual competition and a first-generation organizer. "I don't think no other tournament went on this year that normally goes on. This is the only tournament that kept this up."
Bryan said he and his friends were at a fishing tournament in Anegada in the late 1980s when they realized they could hold their own tournament on St. Thomas. He said it was a 'shocking surprise" to see the number of people who got involved in their very first event 30 years ago.
"The first one was maybe 100 people, just for the first one," said Bryan. "And then the second one, it was even more, and it kept building and building. At one time we had about 106 boats. That's a lot."
This year, organizers arranged for a shuttle to ferry attendees from a parking lot next to Sib's down to Hull Bay because parking at the beach itself is always packed. Members of the St. Thomas Civil Air Patrol helped keep the event orderly, directing vehicle traffic and giving directions to attendees on foot. As anglers started heading back to shore, spectators gathered by the boat ramp, eager for a first glimpse of the day's catch.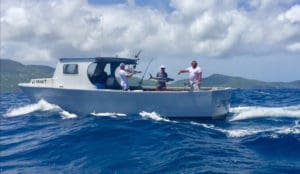 The Kingfish Tournament not only draws the best anglers from the territory and beyond but brings the community together as well. Families could be seen stationed under big beach umbrellas, sitting next to coolers and sipping drinks. Fathers held their children on their shoulders and mothers carried kids to the water's edge to watch the boats come in.
"That was the idea when we first started, to bring the community together, and it really did. It's a lot of fun and everybody enjoys it," said Bryan.
Across the dirt road at Hull Bay Hideaway, Cool Sessions Brass kept up a lively musical performance throughout the afternoon, while Dem Fellas band provided the entertainment later that evening, when the winners of the competition were officially announced at 8 p.m.
The Kingfish Tournament benefits the Joseph Sibilly School, St. Thomas Rescue, Civil Air Patrol and the Nana Baby Children's Home. It also provides college scholarships and has donated more than $189,000 over the past three decades to community organizations through the Northside Sportfishing Club.
The event's sponsors include Coors Light and Captain Morgan, distributed by Bellows International; Offshore Marine, the YAMAHA distributor in the Virgin Islands; NEMWIL and Red Hook Agencies, Inc.; TOPA Insurance Services Inc.; Budget Marine, the Caribbean's Leading Chandlery; Hawaiian Tropic; Scoops & Brew Gelato and Coffee Bar; Frank's Electric; Amalie Car Rental; and Hull Bay Hideaway.
The following anglers placed in the tournament:
Largest Kingfish – David Stuedell, 45.55 lbs, Silver Fox (boat name)
2nd Largest Kingfish – Nathan Gatcliffe, 26.50 lbs, Double Header I
3rd Largest Kingfish – Andrea Tromben, 24.20 lbs, Boston Whaler
4th Largest Kingfish – Leo Vincent, 24 lbs, Boston Whaler
Best Boat – Capt. Jonathan Gatcliffe , 26 fish, Double Header I
Captain – Matt Driscoll, nine kingfish, Double Header 40
Best Female – Andrea Tromben, 65.70 lbs, Boston Whaler
Best Male – Raymond Peterson, 88.10 lbs, Pier Pressure
Best Junior Male – Nathan Gatcliffe, 52.50 lbs, Double Header I
Best Junior Female – Isabelle Gatcliffe, 75.90 lbs, Double Header I*
Largest Barracuda – Noah Mydlinski, 18.85 lbs, Dogsled
Largest Bonito – Matt Driscoll, 6.10 lbs, Double Header 40
Largest Mackerel – Scott Newland, 5.45 lbs, Double Header 40