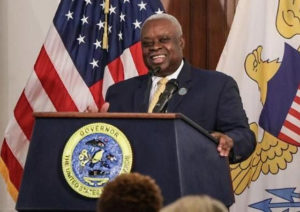 Modernizing the territory housing stock, providing new opportunities for homeownership and expanding two local senior centers are among the top priorities detailed by Gov. Kenneth Mapp Wednesday as he discussed the federal government's approval of a plan to spend $243 million in federal Community Development Block Grant funds.
Release of the funds was announced Tuesday by the Department of Housing and Urban Development.
Overall, the federal funds are spread between infrastructure, housing and economic development projects, Mapp said at Wednesday's news conference on St. Thomas. He gave the breakdown as about $30 million to rebuild local roads, $45 million for the Water and Power Authority to build new wind and solar power generation systems, and $23 million to dredge harbors so that Quantum and Oasis class cruise ships can pass through and berth. Another $5 million, he said, would support tourism advertising efforts and show that the territory, during the winter months, is "still open for business."
Mapp focused his attention on the overall housing efforts, including the streamlining the Federal Emergency Management Agency's step program, which first offers residents temporary home repairs before a second wave of permanent repairs can come through. Mapp said FEMA has agreed to convert the program into a permanent roof repair program and said $10 million can be put toward bringing on additional main contractors that can facilitate the installation of 20 roofs a day instead of per month.
With local shelters still being restored, Mapp said plans call for making homes safe, sturdy and protective, like shelters. Sturdier homes will compensate for the all the shelters not being up and running, the governor said.
Another $10 million, the governor said, is dedicated to creating new opportunities for homeownership through the V.I. Housing Finance Authority. The agency's executive director, Daryl Griffith, detailed plans to add 20 homes to the Whispering Hills community on St. Thomas, 16 homes to St. Croix's Mount Pleasant community, 50 homes in Estate Fortuna and 20 homes in Estate Solitude.
Meanwhile, $32 million would go to public housing, including the first phase of rebuilding the Tutu High Rise community on St. Thomas.
"Modernization" was the word Mapp used most often to describe the overall plan, to include bigger units and a community center, among other things. The John F. Kennedy Terrace community on St. Croix also will be torn down, with residents relocated at the government's expense while new buildings are put in place.
The funds will be used to get a developer in place within the next 30 days, officials said. Mapp added that he also will look at Nicasio Nico and Estate Williams Delight on St. Croix, along with Paul M. Pearson Gardens on St. Thomas.
With much of the money going into housing, Mapp said living solutions for senior citizens also need to be found. Along with developing the 30-acre Herbert Grigg Home for the Aged on St. Croix, the government is looking to purchase SeaView Nursing Home on St. Thomas, rehab it and install independent living units for seniors who would be relocated from the Queen Louise Home for the Aged, which will be shut down.
The Legislature has to approve the government's purchase of the facility, which Mapp encouraged Wednesday.