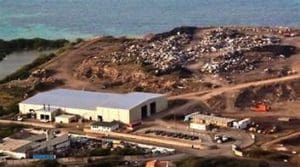 The territory's solid waste managers are set to tell a federal judge next week how much progress they've made in dealing with hundreds of tons of storm debris.
Officials from the Waste Management Authority have a July 18 date in District Court as part of an ongoing consent decree. The WMA is expected to detail its plans to remove scrap metal and discarded tires from the Bovoni Landfill on St. Thomas.
Parties to the case United States of America vs. Government of the Virgin Islands have been working since 2010 to resolve violations of environmental laws at Bovoni and at the Anguilla Landfill on St. Croix.
Those problems became considerably worse with the damage caused by Hurricanes Irma and Maria last year.
District Court Judge Curtis Gomez granted the WMA two extensions on its scheduled appearance at evidentiary hearings set for May 22 and June 25. Hearings are held every three months but disruptions of government operations, funding problems and delays in court schedules led to time concessions.
WMA is one of three local agencies with standing court dates on federal consent decree cases. Some cases date back more than 30 years.
New developments are also expected in the oldest case, the one involving the Golden Grove Adult Correctional Facility. A team of inspectors are scheduled to visit the St. Croix medium security prison in August.
Civil Rights attorneys with the U.S. Justice Department complained in May at a hearing before Chief District Judge Wilma Lewis that BOC officials were acting in bad faith by not meeting compliance goals after the passage of Irma and Maria. They pointed to problems obtaining documents related to two deaths, an attempted suicide and a prison escape.
At least one of the incidents occurred prior to the storms. But Lewis said she disagreed with the Civil Rights division about a demonstration of bad faith.
At the same time, the judge encouraged them to keep trying to hold Golden Grove officials accountable.
When WMA officials appear in St. Thomas District Court July 18, they are expected to solidify plans to ship 220,000 scrap tires from Bovoni. They also are expected to tell the judge about funds identified to complete that task and their readiness to deposit the money into an Urgent Project Fund by August.
According to a status report submitted to the court, waste managers also will provide details about completion of repairs to a building housing the transfer station at Anguilla. Plans to remove scrap tires from Anguilla and the Susannaberg Transfer Station on St. John are expected to come up at the hearing as well.
The court also is waiting for further information from WMA on a separate compliance case involving the territory's wastewater treatment plants. Veolia Water North America, the designated contractor put in place to build and operate two of those plants, recently informed the court WMA defaulted on its commitments and is close to $5 million in arrears.
At a June hearing, Gomez told interim WMA Director Tamara Albany-Nicholas that defaulting on the contract would violate the consent decree in that case.
Nicholas told the court a plan was in the works to train WMA staff to take over operations of the wastewater plants. But as of the last hearing, several questions stood unresolved about whether the plan would be acceptable.