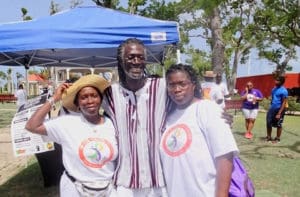 In tribute to the enslaved Africans who marched to Frederiksted and demanded freedom on the morning of July 3, 1848, Crucians gathered in Buddhoe Park Tuesday for Emancipation Day commemorations.
The historic revolt, led by molasses boiler Moses "General Buddhoe" Gottlieb and his lieutenant, Martin King, 170 years ago, won freedom for slaves throughout the Danish West Indies.
Gov. General Peter von Scholten, having received an ultimatum that threatened fire unless the oppressed were freed, abolished slavery that afternoon – almost 15 years before Abraham Lincoln's Emancipation Proclamation in the United States.
"From this day onward all unfree in the Danish West Indies are free," von Scholten declared.
Tuesday's celebrations started at 5 a.m. with the 18th annual Emancipation Day Fort to Fort Walk to Freedom, from Fort Christian to Fort Frederik. Organized by Sen. Terrence Positive Nelson, the freedom walk concluded with a ceremony.
"Love yourself, love your island, love people, and, most of all, love God," said Nelson.
Hill Top Sounds played music while weary walkers availed themselves of bananas and other sustenance provided.
"The beauty of the walk is that it is tough but rewarding," Nelson said. "It's about overcoming challenges."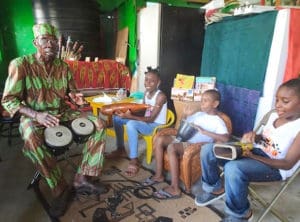 He said that roughly 100 people set out from Fort Christian for the 15.6 mile trek that morning and that others joined in along the way. Some doubted they could make it.
"Just as we got to Frederiksted, one step at a time, we want to encourage people to face challenges one step at a time, not to get discouraged," he said. "We can start by overcoming the simple things, and then we find that larger challenges are within our reach."
Nelson sponsored the 2017 legislation that established June 26 through July 3 as Freedom Week in the Virgin Islands. Emancipation Day, a pubic holiday in the USVI, caps the series of activities that recognize the courage of those ancestors of 1848.
Nelson calls that rebellion one of the first labor actions.
"Those actions were the precursor to the laws that protect workers today," he said.
The Crucian Heritage and Nature Tourism Foundation, Ten Sleepless Knights, United Caribbean Association and History, Culture & Tradition Foundation coordinated the events of Freedom Week. The USVI Dept. of Tourism supported their efforts.
"We all worked together to make it happen," said Frandelle Gerard, executive director at CHANT. "The idea is to reinvigorate Emancipation Day as the holiday of the Virgin Islands."
The Caribbean Museum Center for the Arts kicked off Freedom Week events on June 29 with an opening reception for artist and native son, Mark Feijao Milligan II. His "Black Saints" exhibition, curated by Monica Marin, explores "a reality where the spirit and culture of the African diaspora is revered."
As youngsters, Marin and Milligan apprenticed under artist Paul Youngblood.
"Paul provided guidance, and we also got to see an artist working in a successful way," said Milligan. Although he now lives in Hawaii, Milligan enjoys coming home to St. Croix.
"I would like to inspire the youth here in the same way Paul inspired us," he said. Milligan points to Cindy Male, Dove and El'Roy Simmonds as influences in his life, as well.
Other Freedom Week activities included a family fun day in Whim Park on Sunday, a traditional tea party in Fort Frederik at 4 p.m. Monday, and a bamboula workshop and a concert with the Ten Sleepless Knights and Mind, Body and Soul Monday night.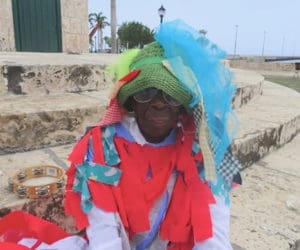 On Tuesday morning, Juanita Gardine Elementary School Quadrille Dancers, instructed by Patricia Browne, and a slew of children on bikes paraded down King St. to Buddhoe Park. Meanwhile, the St. Patrick's School Alumni Association set up under tents and sold kallaloo and fungi, roast pork, stew goat, mac and cheese, fried pot fish and other island dishes. They made local drinks such as mauby and ginger beer.
Folks relaxed on the benches in the easygoing atmosphere. Students in CHANT's Building Arts Institute program displayed their new woodworking skills. Kate Melone gave "insight" readings in a quiet area of the park. The West End Masqueraders, under the leadership of Asta Williams, danced to percussion. Every so often, someone blew a conch shell.
Emancipation Day speeches began mid afternoon in the gazebo.
"Our history lasts as long as we continue to celebrate it and to appreciate it," said master of ceremonies Richard Nix.
A member of CHANT, Nicks encouraged parents to get involved in their community, to take control of the future, to vote. He said that Virgin Islands history belongs in our schools' curriculum.
Senate President Myron Jackson ceremoniously poured libation into a calabash.
"In the tradition of our ancestors, libation is poured to give tribute to those who came before us," Jackson said. "Before I pour libation, I always ask for guidance."
He asked that "our creator bring prosperity, peace, and love to this generation and to generations to come."
Next up, Percival Tahemah Edwards talked about the 28 year-old Buddhoe, who was raised in La Grange and made famous the slogan of the day, "Get free or die trying."
"What happened to Buddhoe?" he asked. "With all the archives in Denmark and all of the scholars, no one can tell you."
Accounts only reveal that Buddhoe was put on a boat bound for Trinidad.
Geron Richards and Richard Schrader read original poetry that met with applause and the sound of the conch shell.
Emancipation Day activities continued into the wee hours with poetry, speeches and bamboula at UCA's Kitchen where owner Wala put on a very wide skirt and danced the night away with the others.
"I love Emancipation Day because it keeps the spirits of our ancestors alive," she said. "A lot of lives were sacrificed for our freedom."
A grand quadrille dance and a Ten Sleepless Knights performance topped off the night at Fort Frederik.