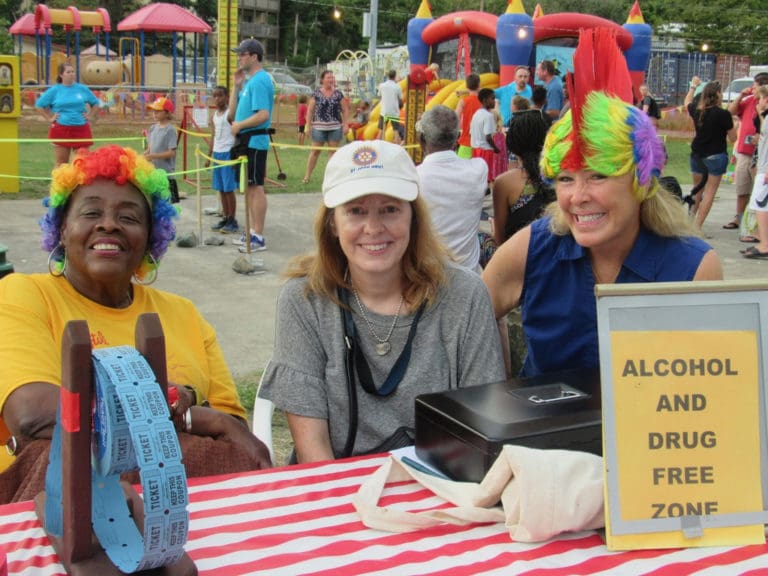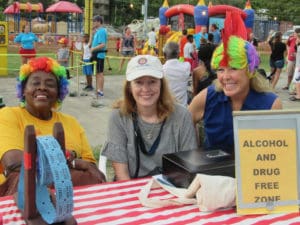 The 2018 St. John Festival Children's Village opened Friday, hosted by the Rotary Club of St. John in in the National Park. The event serves as a safe and drug free venue for children and families to play carnival style games and win prizes.
Between 5:15 p.m. and 9:15 p.m. through July 3, participants have an opportunity to play in the onsite bounce house, get their face painted, and participate in the games available.
Games include two strongman games (for younger and older children), darts, clown toss, miniature basketball, Hotwheel car races, and more. A plethora of stuffed animals, small toys, balls, and even skateboards are available for winners.
Foundation Chairwoman and Past Rotary President BJ Harris expressed thanks that the equipment for the event did not suffer much damage.
"I'm very happy that the trailer we use for the prize counter was OK. Other than some frogs we found inside that we relocated safely, it made it through the storm just fine," said Harris. "A trailer holding our snow cone machine and popcorn machine got flipped over, but the equipment inside still functions."
The Rotary Club does not act alone in hosting Children's Village. The organization depends on volunteers from the local community as well as the Freshwater Church, a religious volunteer group that travels from Texas and has assisted the Rotary Club with Children's Village for four years. The group also returned to St. John to assist in the aftermath of Hurricanes Irma and Maria. Pastor Landon Dees expressed hope that in assisting in Children's Village, "The kids will come out and enjoy themselves, and a sense of normalcy will return to the island."
"This is not a profit-making event, it's more of a breakeven event. I hope that the kids [who evacuated] are back, so this can be a normal event for them. I also hope that everyone who comes out leaves with a prize" said Harris.
Volunteers can sign up by contacting Teri Mandemaker on Facebook.