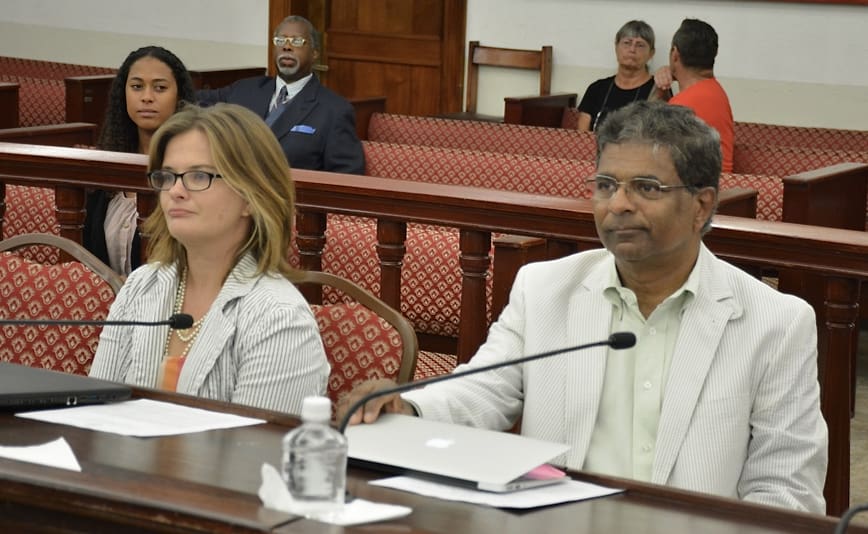 Two bills dealing with the territory's environment were held Monday by the Senate Committee on Government Affairs, Veterans, Energy and Environmental Protection after lawmakers decided each needs additional discussion and amendment.
The first of the two bills aims to add a ban of single-use plastic straws to an existing ban of plastic checkout bags that went into effect in April 2017. Senators determined tightening the language of the bill is needed since the bag ban has proven less effective than hoped, partially due to "loopholes" in the law.
The second bill, the more complicated and wide-ranging of the two, seeks to regulate heritage and public trees in the territory by adding "The Community and Heritage Tree Law of the Virgin Islands" to the V.I. Code. The legislation, which covers the management of trees in public spaces, and some on private property, including those of cultural importance, has been in development for at least a decade.
In its current form it has been discussed at two previous hearings, and on Monday multiple agencies, most notably the V.I. Water and Power Authority, said the bill still needs more clarity.
Members of the committee expressed generally positive feelings towards the straw ban bill after testimony from the Department of Planning and Natural Resources Education and Outreach Coordinator Kitty Edwards and Island Green Living President Harith Wickrema.
Edwards said a straw ban would represent a small but important step in waste management reform in the territory. She came to the hearing with a handful of plastic straws she said she had picked up between her car and the Legislature building, and spoke of filling five-gallon buckets with single-use plastic debris during beach cleanups.
"I'd like to offer the opinion that without small changes like this within our community we can't hope to claim victory over larger issues," she said.
Many restaurants in the territory have already voluntarily nixed plastic straws, and the DPNR Commissioner has sent an internal memo banning the use of single-use plastics in the department's offices. The commissioner has sent a similar memo to the head of the Department of Property and Procurement advising similar items be removed from government inventories, according to Edwards' testimony.
Wickrema, who served as chairman of the board of the V.I. Waste Management Authority before being removed by Gov. Mapp in March, said he is passionate about getting rid of single-use plastics. But he added the failures of the plastic-bag ban has been a source of frustration and disappointment for him.
"What we need is not only the spirit of the law, but people and vendors and the territory's businesses to accept and adopt this. It has not been done," Wickrema said.
He said the VIWMA "failed miserably" to enforce the plastic-bag ban despite the efforts of "many board members and some senior executives."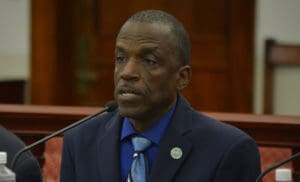 Shortly after the law was passed, the parent company of Pueblo Supermarkets challenged the VIWMA in court over a disagreement in interpretation of the word "compostable." Wickrema said Monday the word should be removed from the law because it allows businesses to use some plastic bags that are technically biodegradable but still not good for the environment.
Other stores in the territory have continued to use plastic checkout bags, sometimes charging a fee to shoppers, by offering bags that the law technically qualifies as "reusable" because they meet a certain thickness of material.
Senators implied there are businesses that have ignored the law entirely, even though the fine for using single-use plastic bags is between $500 and $1,000 per day.
"Those who follow the rules almost feel victimized, because those who are not following the rules, no one says anything to them," said Sen. Janette Millin Young.
Senators also expressed concern that a provision in the existing law that allows businesses to offer environmentally-friendly alternatives to plastics at a cost can be construed as passing a burden on to consumers. This was a complaint leveled at the plastic-bag ban, according to Sen. Tregenza Roach, and it also applies to extra fees that might be charged to customers for compostable straws.
Edwards said since straws are not, in most cases, a necessary item, bars and restaurants have the option of not providing them at all, or only compostable ones upon request.
Wickrema said several times at the hearing his preferred solution to single-use plastic straws is a ban on their importation into the territory, not just a ban on businesses providing them.
When Sen. Marvin Blyden made a motion to hold the bill in committee, he and all other committee members present – Sens. Roach, Millin Young, Sammuel Sanes, and Alicia "Chucky" Hansen – voted yes.
Monday's discussion of the bill to regulate public and heritage trees was in many ways a retread of a previous committee hearing held in August 2017, and the result – the bill being held for further discussion — was the same.
At the August hearing, testifiers said the bill needed clarification on permitting exemptions and concerns over private property rights, and a specified funding source.
The bill applies mainly to trees in public places such as streets, monuments or town squares, but there are instances in which private property would be affected. If a tree on private property were to be designated a heritage tree, it would become illegal for the property owner to prune, remove, or otherwise damage it in most cases.
According to the bill, considerations that might go into the process of identifying a heritage tree include its species, size, age, location, ecological importance, historical and cultural significance, aesthetic value, economic benefit, special character, or community benefit.
Crews working for the Department of Public Works and WAPA would be given some permit exemption in doing work needed to maintain public infrastructure, but representatives of those departments have said the bill is not clear enough on the extent of those exemptions.
Noel Hodge, chief operating officer of water systems for WAPA, testified Monday for the utility. He repeated previous claims by WAPA that the bill should be absolutely clear on wide-ranging exemptions given to WAPA because of the amount of tree-pruning the agency contracts out per year, at a cost of approximately $1 million annually.
Jackson said he will continue to incorporate WAPA's feedback into revisions, but he said regulations need to be in place for the utility and government agencies, who he said have been known to prune heritage trees in damaging ways.
"I do not agree that you should have the sole responsibility to cut how you feel, because you have proven that you don't have the capacity to do so," he said.
No one from the Department of Public Works testified at Monday's hearing.
Mario Francis, chairman of the U.S. Virgin Islands Urban and Community Forestry Council, Inc. and arborist Clay Jones both testified enthusiastically in favor of the bill.
Sean Krigger, the acting director and deputy state historic preservation officer for the Virgin Islands State Historic Preservation Office, said DPNR would like more clarity on how DPNR will be tasked with assisting in enforcement of the law if it is enacted.
Commissioner of Agriculture Carlos Robles, who heads the department that would be most affected if the bill becomes law, said Agriculture would like to see an amendment addressing cases in which trees must be replaced. He also said a potential amendment that would give the Commissioner of Agriculture responsibility for determining funding would be difficult given the financial state of the territory.
Committee members present unanimously voted to hold the bill in committee, but Sanes said the bill should be brought back to the floor promptly because of its importance from both a cultural and safety standpoint.