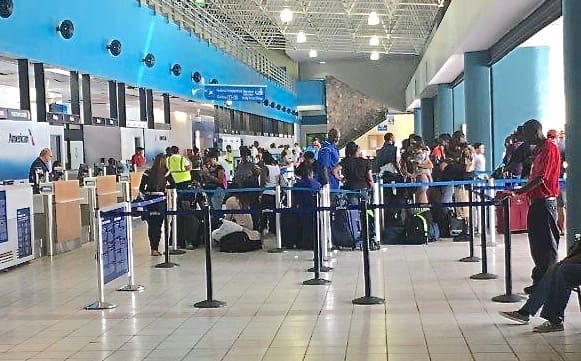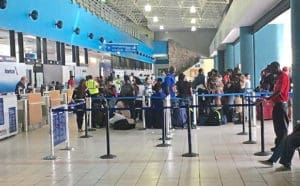 I love to travel and I've had my share of delays and other travel mishaps, but last night at Cyril King Airport on St. Thomas was a unique experience.
About 30 passengers were bumped from the Miami flight, some unable even to get out the next day, because American Airlines told us and others that we could check in and board as late as 7:30 p.m. (just over one and a half hours before the scheduled departure.) In fact, TSA and Customs close at 6 p.m. or 6:30 p.m. with no exceptions – we heard both – and no more passengers can clear after then.
We were scheduled to fly to Richmond via Miami for the weekend on American Airlines Flight 1391, which was scheduled to leave St. Thomas at 3:46 p.m. However, starting at 11:15 a.m. the morning before, I started receiving flight-delay notifications from American Airlines, with the departures being delayed to 4:45 p.m., 5:15 p.m., then (gulp) 8:35 p.m., and 9:10 p.m.. All in all, I received 7 notifications from American, plus spoke with American Airlines once or twice to reschedule my flight to Richmond from Miami as well as make the necessary hotel cancellations and bookings to accommodate a night at the Miami airport (or really early morning). I also spoke with American Airlines several times to verify when I should arrive at the airport and was told, when I specifically referenced the latest departure, to arrive two hours in advance or around 7 p.m. I also asked what caused the delay and was told "crew legality". This basically means that American Airlines failed to schedule sufficient back-up flight personnel at its hub in Miami, and when it came time for the flight to leave, American Airlines didn't have enough available crew members who had the required minimum hours of rest. While I was glad that it wasn't weather or mechanical difficulties, "crew legality" does not reflect any circumstances beyond the airlines' control. It's a cost-saving measure to cut its scheduling as close as possible to minimize its labor costs.
When walking to the American Airlines counter around 7 p.m. Thursday night, I noted a few unhappy looking people in front of us and two counter agents. One person turned to us and said that TSA and Customs had left and we couldn't get on the plane. My initial impression was that this couldn't be the case since American had told us to arrive when we did and it was still about two hours before the flight was scheduled to arrive and even with a quick turn-around the departure would occur close to 9:30 p.m.
However, we talked with the two agents and they confirmed that the TSA and Customs personnel had started to leave at 6 p.m. but had stayed a short time longer to accommodate the people who were still checking in. People of course continued to arrive steadily after we did, including several people who had checked in and then gone out for dinner given the flight's late arrival. Whether you had checked in or not, or whether you had baggage or not, didn't make a difference. I would estimate at least 30 people got "caught" in the TSA/Customs closing.
Two people were sitting in the Customs area but the sliding doors were closed. Those of us who were "locals" made a few calls to see what could be done – which was nothing. One tourist kept looking wistfully at the glass doors as if she was "willing" them to open, and another guy was furious about missing an important wedding. Several tourists indicated that they had traveled the world and never encountered such a situation.
One 20-something traveler who had his boarding pass in hand from an earlier in-person check in and only carry-on luggage, tried to organize an unorthodox route to the flight through the baggage claim curtain. I had never before been recruited to make a "raid" on a plane and declined to participate – and the "Flight 1391 Would-bes" eventually persuaded the enthusiastic organizer that it was, simply put, a really, really, really bad idea. I later saw him without handcuffs so I guess he adhered to our advice.
American Airlines worked to reschedule folks on almost (or already) sold-out flights on Friday and Saturday and to find hotel rooms on St. Thomas to accept the tourists. I am sure the cost to American Airlines was significant – so much for the "crew" costs saving – and the cost to the U.S. Virgin Islands in terms of unhappy tourists and the image of a TSA/Customs that puts dinner over dozens of tourists was immeasurable.
So why am I writing this missive of non-travel misery?
First, no matter when your flight comes in after a delay, and no matter what the airlines tell you, YOU MUST BE AT THE ST. THOMAS AIRPORT BY 5:30 PM to ensure that you can board.
Second, the local airline representatives don't confer on this important issue with American Airlines' headquarters and they should do so. American Airlines' local team was aware of the policy and even had the names of most of the impacted passengers, but did not pass on this information to American Airlines. The passengers with whom I had spoken had all received many texts and emails throughout the day about the situation from American Airlines, but not one about the need to clear TSA/Customs before 6 p.m.
Most of us had also had direct calls with American Airlines representatives and specifically asked when we should be there. If an airport has special rules, such as that it is not possible to enter the airport after 6 p.m. regardless of when a delayed plane is leaving, then it is up to the local representatives of the airline to advise the main office that is interfacing with passengers. A one-line text to be at the airport at 5:30 p.m. in the midst of all the delay updates would have ensured everyone was there – leaving work, dinner, bars, and so forth – and everyone would have made the flight.
I will be writing American Airlines for sure, but American's folks "on the ground" should have handled it before-hand.
Third, if the U.S. Virgin Islands is going to get increased tourism and airlift and fully recover from last year's hurricanes, provision must be made for TSA and Customs to stay until flights land, even if the flights are delayed. Delays happen – due to weather, mechanical issues, and yes "crew legality" – and so departures can be delayed, sometimes for hours. The U.S. Virgin Islands does not look like it's ready to welcome (and say goodbye) to visitors if there's no coordination between flights and the critically needed airport services. Any overtime that would have been paid to the Customs and TSA personnel pales in comparison to the costs of the negative impact on tourists, who may dwell on their last night in a hastily booked hotel or the missed wedding or other family event, or the negative impact on locals who have been struggling with storm recovery for the better part of a year and need a quick get-away, or the costs to American Airlines in housing and feeding and rebooking several dozen unhappy passengers.