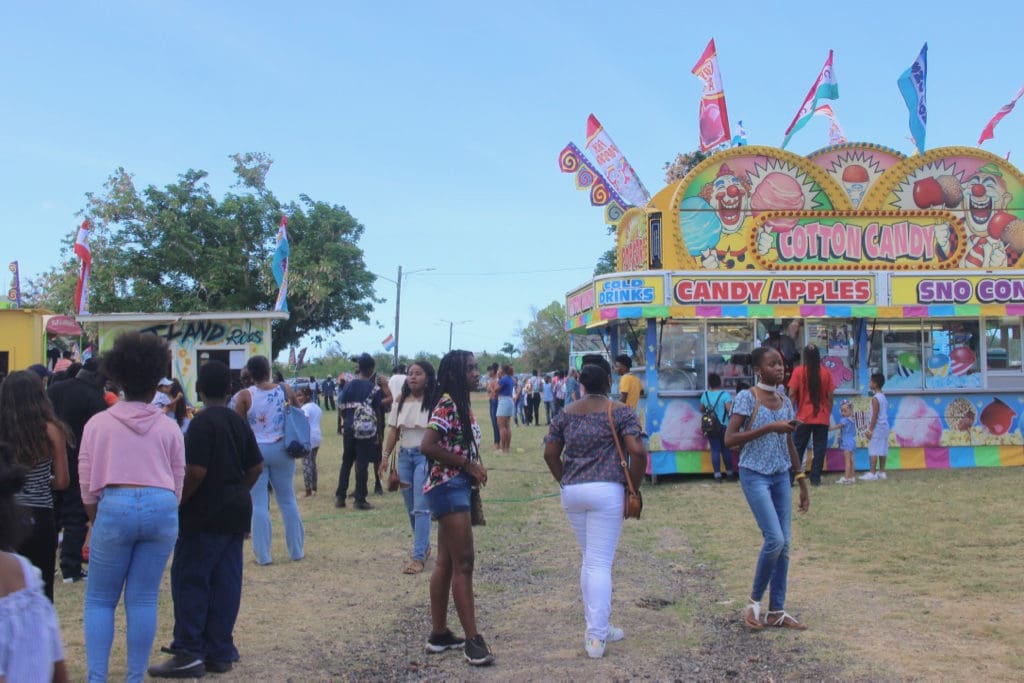 Despite being scaled back and coming three months later than usual due to last year's back-to-back storms, the 2018 Agrifest was off to a strong start on Saturday afternoon with hundreds of fairgoers coming out to support the annual event.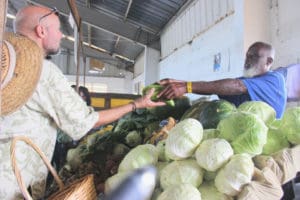 Agrifest, which is typically held in February each year, was cancelled and rescheduled for Memorial Day weekend to give farmers a chance to get back on their feet and to allow time for restoring the St. Croix fairgrounds after the pounding the territory took from two Category 5 hurricanes in September.
The fairgrounds weren't as bustling as past February fairs, but it still had all the hallmarks of Agrifest: Food booths selling pates and curries, farmers selling produce and plant starts, and a continuous line for the Armstrong Ice cream stand.
The festival runs through Monday, with a full line up of entertainment each day.
This year the fairgrounds were named for Sharon M. Brown, a V.I. culture bearer who served for many years as a member of the Virgin Islands Agriculture and Food Fair Board of Directors.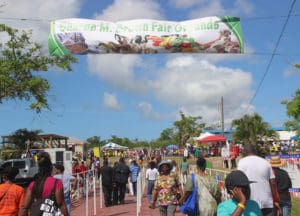 "Cruzan cultural arts and V.I. pride emanated from her unassuming demeanor," Agriculture Commission Carlos Robles said in a posted statement about Brown. "In the 25 plus years of participating in Agrifest, I didn't know Ms. Brown personally but I was always drawn to the food pavilion to experience the old school atmosphere that she created with its traditional Virgin Islands food and dessert on display and for sale."
While not as full of booths as the typical Agrifest, the food pavilion had a steady stream of customers eager to sample favorite dishes such as conch, pot fish, goat and salmon balls.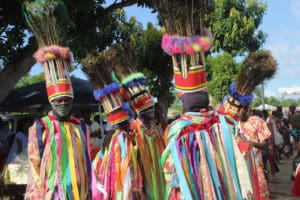 St. Croix resident Yoland Brown, who helped prepare the food for G.C.'s Caribbean Coal Pot booth, said she was pleased by the turnout and found it encouraging that sales were going well by mid-afternoon.
Many people use Agrifest to stock up on locally made sauces and stews that aren't offered in the territory's grocery stores.
Jerome Davis, whose booth was tucked in the back corner of the food pavilion, said his hot sauces, stewed guava and stewed tamarind were selling well.
"There's a lot of excitement here today and it's nice to see everyone so happy after all we've been through since last September," Davis said.
The vendors area was one part of the fair that seemed as full as normal, with dozen of booths selling clothes, leather sandals, skincare products, books and jewelry among other items lining the main thruway that runs through the grounds.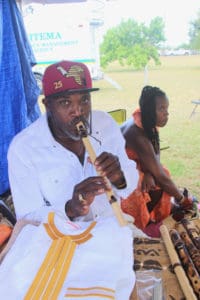 Musically inclined and driven by a social mission, Sneferu Hotep was selling handcrafted flutes made from locally harvested bamboo. Hotep teaches area youth to make the instrument as a part of his "We Shoot Flutes" initiative, which uses music, agriculture and arts exploration to promote peace.
Although farmers took a major hit after their crops were largely decimated last September, they displayed a shared sense of optimism at the fair.
Dale Brown of Sejah Farms said his sales had been somewhat slow so far at the fair, but that he didn't expect them to be higher given the event wasn't running at full capacity.
"We still have a lot of work to do to get back to where we were and it will take time, but I can't complain," Brown said.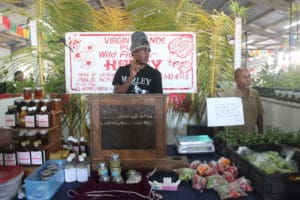 Roniel "Honeyman" Allembert shared Brown's sentiments. And he said the island is in bad need of a good rain.
Before last year's hurricanes, Allembert said he had already produced 350 gallons of honey in 2017 alone, but that he wouldn't get near that figure this year after losing nearly 300 of his hives.
Allembert is tending to 96 hives that survived the storms and is working on building his number of hives back up. Like the resilient hives that made it through the hurricanes, V.I. farmers will continue to forge ahead.