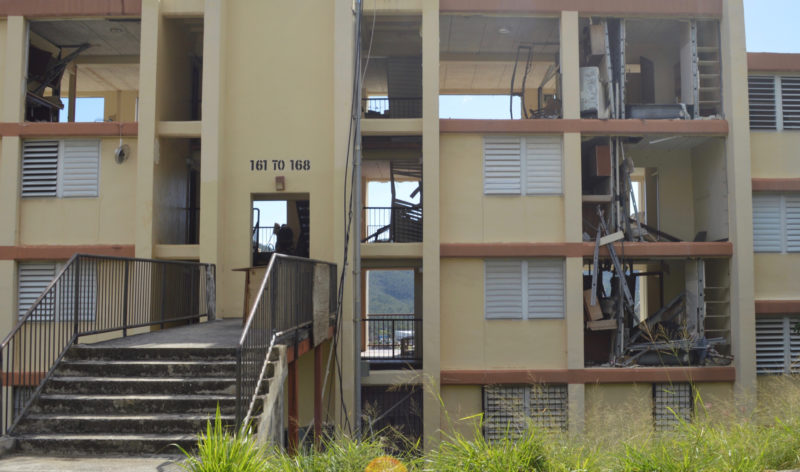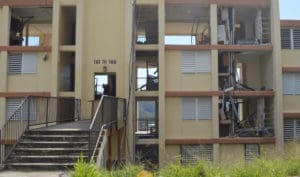 The Housing Authority Board of Commissioners Wednesday approved the establishment of a bank account the authority's director said will help the agency keep track of hurricane recovery funds.
The board action occurred a few days after the U.S. Department of Housing and Urban Development awarded $9.6 million to VIHA to help rebuild housing communities in the wake of Hurricanes Irma and Maria.
VIHA Executive Director Robert Graham and his staff also detailed plans at the meeting for the demolition and rebuild of Tutu Hi Rise Housing Community. The 48-year-old hi rise complex suffered extensive damage from Hurricane Irma on Sept. 6. One person was killed as Irma's winds tore away exterior walls and doors.
Similar damage occurred at the same location during Hurricane Marilyn in 1995. This year, government officials decided that Tutu Hi Rise has to come down.
Under a plan now being developed, VIHA will rebuild in three locations. Graham told the board that 29 acres for the first site has already been bought in Estate Raphune-Donoe near Caribbean Cinemas.
"We were able to purchase this at a very advantageous price," Graham said.
VIHA Chief Operating Officer Lydia Pell described hi rise demolition plans. Tutu Hi Rise's 330 units will be taken down in four phases, she said.
In Phase One, Tutu Hi Rise Buildings 10, 11, 12, 14 and 22 will be demolished. Buildings 13, 15, 16, 17  and 18 come down in Phase Two, followed by Buildings 19, 20 and 21 in Phase Three.
The demolition project will conclude with the scheduled demolition of Buildings 4, 5, 7, 8 and the community center in Phase Four, Pell said.
As of May 18, ninety-two residents of Tutu Hi Rise have been relocated to other VIHA communities, Graham said. Twenty-five more have been relocated through a housing voucher program.
One hundred fifty-one are still waiting to move to new dwellings. Authority officials said they expect to have all residents relocated by September.
Board Chairman Noreen Michael and members Felicia Blyden, Kayla Gumbs, Simba Abiff, Dina Perry-Malone and Daryl Griffith approved the purchase of Parcel K Remainder 1-13 Estate Raphune and Donoe. They also authorized Graham to open the new bank account for disaster recovery working capital.
Graham said a dedicated bank account will help VIHA keep better track of funds received and expended for recovery work and make it easier to submit records for financial audits.
HUD announced the $9.6 million dollar award on Tuesday through its Public Housing Capital Fund.
Commissioners also received updates on recovery work being done at other VIHA properties.
Government House Special Advisor Collette Monroe attended the meeting and spoke about the recent approval for construction of a sidewalk and walkway plan to accommodate the senior citizens home built at Sugar Estate.
Progress at the existing senior residence, Lucinda Millin Home, Pell said, was less promising. Although VIHA has been working with contracted repairmen there seems to be no fix for storm damage to the home's elevator shaft.
Plumbing issues, water heaters and electrical panels at Lucinda Millin are all in need of help. But the need for senior housing remains unabated.
Eighty-four applicants are on the waiting list for placement, while Graham said two units are available and five more may be ready soon.
"St. Thomas needs senior housing options," said VIHA staff member Jimmy Farmer.
The authority staff said it is still seeking a contractor to perform maintenance at the Oswald Harris Court Housing Community in Estate Thomas. They are also still waiting for the Water and Power Authority to energize the exterior camera security system.
On St. Croix, the board was told that work on the Louis E. Brown Housing Community is now 35 percent completed. Restoration work there has been lengthy and extensive and began after Hurricane Marilyn.
The board also heard an update on tenant-to-homeowner conversions in Williams Delight. Eleven closings have been completed there, Pell said. A twelfth is expected to be completed by the end of June.
In other votes taken at Wednesday's meeting, commissioners approved payments for property insurance and extended the authority's contract with the law firm Dudley Rich, LLP for legal services.
Approval was granted to hire an unspecified number of engineering firms to provide emergency disaster recovery architectural and engineering services.
The board authorized changes to VIHA's Fleet Management Policy and Procedures and wrote off more than $6,000 in vacated tenant accounts accrued during the first quarter of 2018.
The meeting of the board of commissioners was held in the conference room at the West Indian Co., Ltd. on St. Thomas.