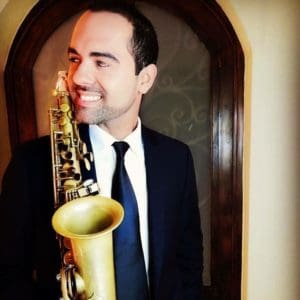 Edgar Abraham, the Grammy-nominated, Latin jazz great, and the Virgin Island's UVI Jazz Ensemble are set to perform on the 'Jazz in the Park' stage from 5:30-10 p.m., Friday, April 6, at Roosevelt Park, St. Thomas.
Following a brief hiatus, this popular, community jazz event, presented by International Capital and Management Company (ICMC), returns with a stunning line-up certain to please music lovers.
"We know that the community has been eagerly awaiting this, and we are pleased to be able to once again bring this beloved music series event to the community," said Karen Nelson-Hughes, ICMC director of community relations. "As a company, we continue to look for ways to enhance, inspire and support the community at large and are well aware of the multi-faceted, positive impact that 'Jazz in the Park' has and will continue to have on this community."
A saxophonist, composer and master of 16 instruments, Edgar Abraham Marrero is undoubtedly one of the most prodigious and talented musicians in the industry. He began playing the violin at the age of three and at age nine began studying the saxophone. At 14, he made his professional debut with the Puerto Rico Symphony Orchestra.
In 2005, he received two Emmy nominations for his TV special, "Edgar Abraham at the Heineken Jazz Fest 2004," and he was nominated for a Grammy in 2007 in the Composer for Symphonic Choir category.
With 16 solo releases under his belt, featuring some of the world´s foremost musicians, such as Eddie Gomez, Cheo Feliciano, Dave Valentin, Richie Flores and Endel Dueño, Abraham's enlightened musicianship ranges from symphonic compositions to avant-garde jazz improvisations. Having recorded his first record when he was 16, he is set to release his 20th production, "CARIBE," which is a fusion of Caribbean rhythms, spiced with his classical influences in spring of 2018.
The homegrown talent that makes up the prestigious University of the Virgin Islands Jazz Ensemble is also set to shine on the 'Jazz in the Park' stage this Friday directed by Dion G. Parson.
Comprised of UVI students, high school students, music teachers and musicians from the community, the ensemble features a wide variety of musical styles, while showcasing the musical talents of the territory.
"We are so very proud to showcase the immense talent that is inherent in the Virgin Islands," said Hughes. "The partnership with off-island talent coupled with on island expertise will truly be something not to be missed."
But music is not all that attendees can look forward to; organizers once again welcome local artisans and small businesses as part of the traditional Vendors' Row that will offer a variety of local products, services, food and beverage options, as well the Kid Zone, which will feature complimentary entertainment and activities for the youngsters.
"We are so very pleased to partner with both Heavy Materials and Viya this year, who have come on board as our platinum partners with a shared vision of community building and support," said Nelson-Hughes adding: "We always strive to partner with like-minded entities who share our vision and hope for the future of the community at large."
Key partners include: Heavy Materials, Viya, U.S. Virgin Islands Department of Tourism, Stella Artois, Dark Horse Wines, Community Foundation of the Virgin Islands (CFVI) and Reichhold Center for the Arts.
For more information, call 777-1302, email [email protected] or visit the Jazz in the Park Facebook page at www.facebook.com/ICMCjazz.