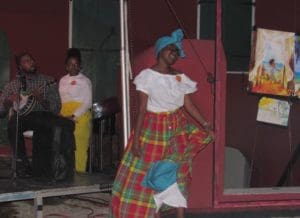 Students from public schools on St. Thomas dazzled audiences with traditional dance and music at Sounds of the Virgin Isles Wednesday.
In addition to showcasing the talents of students and raising funds for the Department of Education, the event also honored the treasured songstress Lorna F. Freeman for her years of lending her singing talents to the community.
The event took place in Fort Christian and was a partnership between the Department of Education and the office of Sen. Janelle Sarauw. It featured performances from the Ulla Muller Bamboula Dancers and Drummers, the Joseph Gomez Elementary School Choir, Bertha C. Boschulte Middle School's Flambo Combo, the Charlotte Amalie High School Quadrille Dancers and the school's band, Addelita Cancryn Junior High School's Phoenix Pan Jammers, the Ivanna Eudora Kean High School Choir and Concert Band, and Kean Music Styles.
Sarauw approached DOE's music department chairperson Dionne Donadelle about hosting the event after witnessing school marching bands practicing in the wake of September's major hurricanes. The two collaborated with schools to put on an event that would support the talents of public school students both socially and financially, while highlighting the importance of cultural identity.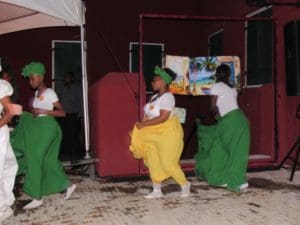 "Over the years there has been a decrease in funding and development of such programs that also function as academic interventions in the territory," Sarauw said.
Funds raised at the event came from donations provided by attendees, and through bids collected during an auction at the start of the program. Donated items included artwork created by local students and Joana White, an aluminum-plated photograph of Fort Christian, and jewelry from Cardow Jewelers. All funds raised will be allocated to various DOE art and music programs.
The flow and energy of the event were maintained by master of ceremonies Rashidi
Jones, and storyteller Yohance Henley, who entertained the audience with folktales between performances.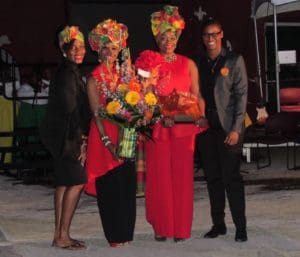 Towards the end of the program, Freeman received gifts from the DOE, the Freeman family, the Delta Sigma Theta Sorority, and Sarauw's office, which presented her with an award featuring a mahogany conch shell.
In addition to an extended tribute to Freeman, performances included tributes to Imagination Brass, Spectrum Band, Jam Band, and bands admired by the younger generation, such as Kylo and the Stylee Band.