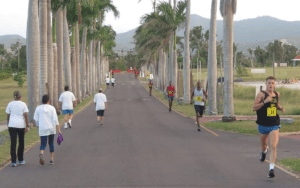 The staging of the first UVI Charter Day Mile event was hosted by the University of the Virgin Islands (UVI) and organized by the Virgin Islands Pace Runners. The Charter Day Mile marks the end of the 16 annual races of the UVI/Queen Mary 5K Run/Walk.
The mile event held on Friday morning at just after sunrise was staged on the Albert Sheen Campus, St. Croix, on a course that made its way along the iconic palm drive and perimeter roads on the campus as opposed to the longer 3.1-mile route that started at Sunshine Mall and proceeded east on Queen Mary Highway and ending on Palm Drive on the campus.
A small group of participants, mostly St. Croix Track Club youngsters with a few UVI students, faculty, staff and alums, toed the start line, which took them from the south to north end of Palm Drive.
They were led all the way by Dominic Pugliese of Good Hope Country Day School (GHCD), who finished with a time of 5:15 for the classic 1-mile distance; Makiri Mathew (GHCD) edged out Kevin Nicholas, a UVI student, in a photo finish for second place in 5:33; Nicholas took the first UVI Student Award and third place with the same time 5:33, also.
Eleven-year-old Michelle Smith of the St. Croix Track Club (SCTC) and the Eulalie Rivera School was the first-place female finisher and fourth overall with a time of 5:33. She was well ahead of her mother, Mireille Smith (SCTC), who finished second in 7:12; Solomar Sanes took the first UVI Student Female Award and third female in 7:40.
Errol Chichester was the first male UVI Alum in 7:42; Nisha Clavier was the first UVI female faculty in 15:09; David Capriola was the first male faculty in 17:08; Narida Washington was the first UVI staff finisher in 15:23.
The UVI Charter Day Mile
March 23, 2018, at UVI Albert Sheen Campus, UVI; Hosted by University of the Virgin Islands; Organized by the Virgin Islands Pace Runners
Place/ Name/ Age/ Sex/ Town or Club/ 5K Time
1 Dominic Pugliese 18 M Good Hope Count 5:15
2 Makiri Mathew 15 M Good Hope Count 5:33
3 Kevin Nicholas 20 M UVI Student 5:33
4 Michelle Smith 11 F St. Croix Track 5:58
5 Mireille Smith 48 F St. Croix Track 7:12
6 Errol Chichester 50 M UVI Alumni 7:42
7 KALIM JnoFinn 13 M St. Croix Track 7:54
8 Solomar Sanes 20 F UVI Student 8:06
9 Kirsten Jones 11 F St. Croix Track 8:12
10 Akyra Joseph 11 F St. Croix Track 8:13
11 Lauren Jones 10 F St. Croix Track 8:20
12 Katelyn Jones 7 F St. Croix, Track 8:36
13 Olga Lucia 50 F St. Croix 9:17
14 Bruannen Howell 15 F St. Croix Track 9:23
15 Jordon Vaughn 14 M St. Croix Track 9:25
16 Terrance Charles 7 M St. Croix Track 10:32
17 T'nira Charles 13 F St. Croix Track 10:35
18 Samantha Jones 36 F St. Croix Track 10:58
19 Marthious Clavier 40 M UVI Alumni 15:09
20 Nisha Clavier 30 F UVI Faculty 15:11
21 Narida Washington 40 F UVI Staff 15:23
22 Janis Valmond 50 F UVI Staff 15:29
23 Anne Marie Medina 60 F St. Croix 17:06
24 David Capriola 50 M UVI Faculty 17:08
********** AWARDS LIST For 1-Mile RACE ***********
********** OVERALL RESULTS FOR MALE *********
Place/ Name/ Age/ Sex/ Town or Club/ 5K Time
1 Dominic Pugliese 18 Good Hope Count 5:15
2 Makiri Mathew 15 Good Hope Count 5:33
3 Kevin Nicholas 20 UVI Student 5:33
4 Errol Chichester 50 UVI Alumni 7:42
5 Kalim Jno Finn 13 St. Croix Track 7:54
6 Jordon Vaughn 10 St. Croix Track 9:25
7 Terrance Charles 10 St. Croix Track 10:32
8 Marthious Clavier 40 UVI Alumni 15:09
9 David Capriola 50 UVI Faculty 17:08
****** OVERALL RESULTS FOR FEMALE ****
Place/ Name/ Age/ Sex/ Town or Club/ 5K Time
1 Michelle Smith 11 St. Croix Track 5:58
2 Mireille Smith 48 St. Croix Track 7:12
3 Solomar Sanes 20 UVI Student 8:06
4 Kirsten Jones 11 St. Croix Track 8:12
5 Akyra Joseph 11 St. Croix Track 8:13
6 Lauren Jones 10 St. Croix Track 8:20
7 Katelyn Jones 7 St. Croix Track 8:36
8 Olga Lucia 50 St. Croix 9:17
9 Bruannen Howell 15 St. Croix Track 9:23
10 T'nira Charles 13 St. Croix Track 10:35
11 Samantha Jones 36 St. Croix Track 10:58
12 Nisha Clavier 30 UVI Faculty 15:11
13 Marida Washington 40 UVI Staff 15:23
14 Janis Valmond 50 UVI Staff 15:29
15 Anne Marie Medina 60 St. Croix 17:06
FEMALE AGE GROUP: 1 – 19
1 Michelle Smith 11 St. Croix Track 5:58
2 Kirsten Jones 11 St. Croix Track 8:12
3 Akyra Joseph 11 St. Croix Track 8:13
4 Lauren Jones 10 St. Croix Track 8:20
5 Katelyn Jones 7 St. Croix Track 8:36
6 Bruannen Howell 15 St. Croix Track 9:23
7 T'Nira Charles 13 St. Croix Track 10:35
MALE AGE GROUP: 1 – 19
1 Dominic Pugliese 18 Good Hope Count 5:15
2 Makiri Mathew 15 Good Hope Count 5:33
3 Kalim Jno Finn 10 St. Croix Track 7:54
4 Jordon Vaughn 10 St. Croix Track 9:25
5 Terrance Charles 10 St. Croix Track 10:32
FEMALE AGE GROUP: 20 – 29
1 Solomar Sanes 20 UVI Student 8:06
2 Bruannen Howell 20 St. Croix Track 9:23
FEMALE AGE GROUP: 30 – 39
1 Nisha Clavier 30 UVI Faculty 15:11
2 Samantha Jones 36 St. Croix Track 10:58
FEMALE AGE GROUP: 40 – 49
1 Mireille Smith 40 St. Croix Track 7:12
2 Narida Washington 40 UVI Staff 15:23
FEMALE AGE GROUP: 50 – 59
1 Olga Lucia 50 St. Croix 9:17
2 Janis Valmond 50 UVI Staff 15:29
3 Anne Marie Medina 60 St. Croix 17:06
MALE AGE GROUP: 20 – 29
1 KEVIN Nicholas 20 UVI Student 5:33
MALE AGE GROUP: 40 – 49
1 Marthious Clavier 40 UVI Alumni 15:09
MALE AGE GROUP: 50 – 59
1 Errol Chichester 50 UVI Alumni 7:42
2 David Capriola 50 UVI Faculty 17:08